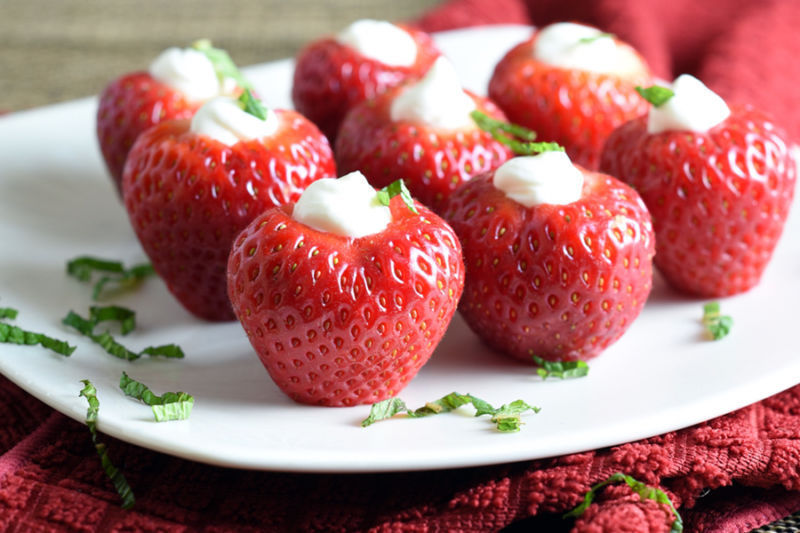 Freshly hulled strawberries are stuffed with an amazing cheesecake mousse. Eat as a snack or serve as a healthy dessert!

Last week I got to work with the California Strawberry commission, you guys. It was definitely one of the highlights of this job.

When I told Trevor I was going to tour one of the farms and attend a lunch, his eyes got all watery at the fact he couldn't go with me. My little strawberry lover. But I assured him I would bring back plenty of fruit to share. And I did!

I picked and ate so many berries on the actual farm, that I barely had enough room in my belly for the lunch that was served. #firstworldproblems

Some of the strawberries were huge and weighed down my hand. All organically grown, too. It was crazy.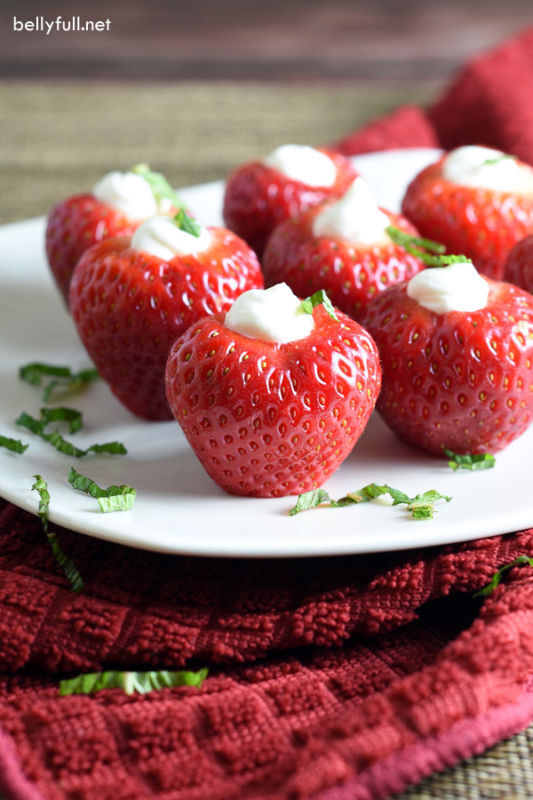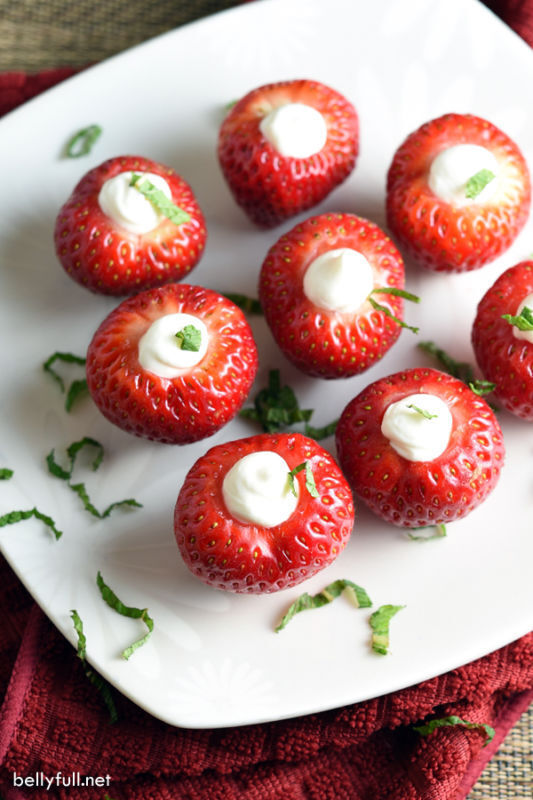 I was sent home with a bushel and I put them to work. I cleaned and hulled about 6 boxes and froze those for later. The rest went to use in strawberry pie, bread, muffins and some were stuffed with this cheesecake mousse. They make for a great afternoon snack!
CHEESECAKE MOUSSE STUFFED STRAWBERRIES
Makes 1 1/4 cups
Prep time: 10 minutes
INGREDIENTS
• 1/3 cup cold heavy cream
• 1/2 cup powdered sugar, divided
• 1/2 pack (4 ounces) cream cheese, room temperature
• 1/2 teaspoon vanilla extract
• 1 tablespoon milk
• Fresh large strawberries, rinsed and hulled
DIRECTIONS
In a
large bowl
, beat heavy cream with a
handheld electric mixer
until it starts to thicken; slowly add in 1/4 cup of the powdered sugar. Continue to mix until thickened and stiff peaks form. (Do not overheat or it will become overly thick and clumpy.) Pour into a bowl; set aside.
In the same bowl (no need to rinse out), beat the cream cheese until smooth. Continue mixing and add in the remaining powdered sugar, vanilla and milk. Beat until well combined.
With a
spatula
, gently fold the whipped cream into the cream cheese mixture, until just combined.
Fill a large plastic
Ziploc bag
with the mousse mixture, cut off a small corner and pipe into the
hulled
strawberries.