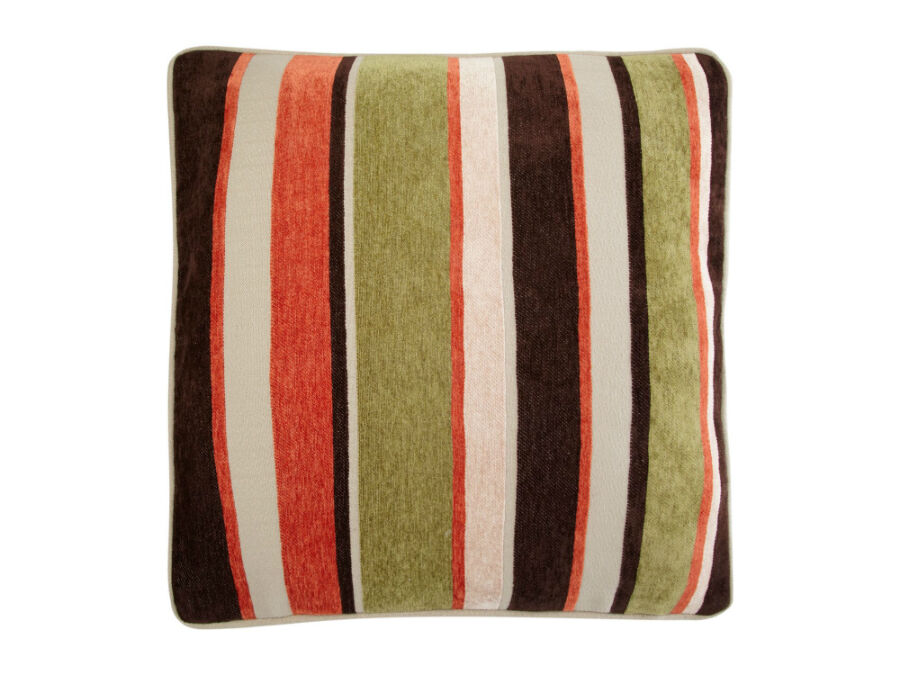 Chenille is a type of fabric valued for its incredibly soft texture and beautiful appearance. The sheen that chenille has takes on an almost iridescent hue at times. The name chenille, from the French for caterpillar, refers to the method in which the fabric is woven, and not to the fibres from which it derives. Chenille is usually made from cotton, but nowadays can also be made from materials such as rayon and acrylic. The method in which chenille is produced was developed independently in different areas. In France in the 1780s, chenille was created as a labour saving device to replace the embroidery method of knot stitching. The technique was used in tapestries and later also in women's clothing. In 1830s Scotland, a fabric mill foreman called Alexander Buchanan was responsible for introducing chenille fabric. He wove tufts of wool into a blanket and cut the blanket into strips. Upon heating with heated rollers the material frizzed and set, resulting in a soft and frizzy fabric with a caterpillar like feel. The fabric was initially sold as shawls and later developed by another manufacturer, James Templeton, into carpets. In the US in 1895, a teenager named Catherine Evans from Georgia created a bedspread with 90 degree angle loops across the fabric. These were then cut off and the bedspread boiled to shrink and set the remaining tufts, creating the characteristic soft texture of chenille. Catherine Evans went on to cofound the Evans Manufacturing Company in 1917. Carpet was also manufactured in Georgia, along with various items of clothing, all with the aid of specialist machines developed by Singer. These innovative machines produced the material more efficiently due to the design incorporating multiple needles. In the 1950s, chenille began to be made with newly introduced synthetic fibres. Today these are frequently used for their strength and durability.
Cushions
Cushions are soft fabric enclosures filled with natural materials such as wool, hair or feathers, or synthetic materials, such as polyester fibre. Cushions have a long history of use in both domestic and public environments. The Romans used head cushions, and noblemen brought cushions with them to sit upon in the Colosseum. In the medieval period, cushions were used in castles and upper class houses. Cushions of silk and gold acquired a role in coronation ceremonies, being used to lie upon the pavement before kings and queens. In Asia, flat, round cushions were used for meditation, while in the homes of aristocrats beautifully brocaded cushions were used on divans to be lounged upon. Today cushions find a wide usage. Flat cushions are used for sitting and kneeling on, either on the floor or a hard surface such as a chair or bench, and plumper designs are used for lounging and reclining on. Bolster cushions are firm, rounded cushions used to support the back of the neck when working or resting. Cushions may also be used primarily for aesthetic purposes, being scattered around the home or displayed as focal points. Window seats frequently use cushions to provide padding and create an inviting, comfortable space. There are two basic designs: the box type, with additional edges between the front and back sections, and the plain edge, which has a front and back only. Various types of edging exist, such as piped edging, which is created by inserting cording between seams. This gives the cushion a defined edge and form and helps it to keep its shape. With knife edged cushions, the seams are joined straight together with no special edging. Flange edges have decorative flaps of fabric that are folded and stitched. The edge may also be ruffled, pleated, or puckered, and these types of edging are collectively known as a shirred edge. Cushion covers are frequently designed to be removed, though certain types of cushion such as floor cushions may be less likely to have removable covers. The covers may be closed by methods such as zips or buttons.
Choosing Chenille Cushions
There are a number of things to consider when looking for chenille cushions.
Style
Cushions, along with other types of soft furnishings, are used to create a warm and welcoming home. They are suitable additions to any home, from traditional townhouses and cosy cottages to contemporary flats and new builds. The style of cushion will ideally reflect and complement the existing style and decor. Traditional cushions often incorporate natural motifs such as leaf and floral designs. Rich, dark colours such as dark green, brown, and russet feature frequently in traditional designs along with cream, ivory, and delicate silver and gold. There are several different traditional styles to choose from.
| | |
| --- | --- |
| Georgian (1714 – 1837) | Georgian style is based around classical concepts of harmony and symmetry. It is delicate and airy, with an emphasis on light colours such as sky blue, pea green, and dusky pink. |
| Victorian (1837 – 1901) | Victorian style is richer and heavier, with richer colours such as forest green and more realistically depicted flowers and animals. Influences include Gothic style and Oriental travel. |
| Edwardian (1901 – 1910) | Edwardian style is fresh and informal, featuring pastel colours such as lilac and primrose yellow and floral motifs influenced by Art Nouveau. |
| 1920s | The 1920s brought glamour and geometric designs influenced by Art Deco. Colour schemes included dramatic combinations of black, white and silver. |
| 1930s | Colour schemes of the 1930s were often more feminine, with pale blues, greens, and pinks. However the Art Deco movement continued to exert an influence, with dramatic colour combinations such as red, black, and silver. |
Retro and vintage are terms used to refer to various periods from the early 20th century up to the 1990s. The 1950s onwards continued to see a range of exciting trends in fashion and home decor.
| | |
| --- | --- |
| 1950s | The 1950s featured bright abstract designs influenced by previous decades and modernism. Polka dots and animal prints such as black and white zebra stripes were characteristic. Bright colours such as red and lime green competed against softer shades like bubblegum pink. |
| 1960s | Ethnic prints with beading and embroidery inspired by exotic travel were popular. Psychedelic prints, groovy floral motifs, and paisley were also well loved trends of the 1960s. |
| 1970s | Disco, glam, and metallic colours lend vibrancy and flamboyance to 1970s style, while psychedelic prints and flowers also remained popular. |
| 1980s | Popular colours used in 1980s homes include beige, mauves, blues and greys, and salmon pink and peach. Ruffles were also popular. |
| 1990s | The 1990s saw a return to natural motifs and an emphasis on natural materials and colours. Shabby chic became popular. |
Contemporary style is characterised by smooth, sleek lines and minimalist design. The focus is away from clutter and toward open spaces and natural light. Each piece needs to be carefully selected for its impact and how it interacts with other elements of the room. Contemporary cushions are often plain with minimal ornamentation or edging and are well suited to modern, minimalist homes. Contemporary designs also often incorporate natural motifs, quirky patterns or bold stripes and swirls, and these can add interest to a low key style.
Type
| | |
| --- | --- |
| | Standard type cushions for placing upon sofas and lounging upon. A large variety of sizes, shapes and styles are available to choose from. Covers are usually removable. |
| | Cushions designed to be placed upon hard chairs to provide comfort while sitting. Usually have ties to tie them to the backs of chairs. Covers may or may not be removable. |
| | A type of firm, rounded cushion to provide neck support. May also be used primarily for decorative purposes. |
Find Chenille Cushions on eBay
Chenille cushions can be easily purchased on eBay. Begin by heading to the eBay homepage. From the tabs to the left of the page, open Home & Garden and click on the Home & Garden link that appears. From the tabs open Furniture & Living and click on the Home Decor link that appears. From the options select Cushions. Scroll down to Material and select Chenille. The results can then be refined by criteria such as type, colour, and style. Alternately, chenille cushions can be searched for in the search field at the top of the eBay homepage and other eBay pages. Try entering terms such as "chenille cushion", "white chenille cushion" or "contemporary chenille cushion".
Conclusion
Chenille cushions are beautiful, luxurious additions to the home. The method in which they are manufactured results in an incredibly soft texture. Chenille cushions come in a wide variety of types, styles, shapes, and sizes. The type, shape, and size will be influenced by its function, from low lying floor cushions to bolsters for neck support and plump chair cushions for lounging against. The style will be influenced by personal preference and existing decor. Cushions may be key focal points of the room and, given the range available, are a superb way to put across personal style. They should be selected to enhance the feel of the room and complement existing colour schemes. The right chenille cushion(s) can be the perfect finishing touch to a room.