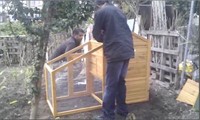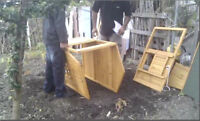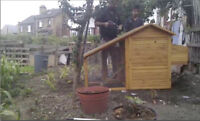 I bought a chicken coop model: cocoon2190
Member ID: oaky-doakey
Bought it from them as they have 100% feedback and they did ring me and keep me updated with delivery etc , I think that they actually do offer a good service, there were some slightly cheaper ones but the sellers have less than 100% feedback and some of the negative feedback was bad.

The coops are alot smaller than they look (Toyish really,) . Probably only suitable for 2 / 3 medium/large birds.
Made from Cheap light soft wood, with some protection/colouring.
I would recommend getting protected asap, with some good shed / fence paint.
Not sure how long it will last
The The instructions are pretty good.
Bags of screws are numbered according to diagram so you don't mix them.
Set up in under 1 Hour.
See pictures to get an idea of size, my 12 year old helping me put it together.
Ideal for small/medium sized gardens of under 15 mtres


Tips:
If you are any good at DIY, I would suggest building your own. Something crude and simple and alot bigger out of scrap wood, Can be done for less than the price of one of these new ones.

However you could always buy the timbers and wire mesh for roughly £100 to £150 and build a nice looking one which would be much bigger.
Another good option would be to buy a garden shed and convert it, you can buy treated timer lats to create the frame for the wire mesh, cut out the holes in the shed and fit new wire mesh frames. You will also have good access into the shed for cleaning etc. Will be much stronger and longer lasting and more secure.

You would obviously need a bigger garden / allotment.
Building your own will be sturdier and longer lasting.