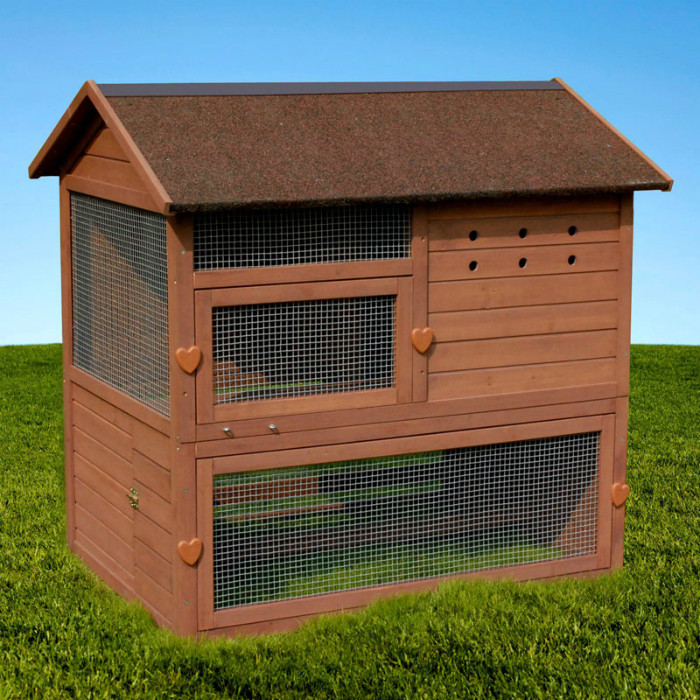 Introduction
A chicken house is a big investment which will help you maintain your birds in peak condition, providing an environment which stimulates healthy laying conditions. The kind of house you buy will depend on a number of factors including:
The ground area you have available
The number of chickens you hope to buy
How much time you can devote
How much money you want to spend
This eBay guide considers these first before outlining the pros and cons of the various types of chicken house available, closing with a few words on accessories and cleaning to help you get the most out of your purchase.
The Ground Area You Have Available
If you live in an urban environment you're likely to have less room to house your chickens. For this reason, it would make sense to look at the more compact chicken house designs. Made of either wood or plastic, the smaller chicken houses do not include an integral chicken run.They are usuallysupplied separately as moveable units so that the chickens' feeding area can be rotated. With urban sites, protective fencing to enclose the coop is not such a priority provided that there is no real risk of attack by neighbourhood foxes.
If you live out in the country and have access to more extensive grounds, you have more choices available. If you're prepared to devote a large outdoor area to your chickens, you may think it's a good idea to create a permanent run.
You'll need to build an enclosure with strong fence posts and mesh fencing, well dug-in to prevent burrowing by foxes. You may want to consider electric fencing as an option which, although more expensive, is highly efficient and much easier to install. If you decide on a smaller area, you might want to consider buying anintegrated coop which combines indoor and outdoor areas in the same structure.
The Number of Chickens You Hope to Buy
The size of the chicken house is obviously determined by the number of chickens you intend to keep and there is a formula for working this out.For average sized birds you need to allow a minimum floor area of one square foot per bird. For larger breeds, for example Orpingtons & Wyandottes,allow approximately 50% more space. However, for various reasons it may be advisable to buy a bigger unit than these calculations suggest.
First of all, chickens sometimes need to be at a distance from each other to avoid any potentially damaging pecking attacks.
Secondly, you may want to buy a few more chickens in the future, or they may be gifted to you by friends and relatives.
Whatever you do, make sure you avoid overcrowding.
How Much Time You Can Devote
You need to be realistic about how much time you have available to look after the chickens onceyou've acquired them.Some chicken houses are more time consuming to maintain than others. Those that need more maintenance tend to be better for the chickens. For example, wood chicken houses take longer to clean and keep free from infestation, but most observers would agree that they provide a better environment for the chickens. And although plastic chicken houses are easier to keep clean, they don't share the beneficial natural characteristics of wood.
How Much Money You Want to Spend
You need to balance the practical requirements of looking after chickens with the need for a structure that looks good in its environment. If you're prepared for a bit of DIY, the cost of building a basic shelter and wire mesh enclosure will not be expensive. As soon as you opt for a higher level of specification:
Thicker wood
Sturdier plastic
Electric mesh fences
These costs begin to escalate.
Only you will know how much you're prepared to spend, given that the investment is capable of providing you with an absorbing and productive hobby for many years to come.
Types of Chicken House on the Market
There are quite a few basic variations in design and materials. Chicken houses are either self-contained, which include a run area within the structure, or are formed from two units:
Chicken house
Moveable run
The choice you make will largely depend on the amount of land you have, as discussed in the section above. There are two main building materials; plastic and wood, with elements of wire mesh common to both types.
Chicken Houses Made Out Of Plastic
These are becoming more and more popular and are available as moulded units or packed flat for self assembly. There are many different models and accessories, but the majority have fairly small run sizes. Some have a mesh skirt around the base of the hen house to keep predators away.
Tip: It's important to position these units on flat ground to avoid creating gaps, which might attract vermin.
Plastic chicken houses are easy to clean out and present a lower risk of red mite infestation. There are obvious accessories, including perches and nesting boxes, but also some intriguing new products such as extreme temperature jackets which fit round the outside of the hen house. You can also buy waterproof covers for chicken runs which protect them from wind, rain and even snow.
For anyone concerned about green issues, you can also buy chicken coops made out of recycled plastic. These are robust, well designed and simple to put together from flat-pack panels that bolt together.
Chicken Houses Made Out Of Wood
Traditional wooden chicken houses have many advantages but their suitability does depend on the quality of materials used in their construction. The advantage of wood is that it breathes and moves with the seasons. Compared to plastic, wood is better suited to extreme temperatures because the natural ventilation it provides helps to avoid the risk of suffocation in the summer or frost damage inthe winter.
A wooden chicken house will not run with condensation as a plastic hen house might. To be fit for purpose, the best wooden chicken houses are built from timber which is a minimum of 19mm thick and formed into solid, pressure treated tongued & grooved interlocking boards.
Boards of lesser thickness may compromise the structure of the coop and could affect the way doors open and close. Out of preference, the roof should be made out of wood, corrugated steel or Onduline rather than felt, which can create a breeding ground for red mites.
Infestation by red mites is one of the few negatives associated with wooden coops. This has been exacerbated by the replacement of Creosote with Creosote Substitute following a directive by the Health & Safety Executive. However, well fitting interlocking board will reduce the risk of infestation particularly with an efficient cleaning regime using a proprietary red mite eliminator.
Ventilation is another aspect of the design you need to be happy with. Chicken droppings release ammonia which needs to be cleared by airflow though the chicken house. You can achieve this with a mix of low-level inlets and high level vents. Ideally, the inlets should have mesh facings to keep predators out.
The Accessories You Need to Buy
The principle accessories you will need to buy are:
Perches
Nest boxes
Dropping boards.
Perches (for sleeping) should be made 4cm to 5cm wide and 30cm in length per medium hen. They should be built say 30cm from the floor of the hen house or arranged in a ladder formation. Allow some extra overall length to cope with birds that are permanently anti-social.
Nest boxes (for egg laying) should be below the height of the perches so that the birds are not tempted to roost in them or foul them. Ideally they should be positioned in the darkest area of the coop for privacy & undisturbed egg-laying. Nest boxes should be built with a lid to the outside so that the eggs can be easily collected.
You alsoneed the means to collect and get rid of droppings. One solution is a droppings board that can be removed, or a combination of old food sacks and newspapers. Whatever kind of base you use should be layered with straw or woodchip.
Keeping the Hen House Clean
Cleaning and general maintenance is an important part of keeping chickens. Chicken houses usually have large access doors so that they can be thoroughly and easily cleaned. For the same reason, any inside fittings & fixtures such as dropping boards, perches and nesting boxes should ideally be removed during cleaning.
How to Buy a Chicken House on eBay
Now that you know which chicken house you want you can find them quickly and easily on eBay. To start shopping, go to the Pet Supplies category then the Poultry/ Hatching/ Incubation portal. Click on the Chicken Houses sub-category portal.
While you shop, don't forget Hatching Eggs, Incubation, Chicken Houses, Dishes & Feeders, Grooming & Healthcare and Food.
Categories
The Categories list on the left side of each page will help you narrow down your listings by item type.
Product Finder
Use the Chicken House Finder to quickly narrow down item listings by brand, model and condition (new or used).
Keyword Search
Search eBay listing titles for specific words. For example, if you want to find New Chicken House, type the keywords "Chicken House New" (without quotation marks) into the Search box. Click, "Search title and description" to expand your results. Visit eBay's Search Tips page for more tips on searching with keywords.
If you can't find exactly what you want, try browsing eBay Stores or tell the eBay Community what you're looking for by creating a post on Want It Now, or save a search on My eBay and eBay will email you when a matching item becomes available.
Buy a Chicken House with Confidence
Make sure that you know exactly what you're buying and understand how eBay and PayPal protect you.
Know Your Item
Read the details in the item listing carefully.
Remember to add delivery costs to your final price. If you're buying a high value item, check that the seller will insure it until it is delivered to you.
If you want more information, click the "Ask seller a question" button on the seller's profile or the "Ask a question" link at the bottom of the item listing page.
Always complete your transaction on eBay (with a bid, Buy it Now or Best Offer) otherwise you will not be covered by eBay Buyer Protection.
Never pay for your eBay item using an instant cash wire transfer service like Western Union or MoneyGram. These are not safe ways of paying someone you do not know.
Know Your Seller
Research your seller so that you feel safe and positive about every transaction.
What is the seller's Feedback rating?
How many transactions have they completed?
How many positive responses do they have?
What do buyers say in their Feedback?
Are they positive about the seller?

Most top eBay sellers operate like retail shops and have a returns policy.

Do they offer a money-back guarantee?
What are their terms and conditions?
Buyer Protection
In the very unlikely event that you do not receive your item or it is not as described, eBay Buyer Protection covers your purchase price plus original delivery cost.