6
out of
10
mums & dads take there eyes of the road to look at there baby / child
over
200
parents have had a very serious car accident because they are taking there eyes of the road to trying to see there children
Having FULL security on your children is the main thing while driving.
Mum's & dads do have problems when there children are messing around in the back of the car, the worst thing to do is turn around while you are in control of the vehicle, you cant exactly use your rear view mirror because you need that for blind spot view areas and reversing.
So you purchase an additional rear view mirror, which fixes on to your windscreen and adjust to your best view, these mirrors can be purchased from eBay (i.e.) from us for a little as £2.95+ 89p postage & packing.
we only have a couple of mirrors left as we have had a number of request to purchase.
Our mirrors are at the highest quality of mirrors, the heavy duty plastic casing which surrounds the mirror panel is UN breakable, the mirrors easily fixes to the windscreen with a suction cup which doesn't damage the glass in any way.
So adding security while traveling with your children don't forget the dangers while keeping an eye out -
THINK !
(BUY A MIRROR ?)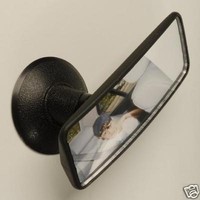 Purchase One From Us Today ! £2.95