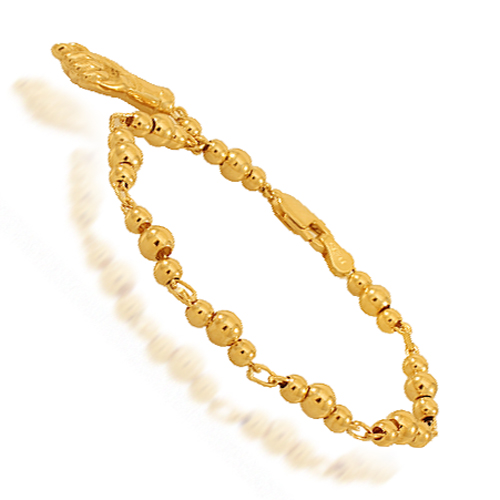 Jewellery has more than one benefit. On the one hand, it is a secure treasure and an intelligent investment for one's money, and on the other hand, it is also used as a decorative accessory. Not only is jewellery popular with women, several jewellery items are equally popular with kids and men. Gold bracelets, for example, are very popular with children. Different materials are used to create children's jewellery, including gemstones and precious metals. Gold products are particularly popular.
Safety of the children should always be the utmost priority of the buyer. Whether it is the material that is used to manufacture a bracelet or its small size, a buyer should make sure that the product is of no danger to children. When a child is adorned with a bracelet or other forms of jewellery, he or she must be constantly supervised by parents or other adults in order to avoid unforeseen incidents.
A thorough knowledge of the different types of gold bracelets for children helps buyers decide on the appropriate pieces for their children. eBay boasts a wide collection of gold jewellery items, along with many other styles, to satisfy the needs of various parents and children. Fine jewellery stores also typically carry a limited selection of gold bracelets in sizes that are appropriate for children.
Buying Considerations
Children are one of the greatest blessings for a couple, and many couples want to adorn their children with jewellery. Small gold bracelets and pendants with engraved names are some of the most common choices for children's gold jewellery. This is one of the many ways of showing affection and thankfulness for the precious gift of a child. There are, however, several tips, suggestions, and considerations that can help parents safely adorn their children with jewellery.
Materials
Popular materials that are used to manufacture children's jewellery include gemstones, sterling silver beads, gold, sparkling crystals, and more. A couple can easily acquire jewellery that is made from these and other popular materials. Many parents choose items according to the occasion or a specific sentiment. For example, a design with sterling silver and exquisite freshwater pearls makes an excellent bracelet. The full name or the first letter of the name or even a nickname can be imprinted on these bracelets. Gold bracelets are another very popular option that is worth considering. Bangle-style gold bracelets with colourful gemstones are also an excellent option.
Safety Considerations When Buying Children's Gold Jewellery
The question of how to choose jewellery for a child is a common dilemma for parents. Care should be taken when buying gold jewellery for a child, whether it is in the form of a bracelet or something else. The foremost consideration is the safety of the child, and that can never be compromised no matter what.
The skin of the newly born or very young child is extremely sensitive and soft and is prone to skin diseases if some dangerous metals are used in the wrong proportion when jewellery items are manufactured. Therefore, parents or guardians should keep this information in mind when choosing items. The most dangerous metal that could sometimes be present in jewellery is lead, and it should be determined before making a purchase that the quantity of lead is either non-existent (preferably) or extremely negligible.
Another important security consideration is that kids under three years of age, regardless of how well made a jewellery piece may be, should not be left on their own while wearing any jewellery item. Because of the small size of many of these pieces, they can be chewed on by a toddler or preschooler, and this can be a very dangerous choking hazard. Pearls and other small pieces on the jewellery should be tightly secured so that it is difficult for small children to ingest or inhale them.
Bracelets or sharp-edged items are also dangerous for minors, and, therefore, children wearing them should always be under supervision. Other trinkets should fit properly, as well. Children obviously do not understand the worth of a jewellery item and cannot take care of it by themselves. Items can easily be lost or misplaced.
Design
The design and creation of a gold bracelet or any other jewellery item is also an important factor to consider. Jewellery for children has to be solidly made to withstand rough use and abrasions. Split rings and closed jump rings are, for example, good designs for kids as they are highly durable. Product reviews can be a critical element in the selection process, as they help buyers assess products in a better way.
Buying Gold Bracelets
Whether one is buying a gold bracelet or any other gold jewellery for a kid, there are several aspects to be considered. Modern day artificial jewellery has quite a resemblance to pure gold jewellery, and caution must, therefore, be taken when making a purchase in order to get the proper value for the money spent. Buyers should always look for reputable sellers. Whether buying from a brick-and-mortar store or online at a site like eBay, the user reviews should be read beforehand.
Buyers should also get acquainted with the karat quality marks. Gold is a soft metal, and in order to make it durable, other metals are mixed with it in different proportions. Gold colours, such as white gold, rose gold, et cetera, are created because of the metals that are mixed with yellow gold. The karat mark signifies the ratio of real gold that a particular piece of jewellery contains. Gold jewellery with a karat mark has a trademark, as well, which identifies the manufacturer of the jewellery. The total price of a gold bracelet or any other gold item is a reflection of not only the amount of gold, but also the craftsmanship and the design.
Ten karats or less cannot be marketed legally as gold in the U.S. Different countries may have different thresholds for gold values. The following table shows a comparison of some of the standards:
| Karats | Percentage of Gold | European Quality Mark |
| --- | --- | --- |
| 24K | Pure Gold | 999 |
| 18K | 75 | 750 |
| 14K | 58.5 | 585 |
| 12K | 50 | 500 |
| 10K | 41.7 | 417 |
European quality marks depict the purity of gold and are represented with numbers. Although it is not required by law, most gold items are marked with a karat mark. Children are not familiar with all these numbers, but the parents or adults purchasing gold jewellery should be.
Tips for Buying Children's Gold Bracelets
Buying any jewellery for children, whether it is bracelets or anything else, requires thorough research. Gold, platinum, silver, and other traditional metals are always in style, while gems, coloured glass, beads, and other items may only be a hot style for a particular season and then totally out of fashion in another. Keep in mind the shape and size of the child's body before making a purchase. The sizes are different for children of different sizes.
Vintage bracelets are also popular with many people, and they can offer great value at a reduced cost. For vintage items, bargaining is normally possible. Parents should also remember that jewellery boxes are important accessories for storing gold bracelets and other jewellery when pieces are not being worn. Velvet or hand-carved wooden jewellery boxes are two of the most popular choices for storing jewellery items like bracelets.
How to Buy Children's Gold Bracelets on eBay
eBay features a wide range of jewellery items and accessories not only for women, but also for men and children. Parents or other adults can surf through the various jewellery categories to find the perfect gold bracelets or other items for the precious jewels in their own lives. A simpler way to find children's jewellery is to use the search bar on the eBay homepage. You can enter relevant queries to view listings of available options. Possible search terms might include 'children gold bracelet' or 'child gold bracelet'.
If you are interested in saving on delivery charges, you should enter your postcode in the 'Distance' filter to see local listings first. If an item is not available locally, then you can try the filter for free shipping to try to save money that way. You should always read the seller's history and user comments on eBay to get an in-depth view of the integrity of the seller of your choice. Return policies may also vary for different sellers, and you should always go over the policy to make sure you understand it before placing an order.
Conclusion
Jewellery is used as a decorative accessory and is a wise and valuable investment for one's money. It is not only popular with most women, but it also enjoys a lot of popularity with many men and children. Gold jewellery has been one of the most famous forms of jewellery for centuries, and many people want to adorn their kids with gold jewellery, including gold bracelets. When doing so, parents should always keep in mind the security aspects of children and jewellery. For example, a child's gold bracelet should not contain dangerous metals, such as lead, in its composition because the skin of toddlers and preschool children is sensitive. Buyers should make sure that children are under supervision when wearing jewellery, especially when the jewellery consists of small, potentially edible pieces.
eBay and other online stores, along with brick-and-mortar jewellery shops, feature a collection of jewellery that includes gold jewellery for children. A familiarity with the various materials that are used to make children's jewellery, the percentage of gold in gold jewellery, and other buying tips are essential for making an informed and satisfying buying decision.