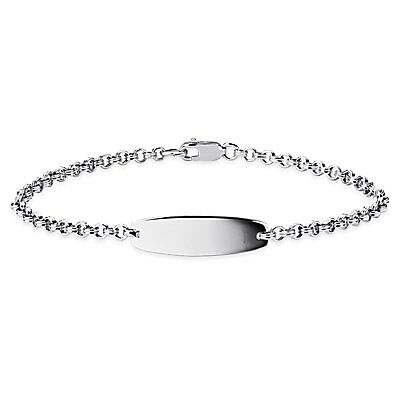 Everyone loves wearing jewellery, even children. Bracelets made especially for children are made smaller than normal bracelets to fit smaller hands and wrists more comfortably. Children's silver bracelets come in many styles just as adult silver bracelets do, and they can be customised with charms and beads, too. Sterling silver is affordable, and there are many types of silver bracelets to choose from that a little girl loves to wear.
Purchase a children's silver bracelet to commemorate a special occasion or as a holiday or birthday gift for a child who enjoys accessories and jewellery. Charms can be purchased separately to add to charm bracelets, and a little girl is likely to have fun picking out charms to add her own style and personality to a bracelet. Silver bracelets for little ones also have various colours of beads and charms as well as dangling charms or names to personalise the bracelets further.
Types of Children's Silver Bracelets
Children's silver bracelets come in many of the same styles as adult silver bracelets do. Purchase a bracelet for a child based on what type of bracelet she is likely to enjoy, her personal style, and added items such as charms or name personalisation. Children's bracelets are designed to fit smaller wrists, but a buyer may want to measure her child's wrist before purchasing to ensure the bracelet fits properly, unless the bracelet is comprised of stretchy elastic or comes in an adjustable style which is made to fit any size wrist.
Charm Bracelets
Children's silver charm bracelets vary in style. One style of charm bracelet which is popular is made up of small links that charms are clipped onto. Another type of charm bracelet is a rope chain that beaded charms are slid onto in order to personalise the bracelet. Both of these types of silver charm bracelets are popular for girls because girls are able to customise the bracelets however they like. Charms are purchased in the shape of hearts, animals, stars, flowers, butterflies, bows, and many other items.
Charms are also made of coloured or sparkling beads, or they may spell out a girl's name or initials on the bracelet. Charms can be removed and switched out at a girl's whim to make the bracelet look different at any time. Charms are usually affordable and are available in a multitude of styles and colours.
Beaded Bracelets
Beaded silver bracelets are generally made of either round or shaped silver beads and are made with stretchy elastic that fits over wrists, or as bangle or chain styles of bracelets. Beads are also coloured or made of crystals. Silver beads may be strung onto bracelets with other coloured beads, or Austrian crystal beads are combined with silver beads for elegant looking bracelets.
Beaded bracelets come in a lot of different styles, and sometimes the beads are not round but oval or square shaped. One type of beaded silver bracelet for a child is a child's rosary bracelet. The rosary beads may not be silver, but the bracelet itself is silver and has dangling charms that are silver in colour as well. Children's beaded silver bracelets are also available custom made with a child's name spelled out in beads. Silver beads on a beaded bracelet may be faceted for extra shine.
Bangle Bracelets
Silver bangle bracelets are bracelets that do not have an opening clasp; they simply fit over wrists. They are not flexible, but simply a circle that goes over wrists. Silver children's bangle bracelets are small, so they do not slide off little wrists, and these types of bracelets are sometimes solid silver or have engravings on the bracelets as decoration.
Children's silver bangle bracelets may also have other decorations such as dangling charms or bells, or a unique touch such as a buckle decoration or personalisation engraved on the bracelets themselves. Some bangle bracelets for children are called expander bracelets and they are made to adjust to fit the children as they grow. Bangles which have openings to slide over wrists are called cuffs.
Chain Bracelets
A children's silver chain bracelet typically has a lobster or toggle clasp and is made of a silver chain with links that are large or small. A chain bracelet may have added charms or other embellishments, or simply be a plain, delicate chain to wear around the wrist. A chain bracelet may or may not be able to be decorated with charms.
Some chain bracelets have interesting closures that are shaped like small locks, hearts, or bows. They may have beads embedded in the chains, as well. There are many types of chain bracelets for children to choose from, ranging from simple to embellished and decorated.
Identification Bracelets
Another type of silver children's bracelet is called an identification bracelet or an ID bracelet. This kind of bracelet is a chain bracelet which has a blank silver plaque in the centre to be engraved with a child's name. The plaque may have extra adornments like a heart or butterfly shaped cut out, or it may have stones embedded in it. The way the chain looks varies, too. An ID bracelet may have a dangling silver charm for decoration.
These children's ID bracelets are custom personalised to order. They come in various lengths, widths, and sizes as well. Links are small or large. These types of bracelets generally have push-in or lobster style clasps. ID bracelets make a personal and unique gift for children which they can always treasure. Medical ID bracelets are another type of ID bracelet for children who have medical conditions that need to be known for anyone who helps the children if they get hurt or injured.
Purchasing Children's Silver Bracelets
When it comes to purchasing a silver bracelet for a child, there are many factors to consider. Sterling silver bracelets vary in price, but are generally affordable, so the buyer can be free to focus on style considerations. A silver bracelet which is made to order, personalised, or customised may cost more than a standard silver bracelet that is ready for purchase.
| Charm Bracelet | Bangle Bracelet | Beaded Bracelet | Chain Bracelet | ID Bracelet |
| --- | --- | --- | --- | --- |
| Can be personalised with charms and beads | Can be personalised with engraving or dangling charms | Can be personalised with custom made beads | Cannot be personalised | Can be engraved with child's name |
| Link sizes vary | Most are the same size | Most are one size | Link sizes vary from small to large | Varies widely in size |
| Charms are colourful | No added colour | Beads are coloured or crystal | No colours involved | Not coloured unless dangling charms are coloured |
A personalised silver bracelet is a very special gift for a child. There are many things to consider when buying a silver children's bracelet for a young girl, but the most important factors are fit and personal style. The right silver bracelet makes a girl who loves accessories very happy and it lasts for years.
How to Buy a Children's Silver Bracelet on eBay
Finding a children's silver bracelet on eBay is affordable and fun. Search with general keywords such as "children's silver bracelet&" to see a range of options which are available, or do a more specific search for more tailored and relevant results. Read the product description carefully, and see if the silver bracelet comes with any other items such as a jewellery box or bag, especially if the bracelet is going to be a present. Communicate with the seller easily by using the "Ask the Seller&" button to ask any questions you may have about the bracelet, or click this link to contact the seller if you need to see more images before purchasing.
Buy a children's silver bracelet from a merchant who is a Top-rated seller on eBay, and read all of the feedback from other buyers before purchasing, to ensure it is all positive for the best buying experience you can have. It is also important to go back and leave feedback yourself for the seller after you have completed and received your own purchase. This can be a valuable purchasing tool which helps other buyers who are selecting a silver bracelet to purchase for a child.
Conclusion
Little girls love to accessorise and wear jewellery just like grown-ups. Instead of trying to wear her mother or sister's silver bracelets which may slip off, purchase a little girl her very own jewellery made just for her. Whether it is a silver charm bracelet with a lot of dangling, fun charms or a silver bangle engraved with her name, it is thrilling to have her very own silver bracelet. Silver bracelets for children are purchased for special occasions or simply for everyday wear.
Make a little girl's day brighter by buying her an engraved ID bracelet with her name on it or a silver beaded bracelet which shines in the light and complements all of her outfits. A silver bracelet with added charms or cut-outs enhances the look of the bracelet and makes it even more special. A bracelet that fits a child's wrist perfectly and reflects her personality and favourite things becomes a little girl's favourite piece of jewellery which she can always treasure.