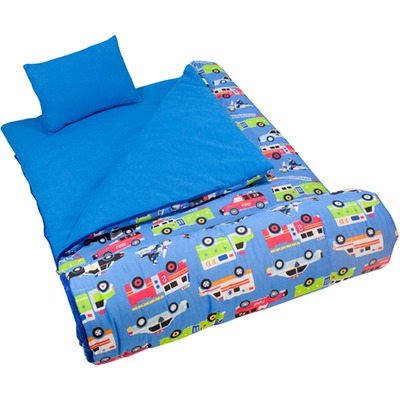 This guide will look at the different options consumers have when coming to buy a sleeping bag for their child. There are many different designs available on the market and although they are sold at varying prices, acquiring a child's sleeping bag can be affordable.
A well planned-out purchase can prove an astute investment for many years, so care should be taken over the final decision. One good method is to scour the wide-range of sleeping bags on offer, from a range of outlets, and then check eBay to see if they can be found for less.
eBay has many types of children's sleeping bags available from sellers that live all over the UK and abroad. Searching for one can be done in a number of ways, and there are also some minor safety considerations to think about which this guide will look at also.
What Is a Sleeping Bag?
A sleeping bag is a portable apparatus used for sleeping. Fundamentally, it is a blanket that is enclosed with a zipper that wraps around the person inside to provide comfort and insulation.
Its use is primarily a practical choice for outdoor pursuits, where sleeping in a traditional bed is not an option, although it can be beneficial for some indoor requirements too. It is made from soft materials that allow it to be folded up and therefore easy to store away when not being used.
Design Features
Although there are different types of sleeping bag on the market, their main design considerations are centred around keeping heat inside the bag and providing comfort from lying on a potentially hardened or bumpy floor.
Some bags have extra cushioning installed on the bottom surface, but additional padding is often needed, especially if camping on rougher terrain.
Others can include draw cords around the top of the sleeping bag; this allows the bag to be pulled tighter around the shoulder and neck level, trapping more hot air inside.
Sleeping bags will often come with either one or two zips, positioned on one or either side of the bag. They allow easy access in and out of the bag and quick ventilation if it becomes too hot during the night. Bigger zips can make a night's sleep uncomfortable if lying on top of one.
Also consider which hand the child uses; for example, a right-handed person may find it easier to reach over to pull up a zip on the left hand side of the sleeping bag.
Main Types
There are two types of sleeping bag that are readily accessible on the popular market. Children will tend to not need specialist versions with high-tech specifications.
Rectangular sleeping bags are the most traditional and recognisable type. They are usually manufactured to have the same width from top to bottom, providing sufficient space all the way down, if needed. The one or two zips on either side can open up the sleeping bag to form a type of blanket also.
'Mummy' versions of the sleeping bag reduce in width from the top end of the sleeping bag to the bottom, providing less space for the legs, but accumulating more warmth inside. Some versions come with hood-type fittings, which help keep the head warm and comfortable.
Materials Used
The outer-shell of a sleeping bag is generally made from synthetic materials, such as nylon and polyester due to their lightweight qualities. How tightly woven these materials are dictate the level of water and wind resistance. They can sometimes be difficult to compress when not being used, however, but are generally on the low-cost side.
The inside, or fill, of a sleeping bag again can be made from synthetic fabrics which do not absorb water and also dry quicker. The other widely used substance is known as 'down' – a natural fill that provides increased insulation qualities. These down fills can sometimes become too hot inside during warmer climates, and also perform badly when exposed to any water.
Buying Considerations for a Children's Sleeping Bag
When looking at buying a sleeping bag for your child, firstly consider the following aspects, which can make a purchase easier:
Size
Perhaps the main consideration of buying a sleeping bag is its size when fully spread out. If it is too big then heat will be lost throughout the night. If too small, even by a few inches, the purchase will be a fruitless one. Measure the height of the child and check the sleeping bag's size dimensions before committing to buy. Also consider their potential to grow in the coming months and adjust accordingly.
Weight and Packed Size
The weight of any sleeping bag should not be too much of a hindrance, but of course the lighter it is the better. Compare the different sizes of bags next to each other if possible, and look for their varying weight figures, usually displayed in grams. The packed size of the bag relates to its size dimensions when rolled up; think of how much room is available in your camping bag in regards to this.
Temperature/Season Ratings
When looking at sleeping bags, you may come across a seasonal rating guide. It is very subjective and covers only vague conditions of when bags should be used at certain times of the year. In basic terms, it designates Season 1 bags as ideal for warmer, summer weather and goes up in scale to Season 4 bags that are suited to very low temperatures.
However, the newer 'EN 13537' standardisation ratings have made it simpler for first time buyers. This is essentially a way to know exactly which bags will suit certain temperatures. A graphic is displayed on most modern day sleeping bags, which shows the temperature it is best used at, alongside an upper, lower and extreme limit figure.
What Is It For?
Now a better idea has been gathered from examining the different types of sleeping bag, it is a good idea to think of the child in question, where will they be using it and at what time of year. For campers going out during the colder UK winter months, looking at down sleeping bags that have good insulation qualities is advisable.
Style
Some children may be more inclined to enjoy a brightly coloured sleeping bag, or one with cartoon characters sewn into the front. Added hoods and inbuilt pillows may also appeal more to younger campers. Look out also for sleeping pads or mats that lie underneath the child and are essential for a comfortable night's sleep
Cost
Children's sleeping bags should generally cost less than adult versions due to their reduced size. At the higher end of the market there are some that sell for over £100, although this amount doesn't need to be spent at all. Many can be found for under £20 and perhaps much less if shopping on eBay, and if the buyer is prepared to buy a second-hand sleeping bag or get lucky winning one via an auction.
Buying a Children's Sleeping Bag on eBay
Do as much research from various camping and outdoor activity websites about children's sleeping bags to achieve a more refined idea of their different styles and average cost. Checking out eBay before making a final decision is recommended in order to sniff out any attractive deals.
Sellers on eBay can potentially list two identical items in different ways. So as to not miss out on any results, searching through both of the different routes is advisable.
The first way is to simply type in 'children's sleeping bag' from the home page and then select 'Camping' from the menu from the left hand side.
Alternatively, type in just 'sleeping bag' into the search bar, select 'Camping', and then under the 'Size' section click on 'Children's.'
Performing both of these search techniques may present different results and give you more choice when evaluating which sleeping bag to go for.
To narrow the results that have appeared, use the menu bar to select other refinements, which can bring up the most desired sleeping bags. These include:
Brand –Vango, Snugpak and Coleman are all commonly found manufacturers.
Season – Choose between the season ratings in which the sleeping bags have been classified as, depending on what temperature they can be used in.
Condition – Depending on preference, choose between both brand-new and second hand sleeping bags.
Price – Select both a minimum and maximum price in accordance with your budget.
Buying Format – eBay provides the option to buy via an auction for potentially low amounts, and once can also buy instantly using the Buy It Now format.
When the listings have been narrowed down then select individual items by clicking on them. Review all the information provided as carefully as possible, especially its open and packed size dimensions, along with the postage details. Look for sellers who accept PayPal too, as this is considered the safest option.
Conclusion
The sleeping bag is an imperative part of the whole camping experience; without one sleeping is made much more uncomfortable and extreme weathers can become life threatening. Although children should not really be subjected to these sorts of conditions anyway, care should still be made about choosing the right sleeping bag for colder temperatures.
In regards to this, go over some of the buying considerations listed in this guide and do further research if necessary. eBay has plenty of children's sleeping bags listed on a regular basis, so is a good place to begin a search. For any safety concerns about the site, check out the eBay Safety Centre before completing the purchase.