Chinese Lunar Calendar Year of the Dog
The Chinese year 4704 is the year of the dog, and runs from 29th January 2006 to 17th February 2007.
The
Chinese Lunar Calendar
runs in a series of 12 year and 60 year cycles. Each of the twelve years is represented by an animal symbol.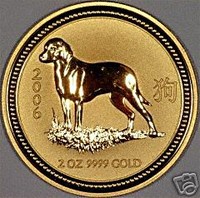 Beagle on Australian 2006 Gold Bullion "Year of the Dog" Coin by The Perth Mint
Year of the Dog Attributes
People born in a year of the dog are believed to possess the following character traits and attributes:
They are the most likeable of all the Chinese zodiac types. Like the real animal, dogs are loyal. They are the ones people are most likely to turn to when they need help.
The dog person will come through every time. This is because they are sensitive to others and empathize with them, particularly if someone has suffered an injustice. They react instantly with the same feeling as though they had been personally offended. Friends know that they can rely upon their Dog friends to keep a promise or remain cool in a crisis.
Dog types are honest, intelligent and straightforward. They will take on any responsibility that is given to them and you can be sure that they will do their job well.
People born in this year tend to be easily upset and shocked more often than the other more signs.
The dog is loyal, unselfish, and idealistic. They can sometimes be worriers and overly critical. Dogs go best with tigers and horses. Their secret friends are other dogs, tigers, horses and rabbits. Dogs get along worst with Dragons, whom they perceive as arrogant and flashy with no substance.
Other Dog Attributes and Associations
Zodiac Location 11th / 12
Ruling hours 7 p.m. - 9 p.m.
Direction West Northwest
Season and month Autumn, October
Gemstone Diamond
Roughly equivalent western sign Libra
Polarity Yang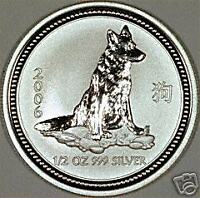 Alsation or German Shepherd on 2006 Half Ounce Year of the Dog Silver Bullion Coin
Other Dog Years
10 February 1910 - 29 January 1911
28 January 1922 - 15 February 1923
14 February 1934 - 3 February 1935
2 February 1946 - 21 January 1947
18 February 1958 - 7 February 1959
6 February 1970 - 26 January 1971
25 January 1982 - 12 February 1983
10 February 1994 - 30 January 1995
29 January 2006 - 17 February 2007
2018 - 2019
2030 - 2031

Family Group of 8 Different Size 2006 Year of the Dog Gold Bullion Coins
Famous People Born in the Year of the Dog
Albert II, Prince of Monaco
Andre Agassi, former professional tennis player
Andy Gibb, singer
Andy Roddick, professional tennis player
Ava Gardner, actress
Bill Clinton, former President of the United States
Christopher Lee, actor
Claudia Schiffer, supermodel
David Bowie, British Rock and Roll musician
David Gilmour, guitarist & vocalist of Pink Floyd
Donald Trump, real estate tycoon
Elvis Presley
Freddie Mercury, lead singer for Queen
George W. Bush, President of the United States
Herbert Hoover, former President of the United States
Kate Bush, British musician
Laura Bush, First Lady of the United States
Linda Ronstadt, singer
Madonna Ciccone, singer, actress, author
Mariah Carey, singer
Michael Jackson, singer, actor
Mother Teresa, Albanian Catholic nun
Sharon Stone, actress
Socrates, philosopher
Steven Spielberg, director, producer
Sylvester Stallone, actor
Tonya Harding, Olympic figure skater
Uma Thurman, actress
Winston Churchill, former British prime minister

7 Different Sizes of Silver "Year of the Dog" Bullion Coins
Coins
A number of countries including China and Australia issue coins bearing Chinese lunar calendar symbols.
Those issued by The Perth Mint in Western Australia are produced in 9999 fine gold and 999 fine silver as bullion coins, in sizes (weights) from 1/20th of an ounce to an enormous 10 kilos. They also produce a number of proof, coloured and collector coins.
Was This Guide Useful?
If you found this guide interesting, informative or useful, please spare few seconds of your time to vote for it by clicking on the "Yes" button below, thanks.
Other Guides

You may be interested in viewing our other guides:-
Mints & Mintmarks on Gold Sovereigns - All Seven Mints

Gold Sovereigns - Part 2 George IV, William & Victoria
CGT Capital Gains Tax Exemption on Gold Sovereigns Britannias UK Coins

How to Photograph Coins - Advice, hints, tips & more...
1780 Maria Theresa Silver Thaler Restrike Trade Coin

Krugerrand - One Ounce Investment Gold Coin

Buffalo - 9999 Fine Gold US Bullion Coin - 24 Karat Au

Pink Diamonds - One of Nature's Rarest Gemstones
Sniping - Is It Good Strategy or Tactics for Winning eBay Auctions?
£2 Two Pound Coins Queen with Necklace Rumour & Facts

Winning Auctions - Or Spending Money?
Definition of Investment - VAT Exempt (Tax Free) in UK & EU

Second Chance Offers on eBay - Should You Use Them?
Spellings - Is Good Spelling Important - A Few Howlers

Famous People (Celebrities) Who Collected Coins

Heads Upside Down on Coins - Medal & Coin Alignment

Identifying Coins, A Brief Guide to Help Identify Coins

BNTA - The British Numismatic Trade Association

Gold Coins Which Are Not Gold - Including German & € Euros

Postage Packing Shipping Insurance Charges - Fair or Excessive?
The Difference Between Proof and Uncirculated Coins
London Gold Fixing Price

Gold Bullion Bars For Investment

Author & Copyright Notice
This page was written by Lawrence Chard of Chard Coins, and is extracted from our "Gold Sovereigns" website. We hope you find this page useful and informative, please feel free to use the information we have provided, but please note we retain copyright on all contents including both textual content and images. Please do not copy our text or images without our prior written permission.