Chinese Lunar Calendar Year of the Pig Boar or Hog
The Chinese year 4705 is the year of the boar, and runs from 18th February 2007 to 6th February 2008.
The
Chinese Lunar Calendar
runs in a series of 12 year and 60 year cycles. Each of the twelve years is represented by an animal symbol.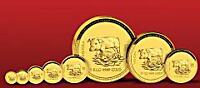 Australian Gold Bullion "Year of the Pig" Coins by The Perth Mint
Year of the Pig Attributes
People born in a year of the pig are believed to possess the following character traits and attributes.
Honest, straightforward, patient, modest, shy, works quietly behind the scenes, supportive when others disappear, reserved with those they do not know too well, but as time passes and they gain confidence, those around them may discover a lively and warm-hearted person behind an apparent mask of aloofness, trustworthy, reliable, wanting to do everything right according to social norms.
Although they have a wide circle of friends and acquaintances, they have few close friends who understand them and share their inner thoughts and feelings
Pig people are not vengeful. If someone tries to take advantage of them, the pig type tend to withdraw to reflect on the problem and protect themselves. All they need in such situations is a little time to find a constructive way to respond. The people of the pig type are conservative creatures of habit. They dislike being made to travel too far from familiar surroundings, unless it is a trip to the country. They love nature and are never happier than when they are out somewhere, far from the city.
They are tolerant and peaceful, never afraid to allow others their freedom of expression; they do not want to cause arguments and if there is any way to avoid arguing, they will probably take this option. They are not weak, however, and if the situation forces them to fight these people will rise to the occasion, whether it is to defend themselves or those close to them.
People of the Pig type are the most admired by others.
Other Pig Attributes and Associations
Zodiac Location 12th / 12
Ruling hours 9 p.m. - 10.59 p.m.
Direction North Northwest
Season and month Autumn, November
Gemstone Topaz
Color Dark Blue
Roughly equivalent western sign Scorpio
Polarity Yin
Food Celery, all kinds of meats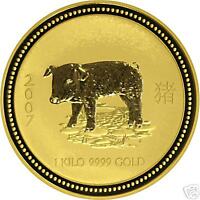 2007 One Kilo Year of the Pig Gold Bullion Coin


Other Pig Years
30 January 1911 - 17 February 1912
16 February 1923 - 4 February 1924
4 February 1935 - 23 January 1936
22 January 1947 - 9 February 1948
8 February 1959 - 27 January 1960
27 January 1971 - 14 February 1972
13 February 1983 - 1 February 1984
31 January 1995 - 18 February 1996
18 February 2007 - 6 February 2008
5 February 2019 - 24 January 2020
2031 - 2032
2043 - 2044
Famous People Born in the Year of the Pig
Andrew Jackson, former President of the United States
Arnold Schwarzenegger, actor and Governor of California
Chiang Kai-shek
David Letterman, talk show host
Elton John, singer
Ewan McGregor, actor
Fabian Barthez, French football goalkeeper
Henry Ford, inventor and founder of the Ford Motor Company
Hillary Rodham Clinton, United States Senator and wife of former U.S. President Bill Clinton
Humphrey Bogart, actor and star of Casablanca
Jack Ruby, assassin
James Buchanan, former President of the United States
Kevin Spacey, actor
Lee Remick, actress
Leonhard Euler, mathematician
Lucille Ball, actress and comedian
Magic Johnson, basketball player
Mary J Blige, singer
Rachel Weisz, actress
Ronald Reagan, former President of the United States
Thomas Jefferson, former President of the United States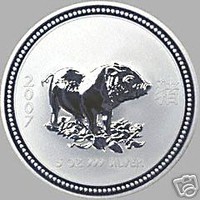 Silver "Year of the Pig" Bullion Coin
Coins
A number of countries including China and Australia issue coins bearing Chinese lunar calendar symbols.
Those issued by The Perth Mint in Western Australia are produced in 9999 fine gold and 999 fine silver as bullion coins, in sizes (weights) from 1/20th of an ounce to an enormous 10 kilos. They also produce a number of proof, coloured and collector coins.
Was This Guide Useful?
If you found this guide interesting, informative or useful, please spare few seconds of your time to vote for it by clicking on the "Yes" button below, thanks.

Other Guides
You may be interested in viewing our other guides:-

Mints & Mintmarks on Gold Sovereigns - All Seven Mints

Gold Sovereigns - Part 2 George IV, William & Victoria
CGT Capital Gains Tax Exemption on Gold Sovereigns Britannias UK Coins

How to Photograph Coins - Advice, hints, tips & more...
1780 Maria Theresa Silver Thaler Restrike Trade Coin

Krugerrand - One Ounce Investment Gold Coin

Buffalo - 9999 Fine Gold US Bullion Coin - 24 Karat Au

Pink Diamonds - One of Nature's Rarest Gemstones
Sniping - Is It Good Strategy or Tactics for Winning eBay Auctions?
£2 Two Pound Coins Queen with Necklace Rumour & Facts

Winning Auctions - Or Spending Money?
Definition of Investment - VAT Exempt (Tax Free) in UK & EU

Second Chance Offers on eBay - Should You Use Them?
Spellings - Is Good Spelling Important - A Few Howlers

Famous People (Celebrities) Who Collected Coins

Heads Upside Down on Coins - Medal & Coin Alignment

Identifying Coins, A Brief Guide to Help Identify Coins

BNTA - The British Numismatic Trade Association

Gold Coins Which Are Not Gold - Including German & € Euros

Postage Packing Shipping Insurance Charges - Fair or Excessive?
The Difference Between Proof and Uncirculated Coins
London Gold Fixing Price

Gold Bullion Bars For Investment

Author & Copyright Notice
This page was written by Lawrence Chard of Chard Coins, and is extracted from our "Gold Sovereigns" website. We hope you find this page useful and informative, please feel free to use the information we have provided, but please note we retain copyright on all contents including both textual content and images. Please do not copy our text or images without our prior written permission.