Chinese Lunar Calendar Year of the Rooster, Cockerel, or Chicken
The Chinese year 4703 is the year of the rooster, and ran from 9th February 2005 to 28th January 2006.
The
Chinese Lunar Calendar
runs in a series of 12 year and 60 year cycles. Each of the twelve years is represented by an animal symbol.
Year of the Rooster Gold Bullion Coin
Year of the Rooster Attributes
People born in the year of the Rooster are usually observant, brave, resilient, sexy, and tenacious but can also be quite self-absorbed, pretentious, and overly romantic. Most of the time, they are very accurate and precise with their observation.
These people certainly love to find themselves in the spotlight, love entertaining friends and adore meeting new people, and even unexpected and uncertain circumstances are not a barrier for them.
It is almost impossible to find someone born in this year looking dowdy or untidy. The fact is that these people are usually the best dressed and groomed of all other people. They are actively interested in clothes, colours, and accessories, and are usually very critical of their own appearance as well as of the appearance of those around them. People born in the year of the Rooster like to be noticed and flattered. Such people might dress a little flashily with this in mind, but in his heart, they are completely conservative. Roosters always appear attractive and beautifully turned out. They are sociable and love to receive attention. Others may criticize them for being exhibitionists but the fact that they are compassionate, wise, and have a brave nature which comes to the fore when others need their help, makes up that deficiency.
It is difficult for these people to accept advice because of their strong independent spirit. These people are often confident in their own judgements and choices. There are times when these people may be too straight-forward which can cause some problems in relationships with others. So it would be wise sometimes not to express their opinions in order to keep the peace.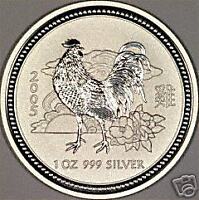 Year of the Rooster Silver Bullion Coin
Other Rooster Attributes and Associations
Zodiac Location 10th
Ruling hours 5 p.m. - 7 p.m.
Direction West
Season and month Summer, September
Gemstone Jasper
Roughly equivalent western sign Virgo
Polarity Yin

Whole Flock of Gold Bullion Year of the Rooster Coins
Other Rooster Years
22 January 1909 - 9 February 1910
8 February 1921 - 27 January 1922
26 January 1933 - 13 February 1934
13 February 1945 - 1 February 1946
31 January 1957 - 17 February 1958
17 February 1969 - 5 February 1970
5 February 1981 - 24 January 1982
23 January 1993 - 9 February 1994
9 February 2005 - 28 January 2006
2017 - 2018
2029 - 2030

Family Group of Year of the Rooster Silver Bullion Coins
Famous people born in the year of the Rooster
Akihito, Emperor of Japan
Alexander Dubcek, Slovak politician and First Secretary of the Central Committee of the Communist Party of Czechoslovakia
Alexander I of Russia
Anna Kournikova, Russian tennis player
Archimedes of Syracuse, mathematician and scientist
Bede, English monk, writer and historian
Benjamin Franklin, American political figure
Bette Midler, American singer and actress
Beyoncé Knowles, American singer (Destiny's Child) and actress
Bob Seger, American singer
Britney Spears, American singer
Cardinal Richelieu
Carl Friedrich Gauss, German mathematician, astronomer, and physicist
Cate Blanchett, Australian actress
Catherine the Great of Russia
Catherine Zeta-Jones, Welsh actress
Charles Bronson, American actor
Cicero, Roman politician and author
Confucius, philosopher
David Livingstone, English missionary and explorer
David Lynch, American film director
Debbie Harry, American singer
Diane Keaton, American actress
Dolly Parton, American singer and actress
Donny Osmond, American singer
Edward VI, King of England
Ehud Olmert, Israeli prime minister
Eli Whitney, American inventor
Enrico Caruso, Italian tenor
Eric Clapton, English guitarist
Errol Flynn, Australian actor
Eva Gabor, Hungarian actress
Ezra Pound, American poet
Fernando Alonso, Spanish formula one driver
Franz Beckenbauer, German football player
Frederick I of Prussia
Georg Ohm, German physicist
George Patton, American general
George Segal, American actor
Giuseppe Verdi, Italian composer
Gloria Estefan, Cuban-born singer
Gordian I, Roman Emperor
Hamid Karzai, Afghan president
Helen Mirren, British actress
Henry the Lion, Duke of Saxony and Bavaria
Horace Walpole, British writer
Howard Carter, English Egyptologist
Ivan Petrovich Pavlov, Russian researcher, recipient of the Nobel Prize in Physiology or Medicine
Ivanka Trump, American model
Jamelia, British singer
James Brown, American musician
James II of England
Jayne Mansfield, American actress
Jennifer Lopez, American actress and singer
Joan Collins, English actress
Joan Rivers, American entertainer
Joe Cole, English football player
Johann Strauss, Junior, Austrian composer
John Pierpont Morgan, American financier and banker
Joseph Goebbels, German Nazi propagandist
Kwame Nkrumah, Ghanian politician
Livy, Roman historian
Maria Theresa, Empress of Austria
Michael Caine, English actor
Michael Dukakis, American politician and Presidential candidate
Minnie Driver, English actress
Molière, French playwright
Nancy Davis Reagan, wife of U.S President Ronald Reagan
Nathan Mayer Rothschild, German-born, London-based banker
Neil Young, Canadian singer and songwriter
Nero, Roman Emperor
Nerva, Roman emperor
Niels Bohr, Danish physicist, Nobel Prize laureate
Osama bin Laden, Saudi-born Islamic extremist
Paris Hilton, American actress and heiress
Pete Townshend, English guitarist and lyricist
Peter Ustinov, English actor and director
Prince Al-Waleed bin Talal bin Abdul Aziz Al-Saud, Saudi billionaire
Priscilla Presley, American actress
Ptolemy, Greek astronomer
Quincy Jones, American music producer and composer
Renée Zellweger, American actress
Richard Wagner, German composer
Rodney Dangerfield, American actor and comedian
Saint Patrick, the patron saint of Ireland
Serena Williams, American tennis player
Sergei Rachmaninoff, Russian composer and pianist
Sid Vicious, English bassist
Steffi Graf, German tennis player
Steve Martin, American actor and comedian
Thomas Aquinas, Italian theologian
Thomas Henry Huxley, English biologist
Thomas More, English statesman and humanist
William IV, King of England
Yoko Ono, Japanese-born singer and artist, wife of John Lennon
Coins
A number of countries including China and Australia issue coins bearing Chinese lunar calendar symbols.
Those issued by The Perth Mint in Western Australia are produced in 9999 fine gold and 999 fine silver as bullion coins, in sizes (weights) from 1/20th of an ounce to an enormous 10 kilos. They also produce a number of proof, coloured and collector coins.
Was This Guide Useful?
If you found this guide interesting, informative or useful, please spare few seconds of your time to vote for it by clicking on the "Yes" button below, thanks.
Other Guides
You may be interested in viewing our other guides:-
CGT Capital Gains Tax Exemption on Gold Sovereigns Britannias UK Coins

How to Photograph Coins - Advice, hints, tips & more...
1780 Maria Theresa Silver Thaler Restrike Trade Coin

Krugerrand - One Ounce Investment Gold Coin

Buffalo - 9999 Fine Gold US Bullion Coin - 24 Karat Au

Pink Diamonds - One of Nature's Rarest Gemstones
Sniping - Is It Good Strategy or Tactics for Winning eBay Auctions?
£2 Two Pound Coins Queen with Necklace Rumour & Facts

Winning Auctions - Or Spending Money?
Definition of Investment - VAT Exempt (Tax Free) in UK & EU

Second Chance Offers on eBay - Should You Use Them?
Spellings - Is Good Spelling Important - A Few Howlers

Famous People (Celebrities) Who Collected Coins

Heads Upside Down on Coins - Medal & Coin Alignment

Identifying Coins, A Brief Guide to Help Identify Coins

BNTA - The British Numismatic Trade Association

Gold Coins Which Are Not Gold - Including German & € Euros

Postage Packing Shipping Insurance Charges - Fair or Excessive?
The Difference Between Proof and Uncirculated Coins
London Gold Fixing Price
Gold Bullion Bars For Investment
Author & Copyright Notice
This page was written by Lawrence Chard of Chard Coins, and is extracted from our "Gold Sovereigns" website. We hope you find this page useful and informative, please feel free to use the information we have provided, but please note we retain copyright on all contents including both textual content and images. Please do not copy our text or images without our prior written permission.