So where to begin.........
All of us love a good handbag, but why??
why does a creation of leather/suede/plastic or faux fur get us so excited??
we like big ones, small ones, black, blue, red and any other colour from the rainbow, preferably all together with a puppy wearing a crown on top.
It must be genetically programmed within us, we see bag, we any bag, we buy bag, we want another bag....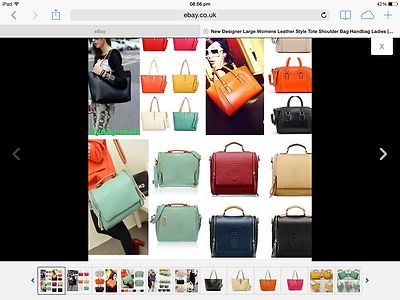 So where to start
Well ladies, and gentlemen, despite the fact that we just love them, we need to think practicality, just how many pockets do we need to carry all of our essentials?
Also think price, if our new handbag is going to be our prized possession, how long will we use it for before the elements, such as rain, spilled drinks, dust from pavements and generally carting the thing round with us will last.
i like to purchase bargain handbags and have lots of them, but some like to buy one very expensive one and treasure it like a small child.
Decisions, decisions, ladies and gentlemen handbag buying is not just done on a whim it is a tactical manoeuvre that requires time, dedication cash and of course a large wardrobe, so take your time, browse those bags, and if you buy more than one, I applaud you, you go girl or boy you know why? Because your worth it :)