Bodyboard Guide
Wondering which bodyboard is best for you to buy? Whether you're a beginner or an experienced rider, our bodyboard buyer's guide will help you make an informed descision when purchasing your next bodyboard.
Which Size Bodyboard
Bodyboarding is a lot easy and a lot more fun with the correct size board! Boards that are too long will push water and will be much harder to control, whereas boards that are too small will lack flotation making it much harder to catch waves.


Use the chart below as guide to selecting the correct size bodyboard, but please feel free to contact us if you need any advice.

Bodyboard Length Rider Height

36" up to 5'2"
40" 5'2" to 5'8"
42" 5'8" to 6'1"
45" 6' plus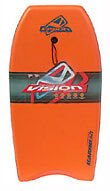 Bodyboard Shapes: The Crescent Tail
This is the classic bodyboard tail shape and by far the most commonly seen. Crescent tail boards give plenty of grip on a wave, making them user friendly and easy to ride for all ability levels.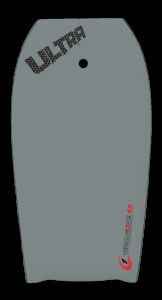 Bodyboard Shapes: The Bat Tail
The bat tail is generally favoured by riders looking for a faster, looser board. The extra buoyancy at the back of the board makes it faster and easier to release the tail of the board for manouvres, but gives much less grip than a cresent tail.
Bodyboard Rails
Bodyboard rails are generally described as being 60/40 or 50/50, this is the angle between the deck and the rail and the slick and the rail. Generally 60/40 offer better control, whereas 50/50 rails are faster.
Bodyboard Construction
All body boards are not created equally! The cheap bodyboards that you'll see at beach shops the world over are made of a basic glued foam construction. This is an incredibally cheap way to make a board but performance and durability are severely compromised. All the boards available from Surfing Hardware are are of a heat-laminated construction.

Core Material
This is the heart of your bodyboard! Our mid range bodyboards generally have an EPS(expanded polystyrene) core, which gives good performance and durability at a reasonable price.

All our top end boards use a PE (polyethelene) core, which greatly improves the flex and memory of the board, giving greater projection for the rider, especially in the colder water temperatures found in the UK. Stringers are inserted along the core of these bodyboards to further increase the strength and help the board to spring back to its original shape. The other commonly avaliable core material is PP (polyproplyne) this is stiffer than PE and so is more suited to use in warmer tropical waters.

Deck
PE is regarded as the best deck material as it is less likely to impair the boards ability to flex. It has a softer, slightly rough feel to it, unlike its more economical alternative, the crosslink deck skin which has a stiffer, smooth feel.

Slick
This is the hard bottom of your bodyboard; it gives the board speed and projection as well as helping the board to bend and spring back to its original shape. Slicks are generally made from HDPE(high density polyethelene). In some boards a layer of mesh is laminated under the slick for a bit more extra strength. This mesh also helps to enhance the recoil of the board.