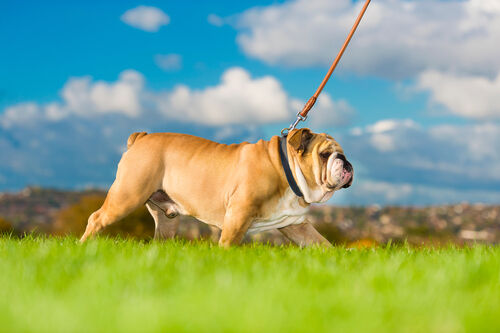 Add a caption
The right collar will make your pooch walk out in style
Click to edit caption
A collar is an essential item in any responsible dog owner's armoury. Not only does a collar allow you to keep control of your pet, it keeps you on the right side of the law by displaying the legally required ID tag. Read on for some tips on buying the best collar for your pooch.
What to consider when buying a collar
Quality is of paramount importance when choosing a
dog collar
. The dog's own safety as well as that of other people and animals will be compromised if a dog gets loose or slips its collar. Look for good stitching and high quality materials.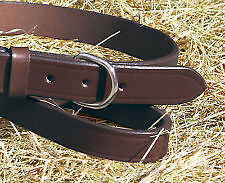 Types of collar
Leather
Before the introduction of synthetic materials, dog collars were traditionally made from
leather
. They come in various forms, including plain and flat, rolled or padded, and speciality collars, such as those shaped for greyhounds or embellished Staffy collars. Leather is still a top choice for owners due to it being a natural material, which softens and becomes more pliable with age, and due to its classic look.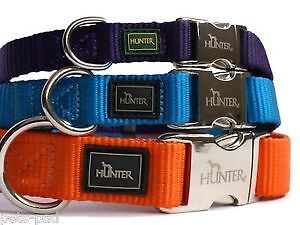 Nylon
Synthetic materials such as nylon are very strong, lightweight, and generally soft and flexible. As a result, this material is a popular choice for dog collars. Nylon webbing comes in every colour imaginable and these collars are fun and funky to look at as well as practical. The 'D' ring used to attach the lead to is usually made of metal.
Chain
Collars that include a short length of metal chain are called semi-choke or check collars. They may also be referred to as martingale collars. Their use is thought by some to be controversial because they tighten around a dog's neck. They should not be used to jerk, pull or choke a dog. According to the Association of Pet Dog Trainers, some owners of narrow-headed dogs (such as sight hounds or collies) prefer them as they help stop the dog backing out of its collar.

They must be fitted so that the two rings meet around the dog's neck, with sufficient space for two fingers to be slipped between the collar and the neck, in the same way as any normal collar is fitted.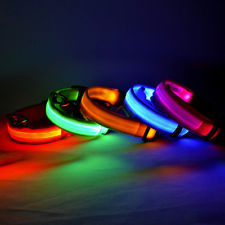 High visibility
Reflective
/fluorescent /
LED
collars are a good option when walking your dog in the evenings or during winter. They increase your pet's visibility hugely to drivers and other pedestrians, thereby reducing the risk of incidents or accidents.
Safety collars are available in myriad styles and colours, including fluorescent yellow, reflective bands, coloured LEDs and flashing pendant lights to clip on the dog's collar. And while you're at it, it's a good idea to get something high
-
vis to wear yourself to make sure you can be seen too!
Other materials
Dog collars may be made from a range of other materials, such as synthetic leather (polyurethane), cotton bandana-style collars and those embellished with crystals and metal decorations. The main considerations when choosing a collar should always be safety and the dog's welfare.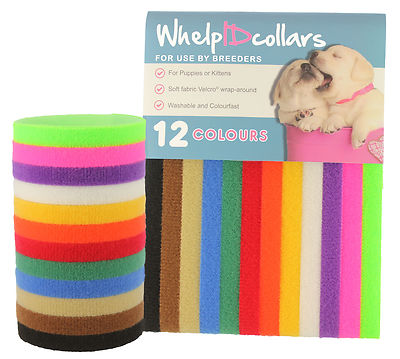 Whelping/ID collars
Soft, brightly coloured collars are available for young puppies. These are used by breeders to identify litter mates and they are available in packs of 10-15 different colours. Commonly they have Velcro fastenings although they can have safety clips. They are available in different lengths to suit different breeds and are easily adjustable for use as the puppy grows. They are washable and reusable.
Electric shock collars
Although these collars are legal in the UK, there is pressure from welfare and veterinary groups to ban their use in dogs. The British Veterinary Association has an information page all about the welfare issues associated with these collars. They are sold as being 'anti-bark' or as 'obedience' devices, but punishment-based training for dogs is not advocated by trainers or vets.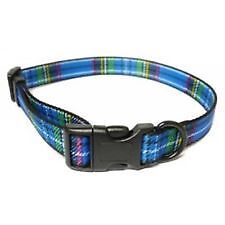 Add a caption
Make sure you measure your dog's neck size
Click to edit caption
Sizing
Measuring your dog's neck
It is essential you buy the correct size of collar for your dog. To measure up for collar size, place a fabric tape measure around your dog's neck, then put two fingers between the tape and the dog's neck. Note the measurement in both centimetres and inches. Then check your chosen collar to see what sizes it comes in, making sure you check whether it states the total length of collar is 40cm or that it is suitable for a 40cm neck.

eBay sellers often list the collars as being suitable for a certain neck size, such as "suitable for neck sizes between 12 and 14 inches". If your dog's measurements fall between these two parameters the collar should be the correct size. For more information on measuring, see the following guide:
Size-guide-for-dog-cat-collars-what-size-to-buy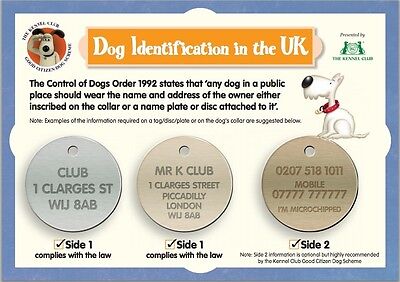 Add a caption
Dog ID tags are a legal requirement
Click to edit caption
ID tags and plaques
ID tags and plaques
It is a dog owner's legal responsibility to ensure their pooch is wearing a collar with an ID tag or plaque whenever it leaves the house. The tag must include the owner's name and address, and The Kennel Club recommends that a phone number and "I'm microchipped" is also included, which should fit on side 2.

Pet ID tags are available in every shape size and colour, from brass bones to pink glitter hearts, along with traditional round metal discs. Choose one that won't be too heavy around your pet's neck and that will fit on all the information you require. Many companies offer a free engraving service to add your details to the ID disc, check with each vendor.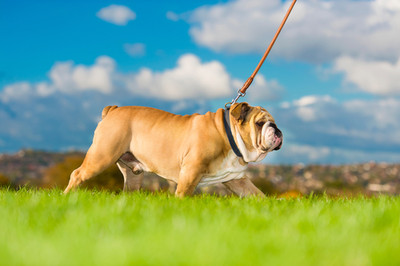 Leads
A dog
lead
or harness is also essential for when walking your dog. These too can be made from similar materials to dog collars. They can match or contrast, depending on your personal preference. Leather leads take a little more maintenance and should be cleaned/oiled regularly to keep them supple. Synthetic leads are good for walking your dog in wet conditions as they dry quickly and don't become sodden.
There is an eBay guide that covers dog leads separately, which can be found here:
Taking-The-Lead-On-Dog-Walkies