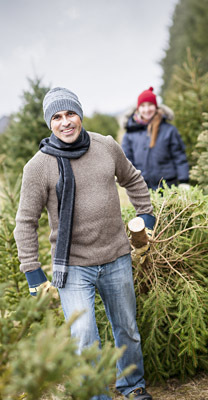 Cut Christmas Trees
Cut trees are still the most popular choice of real tree as they usually offer the most cost effective solution and are the easiest option for handling. For maximum freshness choose a Rootballed tree and have the rootball cut off on the day of dispatch.

Immediately upon receipt of your tree, remove the packaging. Cut about 25mm off the base of the tree and stand it upright in a bucket of water in a cool building (garden shed or garage). Aim to keep the tree in a cool building for as long as possible, taking it inside just before Christmas. Make sure the water in the bucket is kept topped up and the spray the foliage with water daily if possible. Choose the coolest room in the house (hallway etc), away from open fires and direct sources of heat (radiators etc). Before taking the tree inside, check it fits properly in your stand or you've trimmed enough branches back if keeping it in a bucket. Put the stand (or bucket) in the chosen place in the house, no closer than 60cm to a wall to allow the tree to stand up. Put the tree in the stand and systematically clamp the tree into the stand, ensuring it is upright. If using a bucket, bricks wedged between the bucket and the trunk work well and offer good counter balance. Keep the tree watered in the stand and ideally spray the needles carefully with water everyday (taking care to avoid the lights!)

Take the tree out of the house as soon as possible after Christmas. There will inevitably be some needle loss in the process but nothing 5 minutes with a vacuum cleaner can't fix. Take the tree to your nearest recycling centre because once chipped and composted, your tree can be recycled as mulch top dressing.