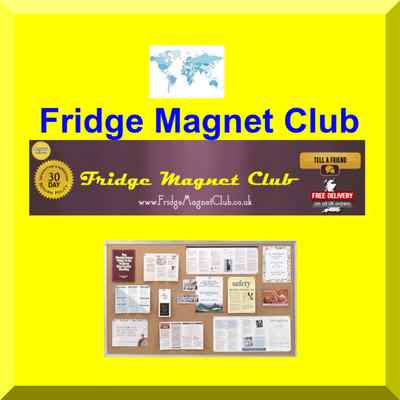 Reasons for Buying a Fridge Magnet

To Help Keep Alive Happy Memories
A popular reason for a buying fridge magnets is to keep alive happy memories from places visited. Sometimes on holiday or at the tourist attraction a magnet is not bought for what ever reason. Yet one is still wanted as a memento. No problem, that is where eBay comes in. We can search for fridge magnets from and depicting the places we visited to help bring back happy memories related to your holidays or other special events/trips.

To Show Support for a Good Cause
If you have a good cause that you are passionate about then a related fridge magnet can help show support. It can also act a talking point, an opportunity to bring the subject up with others.

It Evokes a Good Feeling
Like any object each fridge magnet will evoke a different feeling in the viewer and experiencer. Objects may evoke particular feelings due to universal/trans-cultural reasons, cultural reasons and personal reasons. Universal/trans-cultural reasons are based on symbols/archetypes, colors, textures, size and materials which have inherent instinctive, emotional, intellectual and spiritual resonances. These transcend particular cultural and personal affinities and have an effect on all people in general. Then there is the cultural overlay. Depending on ones particular culture, the society within which one lives and identifies with. On top of this background is the layer of personal reasons based on the individual's memories , experiences and preferences.
If for the individual the fridge magnet evokes a good feeling then that is a fine reason for purchasing/owning it.

It is Beautiful
Some fridge magnets are beautiful and graceful thus enhancing your fridge. By extension this enhances your kitchen, your home and your life. One of the principles of Feng Shui is that beautiful graceful objects radiate an uplifting harmonious energy.

It is Useful
Fridge Magnets are inherently useful for pinning notes, to-do-lists, reminders and notices etc. The fridge is an ideal place to display notes as it is a place visited every day multiple times. Apart from holding up notes many fridge magnets have added functionality. Some popular examples include: bottle opener, thermometer and clock. As most small items/devices can be fitted with a magnet they can all be turned into fridge magnets as needed.

Positive Subliminal Effect
Words, phrases and images that we see on a daily basis can slowly have an influence on us. By choosing a fridge magnet with a positive phrase or symbol we can positively influence our subconscious mind. For example if we want to develop a particular quality such as bravery, patience or kindness we can help ourselves by having a fridge magnet with an associated message. Personally I caution against displaying magnets with negative messages hidden in joke form. Although meant as a joke at one level at another level they may contain negative messages which are taken literally by the subconscious and so are detrimental to well-being. For example if there is a joke about untidiness or overeating it may actually make the problem worse over time by reinforcing a negative self image. So pick positive images and wise sayings to help guide your life in a beneficial direction.

They are Great to Collect
Collecting can be a wonderful hobby. If you are interested in starting a collection then fridge magnets are certainly a nice option. They are small and come in great variety. They are relatively cheap although there are some rare and vintage ones to aspire to. Friends and family will think of you when on holiday and they may buy you one from exotic places.

They Make a Great Gift
If you are looking for a great little gift for someone or a stocking filler the a thoughtfully chosen fridge magnet can be ideal. The recipient need be interested in fridge magnets themselves but only in the particular theme of the fridge magnet . For example if they like super heroes, trains, animals or a particular celebrity you will likely find a related magnet. If you know someone who collects anything or is a big fan of anything then a related fridge magnet will make a thoughtful little present.