The Intel Pentium processor is currently a very popular choice of CPU since it offers excellent performance and reliability. Traditionally, Intel processors have always run cooler than equivalent offerings from their rival AMD. However, more recently there has not been much difference between them in terms of thermal output, as the Pentium D CPUs now run hotter than their AMD X2 counterparts! This means that providing safe and quiet cooling is more of a challenge.
However, CPU cooler technology has not stood still, and now we are delighted to be able to offer several new products which are specifically designed to give excellent cooling for Intel processors in near-silence. If your current cooler is driving you nuts, or if you just want to build a PC right in the first place, these products should be number one on your shopping list! Forget other "great pretenders" - if you want an extremely quiet system, these are the coolers to use.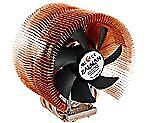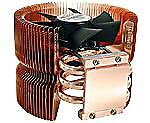 Specifically designed for Intel Socket 775 and easy to install withUltra-quiet PWM fan for automatic fan speed control based on CPU temperature. Compatible with Intel Dual Core Pentium, Pentium 4 and Celeron D for Socket 775
The CNPS9500-AT is only compatible with Pentium LAG775 systems. This is because the AT is supplied with a PWM fan. A PWM fan is designed to increase and decrease its RPM depending on the temperature of the CPU and BIOS settings.The primary innovation lies in the patented 'figure of 8' shape bending of the heatpipes. This produces the effect of up to six heatpipes when in actual fact there are only three. The excellent cooling performance and efficiency of the CNPS9500-AT is achieved by the aerodynamically designed ultra-slim heatsink fins and their performance optimised layout. This layout reduces airflow resistance and minimises the weight of the cooler.
Base Material Pure Copper
Weight(g) 530
Thermal Resistance(¡ÆC/W) 0.12 ~ 0.16
Dimensions(mm) 85(L) X 112(W) X 125(H)
Dissipation Area (cm2) 3,698
Bearing Type Dual Ball Bearing
Rotation Speed 1,300RPM ¡¾ 30% ~ 2,650RPM ¡¾ 10 %
Noise Level 18.0dB ¡¾ 10% ~ 27.5dB ¡¾ 10%
Input Voltage 12V
Main Function PWM Control Function and Auto Restart Function
Retails for approx £34.95 ( well worth the money it is deadly quiet and the performance is pretty damn good also. The ease that it takes to mount this is on the level of any noobies. And for those that have the overclocking itch, this cooler outperforms some lower end water cooling setups.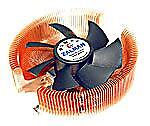 The CNPS7000B "Super Flower" builds on the success of the 6000 series, and offers the same low-noise 92mm fan, but this time integrated into the heatsink itself. Available for Pentium 4, Athlon 64 and Athlon XP, its radical design offers unparalleled efficiency even when its fan is running in "Silent mode" (a mere 1,350 rpm). The CNPS7000-CU achieved a full 6 out of 6 stars in PC Pro magazine and even scooped the coveted "Extreme Most Wanted" award! For a specialist component, this alone speaks volumes. But what really hammers the point home is the product's ability to cool processors up to a theoretical 150 watts! When it comes to cooling in silence, there is nothing to touch the Zalman Super Flower.
1. Does not generate noise or vibration in Silent Mode.
2. Pure Copper base material ensures excellent heat dissipation.
3. Intel Pentium 4 (Socket 478), AMD Duron/Athlon/Athlon XP (Socket 462), and Sempron/AMD64 (Socket 754/939/940) compatible design for broad compatibility.
4. 92mm fan inside the FHS maximizes airflow and makes installation easier.
5. Adjustable fan speed controller (FAN MATE 2) enables control of noise and fan performance.
- Heatsink Dimensions : 109 x 109 x 62 (w x d x h)
- Dissipation area : 3154 cm2
- Weight : 755g (over Intel and AMD's recommended weight, please take care when transporting systems fitted with this cooler)
- Fan speed : 2600rpm Normal mode, 1350 rpm Silent Mode
- Noise Level : 27.5 dBA Normal mode, 18 dBA Silent Mode
- Includes fanmate 2 variable speed controller (3 pin)
Retails for approx £22.00 and £3.50 for the ZM-CS1 Clip Support This clip has been specifically designed for the 7000 series only to enable socket 775. A good performance CPU cooler. This CPU cooler is an ideal choice for those users who wish for the stylish look and extreme cooling performance Furthermore, the entire housing of the CNPS7000B-Cu CPU Cooler is made of copper.a very affordable CPU cooler in terms of the design and also the performance.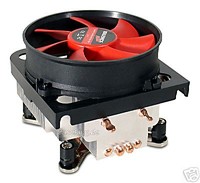 Xilence Intel LGA of 775 CCU radiators with red 92 mm of exhausts and the warmth is dissipated efficiently over the four Heatpipes from the copper base to the top section of the aluminium fins. This process moves the heat move quickly away from the CPU, resulting in CPU lower temperatures. The Xilence Intel LGA 775 Heatpipe radiators is suitable for Intel Pentium D LGA 775,820 (2,8 GHz), Intel P4 6xx LGA 775,672 (3,8 GHz), Intel P4 LGA 775 570/571 (3,8 GHz), and all series Celeron D LGA 775 (3,06 GHz). At the top side is a 92 mm fan with red exhaust sheets, which lend a special note to the radiator. . The exhaust offers a good air volume with very low noise.
Base: Intel LGA 775
Mass radiator box: 97x95x50.6mm
Mass exhaust: 92x92x25mm
Air volume: 70,4 CFM max., approx. 120m ³ /h
Exhaust number of revolutions: 3200U/min ± 10%
Noise level: 19-24dB/A
Tension: 12VDC
Weight: 414g
Test character: CE, FCC
Fitting is extremely easy, no tools are required. All you need to do is apply thermal paste (supplied), attach the two clips to either side of the sockets retention module and tighten the two levers. Finally, connect the fan to the motherboard and away you go!
Retails for approx £18-19 This cooler is brand new onto the market and as Xilence is a newcomer into the cooling side of manufacturing it has not yet been given the full recogniction it derserves. This product i would fully reccommend to go against in fact beat the performance and noise levels of the popular Arctic Freezer 7 PRO. Slightly dearer however well worth the couple of extra quid.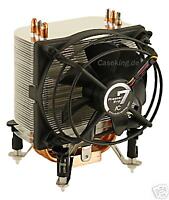 Arctic-Cooling presents with the Freezer 7 Pro the optimum solution for cooling Intel LGA 775 processors. Heat pipe technology, which has already proven its worth so far, makes it possible for the cooler to absorb the heat generated by the processor in an optimal way. The low speed 92 mm fan reduces the noise level to a minimum.
The patented fan holder is able to practically eliminate the typical buzzing sound of 92 mm fans.Powerful cooling 6 Heat Pipes (three used double sided) are able to transfer heat up to 200 Watt. The heat exchanger is built of 42 fins and consists of a surface area of over 4700 cm2 and allows for resistance free energy transfer to air.Air is drawn in from the side of the fan to cool the components around the CPU.
Some air is blown out towards the voltage converters o­n the mainboard with the bent fins at the bottom.

Technical data:
Bearing type: ceramic bearing
Weight: 520 g
Service lifetime: approximately 137,000 hours
Operating voltage: 12 V DC
Rotational speed: ~ 300 - 2500 RPM/min. (controlled via the PWM signal of LGA 775 mainboards)
Air flow rate: maximum 45 CFM = 77 m³/h
Noise development: 0.9 Sone
Connection: 4-pin (PWM)
Suitable for: all Intel Pentium 4 and Pentium D processors for sockets LGA 775
Retails for approx £15.00 The Freezer 7 Pro is an excellent replacement for the stock OEM cooler and also for those that are running loud aftermarket coolers as well. Conquering the heat produced by Intel processors today can be a difficult job but Arctic Cooling has subduing the heat problems. With the uniqueness of the heatsink and the fan assembly this cooler will look good in anybodies case. Lastly, this is a larger heatsink than some, but honestly I don't think it should be a problem mounting this on any motherboard because the mounting brackets makes the bulk of the cooler sit much higher than anything on the motherboard. So if you are in the market for a cooler that runs ultra quiet and performance pretty well, the Freezer 7 Pro maybe a good start.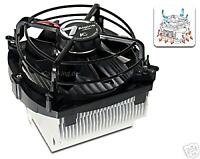 Extremely Quiet by Patented Fan Casing The low speed 92 mm fan reduces the noise level to a minimum.The patented fan holder is able to practically eliminate the typical buzzing sound of 92 mm fans. Patented Vibration Absorption The four rubber connectors o­n the fan case act as a vibration damper to absorb the vibration of the running fan and prevent vibration transfer to the heatsink and the case.The body of the heatsink consists of 27 tapered aluminum fins spaced 2~3 mm apart. The heatsink is oblong in shape, and the diameter of the fan is wider than the heatsink, allowing some air to be blown down the outside edge. This ensures that a small amount of air flows around all four sides of the heatsink, providing cooling for the VRMs on the motherboard.The Alpine is exactly as Arctic Cooling describes it:
Heat Sink: 78 x 98 x 56 mm
- Fan: 113 x 101 x 47.2 mm
- Overall Dimensions: 113 x 101 x 91.7 mm
- Rated Fan Speed: 300 - 2000 RPM
- Power Consumption: 0.15 Amp.
- Air Flow: 36 CFM / 62 m3/h
- Weight: 486 g
- Noise Level: 0.6 Sone
- Thermal Resistance: 0.26°C/Watt
Retails for approx £8.00A low-end cooler that isn't likely to outperform any of the competition, but quiet and good enough for many modest systems. However this cooler does what it says on the box the Alpine is a budget-minded silencer's best friend.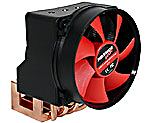 The Xilence Blade Multi Socket CPU is a fantastic new addition to Xilence range. It fits all major chipsets, and you can be comfortable in the knowledge that you are purchasing effective cooling equipment that does the job it was made for, and then does that little bit more. The "Xilent Blade" of Xilence is a quiet and favorable radiator for base 754, 939, 940, 478, 775 processors, which offers strong achievement with simultaneous pleasant noise level. The hybrid radiator has a solid baseplate made of copper, which copper Heatpipes L-shaped by means of 4 further-carries the produced waste heat of the CCU fast to the aluminum Fins of the radiator box. The radiator box is cooled reliably by a run-calm exhaust.
The 92mm fan with the red rotors are do not only send out, but works with approx. 19 - 24 dBa pleasantly quietly.
For Intel Pentium of 4 bases 478 & LGA of 775 - all models, AMD K8 - all models
Dimensions radiators: 117 x 85 x 94 mm
Dimensions exhausts: 92 x 92 x 25 mm
Rated voltage: 12 VDC
Operating voltage: 10,8 ~ 13.2 VDC
Approach tension: 7 VDC
Rated current: < 0="">Current consumption: < 1="">Exhaust number of revolutions: 2,000 RPM 10%
Stromverbrauch: < 1,2 W
Lüfterdrehzahl: 2.000 rpm +/- 10%
Air volume: 48 CFM (max.)
Noise level: 19-24 dB/A
been suitable for: intel p4 478 (all series), intel lga 775 (all series), amd k8 (all series)
Retails for approx £17.99 This cooler is great the Xilence Xilent Blade has turned out to be a magnificiant product. Its yield is excellent as much in idle as in full where it behaves extraordinarily and so allows you to make a small margin of overclock without risk since the quality of this dissipator with integrated ventilator is exceptional, since it is able relatively low temperatures to be speaking of an air cooling, with which the people who are decided to buy it not will regret and would have to be very you conform to the results that are obtained.
As far as noise levels it is more than acceptable, by halves RPM it was necessary to pay much attention to catch some originating sound of the ventilator. Our greater surprise was to see than it behaved exceptionally to high RPM, and it it still performs really really quiet.
Really, dissipator is a great set/ventilator with a simple manual installation without complications you will benefit and enjoy this great beast of copper cooler.

The Xilence cool one is a quiet and favorable aluminum radiator with a large 80mm exhaust, which offers strong achievement with simultaneous pleasant noise level. The radiator can cool problem-free also current CCUs despite its small weight. The attachment is usually made as with base 478 Main boards by that retention module which can be handled easily. With its red rotor it is does not only send, but works with approx. 19 - 23 dBa also pleasantly quietly.
Intel Pentium 4,3.0 GHz (Prescott), Intel Pentium p4 3.4 GHz (Northwood), Intel Celeron 478 UP tons of 2.8 GHz and more highly
Dimensions coolly: 95 x 70.5 x 43 mm

Dimensions exhausts: 80 x 80 x 25 mm

Air volume: 34.9 CFM

Exhaust number of revolutions: ~ 2,800 RPM

Tension: 12 V

Current consumption: ~ 1.8 W (max)

Noise level: 19~23 dB/A

Weight: 449 g

Certificates: CE
Retails for approx £7.99 This is a great cooler for those looking to replace exsisting stock cooler its low noise and efficient performance and low price make it full of value for money. Not a cooler for the serious gamer or overclocker however a reliable cost effective for your everyday workhorse at home or work.