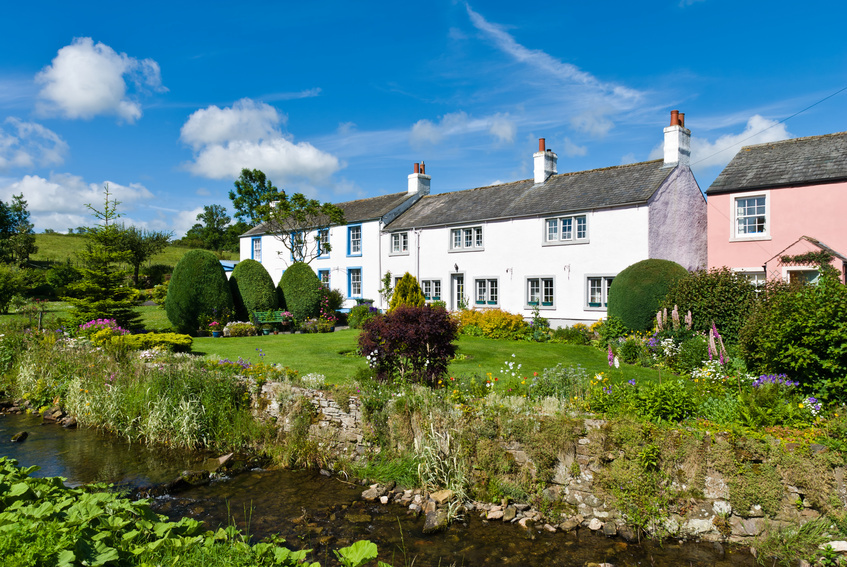 The Cumbria Lake District is one of England's most beautiful national parks, and is a premier holiday destination. In contrast to the low rolling hills that make up much of England's countryside, the Lake District boasts 885 square miles of picturesque lakes, mountains, forests, fells, and valleys, with dozens of welcoming towns and quaint villages scattered across the landscape. Though the weather can be unpredictable, this area is one of the best places in Britain to enjoy the great outdoors, whether that means a leisurely stroll down a country lane or bike ride through the hills. The green valleys and grand views have given inspiration to numerous artists and poets throughout the centuries, with names such as William Wordsworth, Beatrix Potter, and Alfred Wainwright adding to the rich history of area.
With so much beauty and history concentrated in one region, The Lakes District is a perfect destination for a romantic getaway. Visitors can stay in any of the hundreds of campsites, hotels, farms, or bed and breakfasts, but many prefer to experience the District's beauty by staying in a romantic cottage. With the immense popularity of the area as a holiday destination, finding a cottage can be challenging. Couples heading to the Lake District can ease the search process by narrowing their search to a few areas, and then determine dates and desired amenities. Some visitors prefer a professionally managed property, while others enjoy the intimacy of renting a cottage from a private owner. With these parameters defined, visitors can choose to use a travel agent, or use any number of online sources to reserve a cottage.
Narrow the Search for Your Romantic Cottage
The first step in choosing a romantic cottage in the Lake District is to narrow the choices from an unmanageable list of hundreds down to a reasonable dozen or so. Visitors should consider the areas that most appeal to them and what amenities they require or would like to have in the cottage. With these limitations, once they decide a timeframe for their travels, the list should be quite manageable.
Choose an Romantic Destination
With dozens of villages and towns scattered about the countryside, each with their own unique personality and set of attractions, narrowing the search to a select few can be overwhelming. While there are many cottage rentals tucked inside the quaint villages and towns, close to shopping, pubs, and attractions, there are just as many miles from anywhere, in beautiful, remote locations.
The chart below lists some of the more popular areas and towns in the Lake District. A brief description and some characteristic highlights are given along with the name of each area.
| Location | Defining Characteristics |
| --- | --- |
| Windermere | A tranquil town along a narrow stretch of water with a localised shopping district; popular for the numerous water pursuits open to visitors. |
| Bowness | An old fishing village that is now a busy tourist destination with plenty of sophisticated shops, cultured restaurants, and a wide range of accommodations. |
| Ambleside | At the foot of Kirkstone Pass, in the heart of the Lake District, its location makes it an ideal place to explore the lakes and enjoy picturesque walks. |
| Grasmere | Situated in a vale and surrounded by beautiful fells and mountains; the village is home to a number of choice restaurants and accommodations, and is home to Dove Cottage and the Wordsworth Museum. |
| Eden Valley | A wide, sedate valley with rolling hills and traditional farmland, dotted with quiet lanes connecting a series of quaint villages and hamlets. |
| Hawkshead | With farmhouses and cottages interspersed among farmland, woodlands, and small lakes, the quiet lanes and forest tracks make this a perfect area for long walks and bike rides. |
| Wasdale | The blend of rocky screes and tall peaks looming over the dark depths of Wastwater Lake are the reason the road to Wasdale was voted as having the best view in England in 2006; visitors can stay in the village of Gosforth, notorious for its 10th century Viking cross and hogback tombstones, or in the tiny, isolated village of Wasdale Head, with just a single pub and a few farms. |
| Elterwater | Valley fields, dry stone walls, grazing sheep, and small groves of woodland attract many visitors to this area; numerous white-washed farmhouses amid the rocky fells and the charm of picturesque rural village make this a highly romantic destination choice. |
Whether the search is centred on finding a romantic cottage tucked between two isolated hills or on quiet lane in the centre of a sedate village, the towns and villages in the chart above are just a few of the places visitors can choose from when travelling to the Lake District.
Select a Romantic Cottage Based on Size and Amenities
The sheer number of cottages for rent in the Lake District gives visitors plenty of options when it comes to choosing cottage style and amenities. Many cottages feature traditional slate and stone construction with romantic charm and abundant character, but there hundreds of unique and attractive properties available. Often advertised as self-catering cottages, these accommodations are more spacious than hotels or bed and breakfasts, but smaller than houses and chalets. They have fully equipped kitchens for guests to prepare meals, along with sitting rooms, one or more bedrooms, and at least one bathroom. Typically included with a stay are linens, cooking utensils, electricity, oil, and gas, in addition to standard appliances for cooking and food storage. Visitors need to consider whether they require dishwashers, hair dryers, televisions, microwaves, or internet, as these amenities may vary depending on the property and location. Many have wood-burning stoves, and some offer guests the use of guidebooks, maps, and even mountain bikes.
Determine Dates for Your Romantic Cottage Holiday
Guests need to decide whether they want to stay for a weekend or a full week, as many cottages only rent by the week. Some have set changeover days, but others have flexible start and end dates.
The time of year of the stay has a huge impact on the price of a rental, with June through August being the busiest and most expensive time to visit. Visitors coming in April and May find smaller crowds and better weather, and September and October offer guests gorgeous autumn colours with less tourist congestion. The winter months provide couples the opportunity to tuck away inside and enjoy the warmth of a fire, but outdoor activities and travel may be limited by rain and snow.
Set a Price for Your Romantic Cottage Holiday
Travellers should keep budget in mind when choosing a location and dates for their romantic holiday. Price is determined more by the popularity of the location and dates of travel, rather than the appearance of the cottage or amenities. Setting a maximum price for accommodations helps define the amount of money left for other expenses and activities, such as dining out, shopping, and recreational activities. Too much spent on the cottage rental leaves little room to enjoy other aspects of the Lake District.
Find the Property
Visitors have their choice when it comes to how to choose and rent a romantic cottage in the Lake District. Traditional travel agents, online rental websites, or private owners are just a few of the options for locating and securing the right property.
Work With a Travel Agent
Experienced travel agents generally have a vast knowledge of all areas of the Lake District and the benefits and drawbacks of each. This type of search requires little effort on the part of the traveller. Simply furnish the agent with a list of requirements and preferred dates, and they do the research and furnish the traveller with a list of options.
Search Online
Nearly all cottages, whether managed by a professional company or rented by a private owner, have a listing on the Internet. Travellers can see pictures and read the list of available amenities from the privacy and comfort of home, and then follow any instructions on the site to secure the rental. Since not all properties are listed in a travel agent's inventory, this type of search opens up more options for the traveller.
Rental Company or Private Owner
There are a number of rental companies that own and/or manage a variety of properties in the Lake District, as well as an abundance of privately owned properties. Travellers can contact a specific property management company once they know the area they would like to visit. The benefit of a privately owned cottage is more personal service and the possibility that the owner lives close by and can quickly address any issues during the stay.
Secure the Rental
With the cottage identified and the dates of the stay set, visitors are ready to book the rental. During peak holiday periods, a deposit is required to secure the booking. Many properties require a rental deposit no matter what time of year.
Book a Lake District Cottage on eBay
Choosing a romantic cottage in the Lake District is easy for travellers who take advantage of the simple search features on eBay. Anyone planning a holiday can find numerous listings for properties in and around the Lake District, with detailed descriptions and plenty of photos. The search box at the top of any eBay page lets users type in exactly what they are looking for and return pages of listings in one easy step. For example, typing in "Lake District cottage" returns all the current listings that meet those parameters. Travellers can then search the listings to find properties that meet their specific requirements.
The benefits of renting holiday cottages on eBay go beyond simple search techniques and user-friendly interface. The ability to read reviews about properties and the people who list them helps prospective renters decide which cottage is best suited to their needs and which sellers offer the best customer service, providing peace of mind to those who have limited experience in planning these types of vacations.
Conclusion
Few places in England offer the splendid scenery and historic charm of the Lake District. With landscapes that rival those of Switzerland and the French Alps, visitors are taken aback by the immense natural lakes, rocky crags, and scree-covered hills. Those looking for culture and history should visit Honister's abandoned slate mines, the ruined abbey of Furness, and former homes of William Wordsworth. A wealth of romantic cottages dotted all around the more than 800 miles of landscape means travellers have their choice when it comes to finding accommodations.
Visitors in search of a romantic cottage for a holiday have plenty of options when it comes to the size, location, and amenities offered. From tiny quaint cottages to more spacious historic properties, there is something to suit every taste. Travellers can find cottages hidden among the hills in isolated areas of the Lake District, or on busy side streets of the numerous towns and villages. Whether the requirement is for a simply furnished cottage with a wood burning stove, or a property with modern amenities such as Wi-Fi and a hot tub, choosing to stay in a cottage in the Lake District is certain to offer the romantic experience every couple desires.