A laptop's a great computer for a family to share, as it can easily be moved around so that each member can use it where they want. For parents, it also means that the child and computer can be in the same room as them, so they can keep an eye on what they're up to. Laptops come in a huge variety of sizes and shapes, but David Ludlow, Group Editor at Expert Reviews and Know Your Mobile, will help you choose the right one for your family, all for less than £500.
---
Asus VivoBook X550CA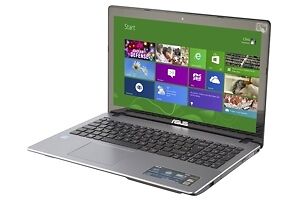 eBay loves: Touchscreen, quick processor and large hard disk
Watch out for: Battery life could be better
RRP: £430
Although this laptop uses the older Ivy Bridge Intel processor, it can still keep up with newer models in terms of performance. Its 15.6in screen is a little dim, but its resolution of 1,366 x 768 is great and it's a touchscreen, which is perfect for using Windows 8. Battery life is fine for home use, but you wouldn't want to stray too far from a mains socket. With a generous 750GB hard disk, there's plenty of room for all of your files, making this an excellent budget laptop.
---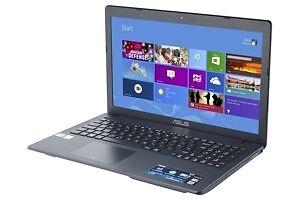 eBay loves: Dedicated graphics, large hard disk and lots of RAM
Watch out for: Battery life could be better
RRP: £500
Although the Asus X552CL is quite cheap, it has a dedicated Nvidia GeForce GT 710M graphics chip. It's not the fastest model, but it will cope with modern games, provided you turn down some detail settings. The older Ivy Bridge Intel Core i5-3217U processor can still hold its own and there's a generous 6GB of RAM and a 750GB hard disk. The 15.6in 1,366 x 768 screen is pretty good, producing bright and vibrant colours.
---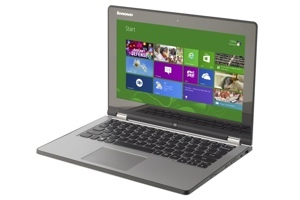 eBay loves: Can turn into a tablet, long battery life, light weight
Watch out for: Integrated graphics are slow
RRP: £500
The Lenovo IdeaPad Yoga 11 2 has a neat trick up its sleeve: you can fold the screen back 360-degrees and turn it into a tablet. Weighing just 1.4kg and with an 11.6in 1,366 x 768 screen, it makes for a handy tablet, letting kids play on it using the touchscreen alone. It has one of Intel's Pentium processors, but don't be put of, as it's more than fast enough for running all modern applications. Only games will suffer, as the integrated graphics are slow. Excellent battery life and a 500GB hard disk round off a decent and very small laptop.
---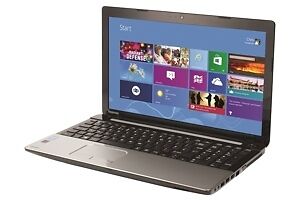 eBay loves: Long battery life, fast processor
Watch out for: It's a little chunky
RRP: £480
The Toshiba Satellite C55-A-1N0 is one of the most powerful laptops available for less than £500. Its dual-core Intel Core i5-4200M is the latest Haswell version and it's incredibly quick, coping with everything you can throw at it. It only has integrated graphics, so the latest 3D games are out, although less demanding titles will run fine. Battery life is also impressive, so you should be able to use it for a good chunk of the day without charging. Its 15.6in 1,366 x 768 screen is pretty good, too, although you need to sit straight on to it to get the best picture.
---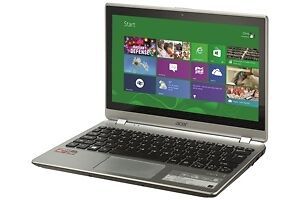 eBay loves: Low price, small size
Watch out for: It's a little slow
RRP: £309
This tiny 11.6in laptop with a 1,366 x 768 resolution screen weighs just 1.4kg and is exceptional value. It has a quad-core AMD A6 processor, which is a little slow, although it will cope with day-to-day jobs and web browsing fine. Its integrated graphics can't cope with the latest 3D titles, but you can probably play some old favourites. The Acer V5-122P's screen is pretty good, displaying accurate colours. With a 500GB hard disk, there's plenty of room for files, too, making this laptop quite the bargain, particularly if you want something you can carry everywhere.
---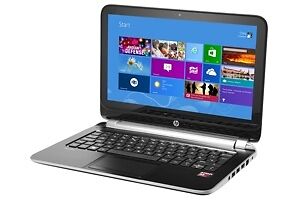 eBay loves: Small size, good battery life, touchscreen
Watch out for: The processor is a little underpowered
RRP: £329
The HP Pavilion Touchsmart 11-ea030sa is a cheap 11.6in laptop that's light enough, at 1.4kg, for any member of the family to carry around. As the name suggests, this laptop has a wonderfully responsive touchscreen, making it easy for the kids to use Windows 8 and its apps. Some corners have had to be cut and the AMD A4 processor is a little slow. It will cope with day-to-day apps and the Internet, but editing photos and videos could be a bit slow. Likewise, the integrated graphics will struggle with modern 3D games, although they will cope with older titles. With decent battery life and a 500GB hard disk, this HP is a good choice if portability is more important than power.
---
Comparison table
Asus
VivoBook
X550CA
Asus
X552CL
Lenovo
IdeaPad
Yoga 11 2
Toshiba
Satellite
C55-A-1N0
Acer
V5-122P
HP Pavilion
Touchsmart
11
Screen size & resolution
15.6-inch
1,366 x 768
15.6-inch
1,366 x 768
11.6-inch
1,366 x 768
15.6-inch
1,366 x 768
11.6-inch
1,366 x 768
11.6-inch 1,366 x 768
Weight
2.6kg

2.4kg

1.4kg
2.3kg
1.4kg
1.4kg
Processor
1.9GHz
Intel Core
i3-3217U
1.7GHz
Intel Core
i5-3217U
2.1GHz
Intel Pentium N3520
2.5GHz Intel Core i5-4200M
1GHz
AMD
A6-1450
1GHz
AMD
A4-1250
Memory
4GB
6GB
4GB
4GB
6GB
4GB
Graphics
Integrated
(Intel HD
Graphics 4000)
Dedicated
(Nvidia
GeForce GT 710M)
Integrated
(Intel HD
Graphics
4000)
Integrated
(Intel HD
Graphics
4600)
Integrated
(AMD
Radeon HD 8280)
Integrated
(AMD
Radeon HD 8210)
Hard disk
750GB
750GB
500GB
750GB
500GB
500GB
---
Size and weight
For most families, a laptop with a 15.6in screen will do the job nicely. This gives you a nice trade-off between a comfortable screen size, weight and overall portability. Get the lightest laptop you can afford, but you'll be looking at a model that most likely weighs between 1.8kg and 2.3kg at this size.
If you want something a bit more portable that you can take everywhere with you, a model with an 11.6in or 13.3in screen will do the job. These will weigh somewhere between 1.4kg and 1.8kg. The trade off here is that you'll have to make-do with a slower processor in order to keep the price down.
Battery life
As you'll mostly be using your laptop around the home, battery life isn't such an important consideration, but it's still good to get one that can be used away from the mains socket for a decent amount of time. That will give you more flexibility to use it around the house, and perhaps out in the garden.
Judging the longevity of a laptop's battery is always difficult, as it depends on the applications you use. Relatively undemanding programs such as web browsers, email clients and word processors use far less battery power, for example, than games and video playback. That said, most modern laptops should last for around five hours when browsing the Internet, but expect this to decrease when playing videos and games. For smaller, lighter laptops, expect battery life to be at least six hours.
Processing power
The processor dictates how fast your laptop runs applications. It's important to get something fairly snappy, so that you can use your computer for everything from email and web browsing to photo and video editing. Generally speaking, Intel-based laptops are a lot quicker than their AMD-based competitors.
An Intel Core i3 chip is a decent entry-level dual-core model; moving up to the Core i5 dual-core chip will give you that extra bit of performance. Both Intel 'Ivy Bridge' and the newer 'Haswell' chips are available; the main difference is that Haswell chips are more efficient and extend battery life. Either will do the job for a family laptop, though.
If you're going for a smaller laptop over performance, look out for AMD A6 and Intel Pentium processors. These are fine for day-to-day web browsing, but they'll struggle with more complex tasks.
Memory
Most laptops will have 4GB RAM, which is plenty for most people. However, you'll also find some with 6GB or even 8GB. Memory doesn't generally affect system performance, but it does govern how many applications you can have open at once. If you like to run a lot of applications or want to edit a lot of photos or video, 6GB of RAM or more is a good choice.
Hard disks and storage
Even the cheapest laptop will come with a 500GB hard disk. This is plenty for an average family, with a regular media collection of photos, videos and music. If your family has lots of digital photos, though, look for a laptop with a 1TB hard disk. Don't forget, you can always buy an external hard disk if you run out of disk space.
Few laptops have built-in DVD drives now, so if you want to watch films or install software from disc, you'll most likely need to invest in an external USB model.
Games
Most family laptops will use the processor's integrated graphics chipset. This shares memory with the operating system, leaving less for your programs. Not many integrated graphics chipsets are powerful enough to run modern 3D games, unless you lower their resolutions and quality settings to minimum. They should cope with older titles, and web-browser based games, as well as casual titles found in the Windows 8 store.
Dedicated graphics chipsets have their own memory and are faster than integrated graphics in games, but they vary widely in power, so having a dedicated graphics chipset is no guarantee that a laptop will be able to play the latest games.
All graphics (integrated and dedicated) are good enough for playing HD video, whether that's a DVD, on YouTube or via a streaming service, such as Netflix.
Screen
You can't upgrade a laptop's screen, so choosing one with a decent display is vital. Most laptops with screens 15in or smaller have resolutions of 1,366 x 768, which is fine for web browsing and 720p video, but a few models have a Full HD 1,920 x 1,080 screen. Larger resolutions are useful for multitasking, as you can work on two documents side by side, and 1080p displays are perfect for watching Full HD video.
Many laptop screens have a glossy finish, which can produce more vibrant colours and deeper contrast but can also cause reflections. This shouldn't be a problem in the home, though.
Windows 8 has more touch-friendly features than any previous version of the operating system, so we were pleased to see a couple of touchscreen laptops in the test. The Windows 8 Start Screen and many of the associated apps are optimised for touch control, which can be great for kids to use.
Operating system
At this price you've got one choice of operating system: Windows 8. It takes a while to get used to the new interface, if you're used to Windows 7 or previous version of the OS, but once you do you'll find that it's pretty good. In particular, laptops running Windows 8 boot very quickly.
---