One of the things that a laptop is supposed to be is portable, but so many budget laptops are large and heavy beasts. It doesn't have to be this way, and if you choose carefully, you can get an incredibly thin and light laptop for less than £300. Admittedly, you won't get one of the super-powered, ultra-portable laptops that everyone desires, but you'll easily be able to get a computer that's perfect for day-to-day tasks. We'll show you what to look out for.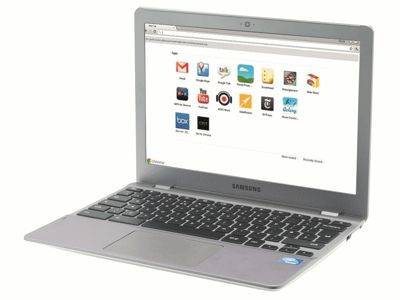 Windows or Chromebook?
While your thoughts will naturally gravitate towards a Windows-based laptop, there's an alternative out there with a Google Chromebook, which runs ChromeOS. This lightweight operating system is based on the Chrome web browser and uses web-based apps, storing all of your data online. However, it also has a clever offline mode, so you're not stuck if you don't have an internet connection.
Admittedly, there's not the wide range of apps available for ChromeOS as there is for Windows, but you get all of the essentials, including word processing, spreadsheets, web browsing, email and photo editing; in other words, all of the apps that are most commonly used.
As ChromeOS is so efficient, it means that laptop manufacturers can use cheaper processors, while maintaining performance and battery life. In other words, you get a posh-looking, slim and light laptop for a lot less money than a Windows-based one.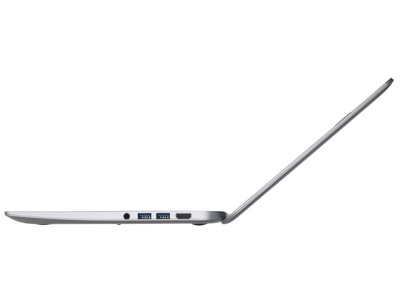 Size and weight
When you're looking for something small, light and cheap, it generally means that you'll need a laptop with around an 11in screen. Typically, you'll get a resolution of 1,366x768, which is plenty for web browsing and most common apps.
With a smaller screen, you get less bulk, which means a laptop that's easier to fit in a bag and one that's exceptionally light, too. Look for a laptop with a maximum weight of 1.4kg in this category. You can also expect to find convertible Windows tablets at this price, where you can detach the screen from the keyboard, to end up with an even smaller and lighter device.
Battery life
As you're buying a small and light laptop that you can carry everywhere with you, battery life is important. Given the small size of these laptops you can't fit a massive battery in, but still expect to go around five hours in-between charges.
Processing power
It's the processor that dictates how fast your laptop will run. This is less important if you go for a Chromebook, as ChromeOS is far less demanding. If you're buying a Windows computer, though, the choice of processor is very important.
For Intel-based laptops at the bottom end of the scale are Atom processors. These are basic models, which are only really quick enough for web browsing, email and general office tasks. Next step is the Celeron range, which will make everything quicker. If you can find a laptop with a Core processor, you'll be able to do more image editing and even some video editing.
Finally, you could buy a laptop with an AMD chip in it, with the A6 range being most likely at this price point. A6 chips have similar desktop performance to Atom processors, but they have decent integrated graphics ability, so you can do some light gaming, too.

Memory
Most laptops at this price will have 4GB RAM, which is plenty for most people. However, you'll also find some with 6GB or even 8GB. Memory doesn't affect system performance, but it does govern how many applications you can have open at once. If you like to run a lot of applications or want to edit a lot of photos or video, it's worth considering 6GB of RAM or more.
Hard disks and storage
Most budget laptops will ship with a 500GB hard disk, but some models keep size and weight down by using a small 32GB SSD. If you opt for the latter you'll most likely need to invest in an external hard disk for storing some of your files. Chromebooks typically only have 16GB of storage, but you get 100GB of free online storage for two years.

Here are five of the best.
Asus Transformer Book T100
eBay loves:
Touchscreen, converts into a tablet, battery life
Watch out for:
Only has a 32GB SSD for storage
RRP:
£300
The
Asus Transformer Book T100
is a clever convertible laptop, where the screen can be detached from the keyboard so that you can use it as a full touchscreen Windows 8 tablet. In this regard, it's the best of both worlds.
It has an excellent, sharp screen, and performance from the Atom processor is more than good enough for web browsing and general office tasks. The most impressive thing is battery life, with the laptop lasting more than 11 hours in our tests. At its current price, it's a bargain.
Asus X200MA
eBay loves:
Great screen, excellent price
Watch out for:
Performance is a little slow
RRP:
£200
The
Asus X200MA
is just about as cheap a Windows laptop as you can find, but it gets most of the basics right. Its 1,366 x 768, 11.1in screen strikes the right balance between size, resolution and quality; the laptop feels tough and weighs just 1.2kg; and the keyboard is comfortable to type on.
Performance from the Celeron processor isn't amazing, but this laptop will cope with web browsing and other simple tasks. To top it all off, battery life at just over five hours is good to see, meaning you can last most of a working day before having to charge it.
Acer TravelMate B113-M
eBay loves:
Very powerful, great keyboard
Watch out for:
It's not the most stylish laptop
RRP:
£300
What the
Acer TravelMate B113-M
lacks in looks it makes up with in performance. Despite being cheap for a Windows laptop it has a full Core i3 processor, meaning that it's very powerful and will cope with more demanding tasks than other budget models.
Acer gets pretty much everything else right, too. The 11.6in, 1,366 x 768 screen is decent, the keyboard is comfortable and the battery life of just over five hours is about what we'd expect. Weighing 1.4kg it's also a comfortable model to carry around. It may not look like much, but if you want power on a budget this is a great choice.
Toshiba Chromebook CB30-102
eBay loves:
Large screen, great price
Watch out for:
The case feels a little cheap
RRP:
£200
With the
Toshiba Chromebook CB30-102
, the company shows exactly what can be done when you don't have the cost of Windows to worry about. For starters, you get a larger 13.3in display. It has the standard 1,366 x 768 resolution, but it's a little easier on the eye at this screen size than on an 11in laptop.
Build quality feels a little cheap, because of the plastic case, but the keyboard is excellent. Thanks to Chrome OS, the Celeron processor is more than powerful enough to run everything smoothly. With a battery life of just over seven hours and a weight of 1.5kg, this laptop is great for taking on the move.
Acer C720 Chromebook
eBay loves
: Low price, small size, great battery life
Watch out for
: Keyboard is a little cramped
RRP
: £199
If you want a laptop that's very small and light, yet quick and responsive, the
Acer C720 Chromebook
is the model for you. At less than £200, it's something of a bargain, particularly as it's so well made. Thanks to its great 11.6in, 1,366 x 768 screen, this is a small and very light (1.3kg) laptop too.
As it runs ChromeOS, the Celeron processor is more than up to the job and the entire system is quick to respond. With a battery life of just over seven hours, it's great for carrying around and using everywhere. Our one minor complaint is that the keyboard is a little cramped, but the rest of the system more than makes up for this.