Introduced during the 1960s, the shift dress revolutionised simplicity by not placing any style emphasis on the waist or bust. Because of its simplicity, shift dresses allow women to experiment with different types of accessories to enhance their appearance. Shift dresses allow women flexibility for dressing up or down, depending on the occasion, and choosing the right accessories for the shift dress helps women look their best.
Select Appropriate Jewellery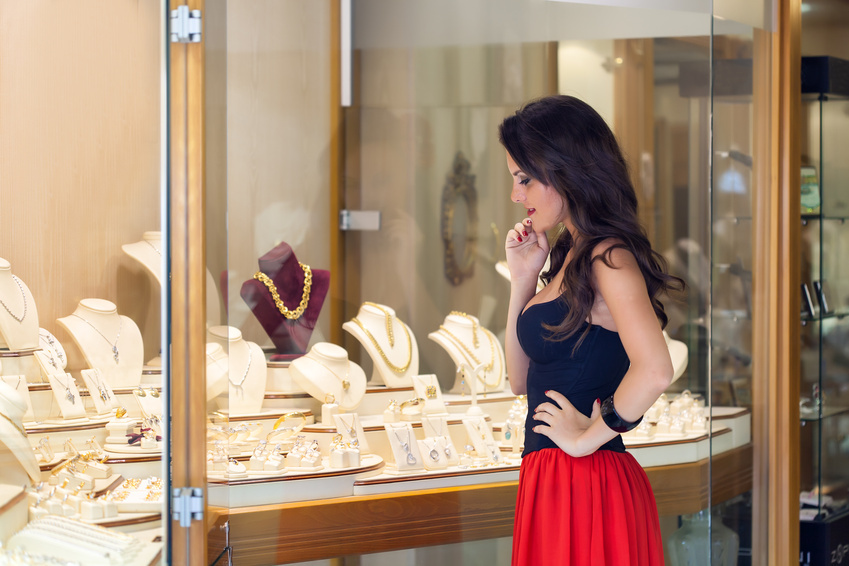 Jewellery presents women with the most effective way to dress up for a formal event or upscale restaurant meal. A classic look that conveys elegance is wearing a strand of pearls over a black shift dress. Thick gold necklaces, bracelets, and watches also accessorise shift dresses effectively. Shift dresses provide the perfect garment for women to display oversized necklaces replete with gemstones. A more refined look includes pulling the hair up to show off sparkling chandelier earrings. Because of the simplicity presented by shift dresses, women should be careful not to wear too much jewellery.
Choose Shoes Carefully

As a more affordable way to accessorise a shift dress, women can wear black, closed-toe pumps to complement the understated look of a black shift dress that includes white ruffles. More restrained black flats reduce the sexy element, but flats work well for shift dresses that women wear to casual events, such as a school play or neighbour's cocktail party. On the other hand, women who want to present a glitzy image at a high-profile gala should consider accessorising by wearing sequin, rhinestone, or bow-embellished heels. Any shoes chosen to accessorise a shift dress should complement the dress design and not become the focal point of the attire.
Add a Belt
Although shift dresses do not accentuate a woman's waist or bust, the dress does present a flattering figure that a skinny belt enhances. Worn a few centimetres above the hips, a skinny belt that matches the dress colour provides a useful way to accessorise a shift dress. However, thick belts can overwhelm the appearance of a shift dress. For a little more panache, women can wear a bright coloured belt against a black coloured shift dress. The colour contrast focuses the attention on the waistline. A supple leather belt makes a good accessory for a shift dress.
Accessorise with a Hat and Sunglasses
The two accessories do not have to go together, but the combination of a stylish hat to match an eye-popping pair of sunglasses augments the appearance of a shift dress. An oversized pair of black sunglasses and an oversized hat projects a diva image. Black sunglasses complement the colour of a black or red shift dress, while brighter coloured hats adds dazzle to multicoloured shift dresses. Wide brim hats convey a carefree disposition when worn with shift dresses.