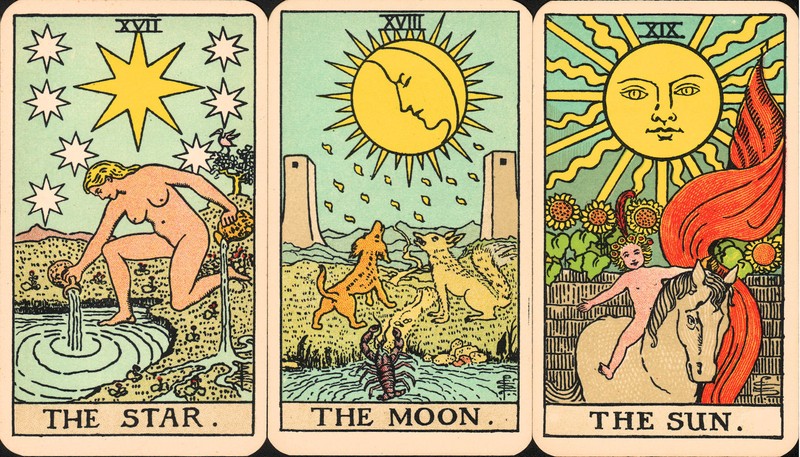 Any practitioner of the Tarot will tell you: learning to use these cards, and to understand them to their fullest extent is not an exact science. Where one interpreter of the cards may give one reading, another reader of the same card will give a slightly different interpretation. This is where introductory books stop being useful - why would a set of traditional Tarot cards with the same pictures, words, and underlying meanings come up with different interpretations?

The answer is simple: the art of Tarot relies on an individual's emotional response to the cards. In a way, the cards react to the reader as much as the reader reacts to the cards. If there were only a single interpretation of the cards, why would they be illustrated at all?

Humans instinctively react emotionally to things. Art, music, stories, faces... whether we like it or not, we're hard-wired to have an emotional response to almost everything. The trick to Tarot is to remember that focussing on the 'official' interpretation of the cards is not the be-all and end-all; your emotional response to a card is equally important. It should be taken into consideration - how does looking at the card make you feel? And why?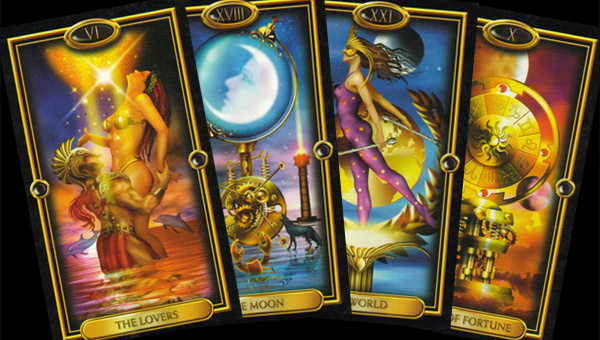 There are so many different designs for Tarot cards these days that it can seem a bit bewildering, having to make a choice. If you're impatient to begin studying it may be a big temptation to buy the first pack you come across. This, unfortunately, is the downfall of most beginners. Your first pack of cards should be special to you - they should draw your eye and focus. You should feel an emotional reaction to the art on the cards, but almost as importantly they should please your eye. If you feel disconnected or even repulsed by the art on your Tarot cards this is definitely not a good start: Tarot reading should be a positive experience. Not only that, but a deck of cards that you feel no emotional attachment to could discourage you from wanting to use them, and so dies another promising beginning in the world of Tarot.

If you're serious about becoming a savant in the world of Tarot, or if you're just buying through interest, you should take time to decide which deck of cards is right for you. Never listen to anybody claiming that the 'old cards are the best'. Just as different art appeals to different people, your cards should appeal to you. Whether that means the traditional Rider Waite style, or a digitally designed unicorn-themed deck with pink sparkles on it. Your deck should reflect you, not what other Tarot users expect you to be.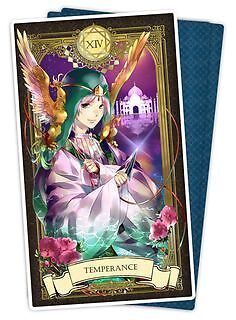 Add a caption
An anime interpretation of the Tarot. These cards are just as valid for reading as any other.
Before you buy your first deck, you should make sure that they are valid. It is ideal for a beginner to start with the 'traditional' 78 card deck, which covers both the Minor Arcana (the four suits - Cups, Swords, Wands/Batons, and Coins/Pentacles), and the Major (individually named and numbered cards such as Fortune, the Hanged Man, and The Tower). There are a vast amount of beginner's guides covering this deck, both online and in book form, so you can easily learn the basic interpretations. It is also the most popular: when a member of the public hears the word 'Tarot', this is the set that they will immediately think of. Performing a reading for other people will be infinitely easier and more comfortable if they have knowledge of the cards you're using.

So, before you buy, you should ensure that the deck is in this form. Make sure that the deck you wish to buy has the full 78 cards, and has the recogniseable Major and Minor Arcana. Ideally, you will see the artwork for the entire deck before you buy, but this may not always be viable: many new and sealed packs merely give you a glimpse of two or three cards. If this is the case, an internet connection is always handy: try to find the artist's name somewhere on the packaging and type it into a search engine. A lot of artists give you a full gallery of their Tarot art online, giving you a peek-preview of the goods you're about to buy.

And so we return to the point of emotional reaction: do these cards evoke a positive emotion? Do they interest you? Draw your eye? Or are they uncomfortable to look at? Do you find them boring or even - as sometimes happens - depressing? If you're responding to them in a negative way, put them back on the shelf and walk away. Tarot should be enriching and enjoyable, not negative and depressing.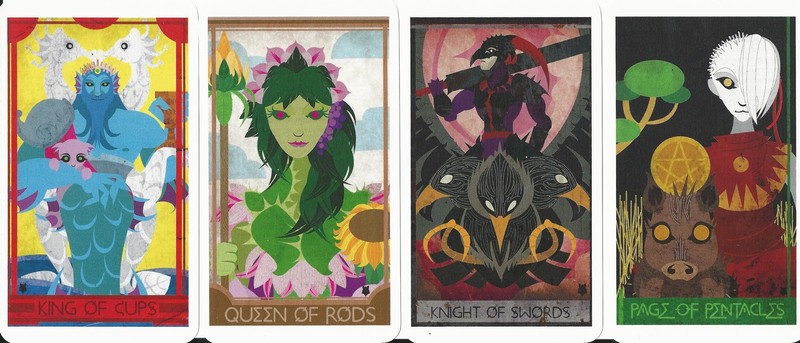 Add a caption
The 'Ellis' Tarot Deck - One of my personal favourites
Once you've found your ideal deck, it's time to begin interpreting the cards. Most Tarot decks these days come with an introductory book. I highly recommend buying a set like this, as this gives you quick access to the basic interpretations of each card, the basic spreads (card patterns for reading) and good practice.

By tradition, nobody should touch your new cards but you. I would encourage this, as it promotes emotional attachment to your deck. Before you begin your readings in earnest, however, I would also suggest studying one card at a time. Use the readings in your book as a guide, certainly, but also study the card itself: what is being depicted here? Do you have your own interpretation?

Act like an art critic, here. You're looking for the layers of meaning in the art, and just like an art critic, there is no such thing as a wrong interpretation. If you're sensing something, you're sensing it for a reason. Tarot cards have a history of having hidden layers of meaning, and exploring them can lead to a deeper understanding of your cards. Your own emotional response is just as valid as the words written in your introductory book. In fact, I would suggest writing down your own feelings and interpretations of each card in a seperate notebook, so that you can use them in your readings.

Remember: there is no universal rule for interpretation. Each practitioner has a different relationship to their cards, and learning to trust your instincts - both when buying and reading - is an important part of becoming a fully realised Tarot reader.