A slightly tongue in cheek but hopefully helpful guide for men wanting to surprise the lady in their life with a gift of sexy lingerie this Christmas from the SEXY SILK LINGERIE BOUTIQUE team
Spring isn't the only time of year when a young man's fancy turns to - well you know what! Christmas is the most popular time for buying sexy lingerie for your loved one but the task can often seem daunting.
What's the difference between a G string and a thong for instance, are silk and satin the same thing? This guide is aimed to help men buy the perfect sexy lingerie this Christmas and offer advise on how to deal with the up and downs of the knicker business.

OK let's get down to basics.... You want to buy some special lingerie for a very special lady, where do you start? Ebay is the perfect place to do your Christmas shopping this year, no embarassing sales person, no sniggering sales girl or worse still your mates seeing you walk out of a sexy lingerie boutique!
Before you start browing Ebay however you do need to do a bit of research, after that, well there is no limit to the choice on offer.
There are certain bits of information that will be absolutely essential, check through her lingerie drawer when she isn't around if you don't know the answer to the following questions.
What type of lingerie does she usually wear? Don't be put off if she's a regular M & S person, she will be delighted with something different and really special. Does she go for Strings or thongs (they are the panties with no "bum" cover) or does she prefer something that is a bit more classic. Are her bras underwire or softer lines, perhaps she prefers to wear a camisole top or tends towards an all in one body suit. Not really sure go for something like a Camisole and French Knicker or camiknicker - flattering, not tight fitting and really sexy..
Now that you have an idea, what about size...this is an absolute MUST. Check the lingerie label in her panties or bras. Most will have S M or L (small...medium...large) some with have the dress size i.e. 10..12 14..16 etc. Bras will have a number followed by a letter 32b 34c 36dd (more on this subject later) Most lingerie sellers will have a SIZE CHART
If you are still not sure about sizes, most lingerie sellers will be delighted to offer advice. Whatever you do. DON'T GUESS there is nothing worse than her opening a gift of exquisite lingerie only to find you have underestimated her size or even worse bought something too large! The former will make her feel she has to immediately go on a diet, the latter, that you really prefer someone more voluptuous and make her doubt her own sexuality.
OK so now we have more of an idea of what she NORMALLY wears, what about something extra special that she will really love, but would not think of buying for herself. Ebay has made finding sexy lingerie really a lot easier. You can search by type of garment, size, colour, fabric and price. Below you will find a glossary of the type of garment you are likely to encounter, a brief (excuse the pun) helpful description of the most popular lingerie fabrics - PURE SILK being the obvious favourite for a special lingerie gift.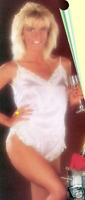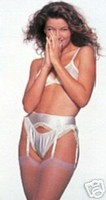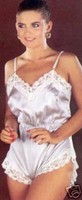 GLOSSARY OF LINGERIE
CAMIKNICKER OR TEDDY This is an all in one garment, usually with popper fastening. Make sure it has adjustable straps to accomodate short or long body length. This can either be worn as sexy underwear or as seductive bedroom atire. Don't confuse this with a body stocking which is more a fitted garment. Camiknickers are loose fitting so providing you have the size approximate neither of you will be dissappointed.
CAMISOLE Is the top bit, usually with dainty straps, loose fitting and a perfect choice if you are unsure about exact bra size.
FRENCH KNICKERS Oh so sexy... perfect for the discerning woman of today whatever her age. Styles often like a boxer short but much more feminine - she will love these .
BRA Bra sizes are not so difficult once you understand the formula. The first number is in inches i.e. 32 34 36 etc. The letter following is the cup size "a" being the smallest "b" a bit bigger and "FF well we will leave that to your imagination.!! Buying a bra for someone else can often be tricky particularly if the lady in question is well endowed. Large boobies need support and an ill fitting bra can be very uncomfortable. Having said that a sexy lightweight silk bra will caress the skin and be perfect for a special intimate evening.
SUSPENDER BELT OK so not many women wear stockings everyday but there is nothing more sensual for a special occassion. She may never have tried before but once she has worn a suspender belt and stockings you will both be hooked. Christmas is the perfect time to buy something frivolous but incredibly sexy.
BRIEFS PANTIES KNICKERS The choice is endless. Briefs are usually bikini style with full bottom cover, tangas still for the more modest but with stretch or tie sides. One type which is very popular because it is so flattering is a frilly knicker as this leaves no VPL (visible pantie line). Boy shorts are also very popular, more like a shortened boxer short usually in stretchy all over lace - very flattering and very sexy.
THONGS & G STRINGS Often confusing but either way a very popular choice. Tiny scraps of fabric with back band leaving the derriere bare. A G String will be the most sexy with, as it's name suggests only a string back. A sexy pure silk G String would be a perfect stocking filler idea.
COLOURS;
So now you have some idea of the type of lingerie garment you are looking for and the approximate size, what about colour? You honestly can't go wrong with classic lingerie colours Sexy midnight black, soft pastels such as shell pink or shimmering silver. The most popular is natural ivory or cream (NOT WHITE) you really need something special at Christmas. Looking for something extra sexy then certainly don't be afraid of some vivid colours such as rich burgundy, antique gold, forest green or even wild fuschia. Don't be fixed, browse for the type of garment first then gradually narrow down your choice with fabric then colour. Very often a seller will have an item for sale in one colour but with other colour and size options in their Ebay shop. Take your time.
FABRICS:
Natural fibres include pure cotton, terms to look for are cotton lawn (very fine quality extra soft) 100% cotton etc . Cotton blends often have polyester which, whilst great for everyday lingerie and sleepwear are NOT special enought for a Christmas gift.
You really do want the WOW factor to make her eyes sparkle on Christmas morning.
SILK or SATIN......beware. There is absolutely nothing to compare with the caress of pure silk next to the skin so do make sure that what you are buying is the genuine thing. Satin is usually man made fabric which has a shiny finish and made from polyester. Silk satin is the real thing and made from the yarn of the silk moth and shimmers like no other fabric. Often referred to as Charmeuse silk. Other silk types include habutai ( a very lightweight silk withourt a shiny satin finish) Crepe de Chine silk (which as it's name suggests has a crepe feel) Silk Chiffon (sheer lightweight silk almost transparent).
LACE look for cotton laces or Nottingham lace. Most lingerie will be trimmed with lace whereas often everyday underwear garments are often much simpler basic garments. Treat her to something a little different and maybe daring this Christmas.
To be continued.......................................
Comments, suggestions and feedback warmly welcomed.