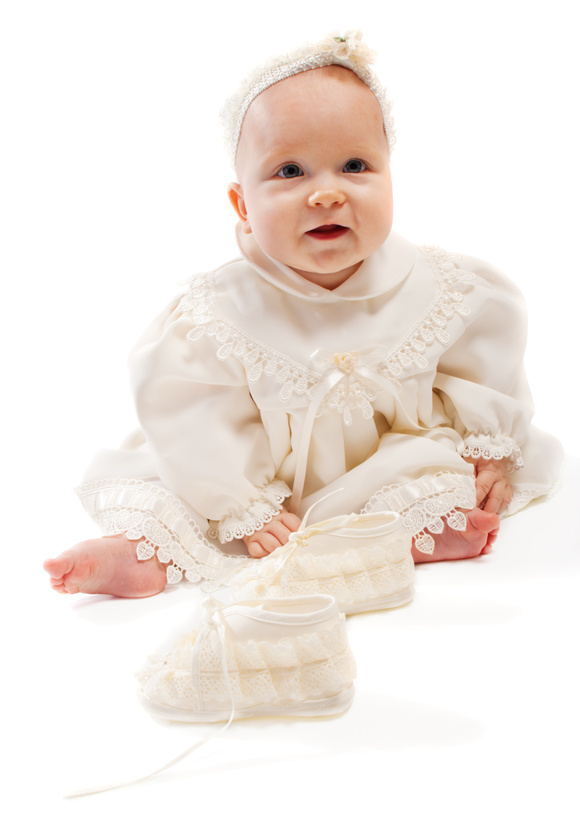 A child's christening is one of the most special and memorable occasions of his or her young life. A proper christening outfit adds elegance to the event and makes it even more special. When it comes to christening clothes, there are a wide variety of styles available, from the more traditional, classic sophistication of the timeless christening gown to a more modern christening tuxedo set or romper. Selecting a christening outfit can be decided by budget limitations, brand names, gender of the child, or simply the outfit that the buyer falls in love with.
A buyer is able to purchase an affordable christening outfit on eBay that will make a child's christening unforgettable. There are also other additions which can be purchased to go alongside the christening outfit, such as shoes or slippers, socks, a hat, jewellery, a bonnet, a headband, or a bib. Some christening outfits come with the needed accessories and some may need to be purchased separately. A shopper should select the right christening outfit based on personal taste, preference, budget, and the style of christening outfit he or she is looking for.
Types of Christening Clothes
Christening clothes are generally divided into two main categories: boys' christening clothes and girls' christening clothes. Within these categories, there are a variety of types of christening outfits for each gender, including tiny tuxedo outfits for boys and elaborate, beautiful christening gowns for little girls. Christening clothes do not have to cost a fortune to make a lifetime of memories, but the shopper should choose a christening outfit that is perfect for the occasion whether it is a formal christening or a more laid back ceremony.
Boys' Christening Clothes
When it comes to christening clothes for boys, there are a wide variety of options to choose from. Whether the buyer is looking for a full outfit or just a gown, there are a lot of choices for boys' christening clothes . A more traditional christening outfit consists of a gown and bonnet, while a more modern choice is a tuxedo or romper.
Rompers/Jumpers
A christening romper or jumper set is a one-piece outfit which typically covers the child's arms and legs. Some rompers have jackets that go over the romper itself, and some have special accoutrements like pearl buttons, a collar, or embroidery or embellishment on the top part of the romper. Boys' christening romper sets are made of cotton, satin, or silk. Some rompers come with a hat and matching shoes. Rompers do sometimes come in a variety of colours, but the most common colour for all christening clothes is white, off-white, beige, or a cream colour.
Tuxedos and Suit Sets
Little boys look adorable in tiny tuxedos for christening day. A boy's christening tuxedo ranges from a simple three-piece set with pants, a shirt, and a vest to a more elaborate five-piece outfit which includes a jacket and bow tie with the pants, shirt, and vest. Another option is a standard-style tie in place of the bow tie. A tuxedo set sometimes offers a hat as well, and matching slippers.
While most tuxedo sets are ivory, cream, or white, they are offered in other colours, too, such as purple, brown, blue, or red. The majority of tuxedo or suit sets for christening does not include jackets, but these are available as well. Pieces can be purchased separately, but it is usually more affordable and convenient to purchase a suit set with all of the pieces together and matching. For very young boys, there are romper, one-piece suits which are designed to look like tuxedos but without all the fuss of actually wearing one.
Christening Gowns
Christening gowns have long been the staple for boys and girls on their christening day. A buyer can go back to this time honoured tradition by purchasing a boy's christening gown for a young man on his special day. These christening gowns are generally made of polyester, cotton, a blend of both, or a more decadent material such as silk or satin.
For boys, christening gowns may be less embellished than the ones for girls, but they still offer some small details such as smocking, embroidery details, a collar, and a matching bonnet. Some popular brands that make christening gowns are Pretty Originals, Sarah Louise, and Little Darlings.
Girls' Christening Clothes
Christening clothes for girls range from frilly and feminine to simple and sophisticated. Most girls' christening clothes are either dresses or gowns which vary in length and style, as well as fabric. A consumer should select a christening gown or dress that is perfect for a little girl based on those factors as well as price preference.
Dresses
Girls' christening dresses are generally the length of party dresses and sometimes have sleeves or are sleeveless. Many christening dresses are decorated with ribbons, lace, embroidered flowers, ruffles, bows, sashes, gathers or smocking. Christening dresses oftentimes come with matching hats or bonnets or other matching hair accessories. The price of christening dresses ranges depending on how elaborate the dresses are.
Some christening dresses are made of satin or silk, while others are made with nylon, lace, cotton, or polyester. Most christening dresses are white or an ivory colour. Optional petticoats are sometimes used under the dresses to make them appear fluffier and stand out a bit more. Christening dresses can be worn again if the wearers are members of wedding parties or attend formal weddings or other occasions. Sarah Louise is a popular brand of christening dresses for girls.
Gowns
Christening gowns are longer than christening dresses, and the most traditional type of christening clothing available. These long girls' christening gowns are also called baptism gowns and can be quite elaborate and embellished with layers of tulle or lace, pearls, ribbons, or hand-embroidered details such as beading and smocking.
Christening gowns are made in a variety of materials from satin or organza to lightweight cotton. Some come with matching bonnets, underpants, tights, or other accessories which can be added to the outfits to complete them.
Christening Accessories
A lot of accessories for a christening outfit can be purchased separately. These vary from ties or bow ties to different kinds of hats or bonnets for girls or boys. Jewellery, socks, tights, petticoats or slips, headbands or hair accessories, and headpieces are just a few items which can be bought to accompany a christening outfit. A satin jacket can go over a sleeveless dress, or a special pair of slippers or shoes which match the outfit can be purchased.
A consumer may want to buy a special christening bib for the occasion, which has embroidery, lace, or ribbons, or perhaps is made of satin or silk to match the christening outfit. This is a keepsake which is a sweet memory to look back on later.
How to Buy Christening Clothes on eBay
Buying christening clothes on eBay is an affordable alternative to purchasing clothing for a christening at a formalwear store or other retailer. Navigate to christening clothing easily using eBay's simple-to-use search engine, and select which type of clothing you would like to see, or whether or not you are shopping for a christening outfit for a boy or a girl. Purchase christening clothes from a merchant who is a Top-rated seller on eBay, and check his or her feedback to ensure it is all positive, so you can feel confident about bidding on the christening outfit.
Look at the seller's description of the christening clothes very carefully to make sure you are getting exactly what you need. Look at all of the images, and ask the seller to see more if needed by clicking the "Ask a Question" button to directly and easily communicate with the seller about any concerns you may have regarding the clothing or accessories. Do not forget to go back and leave feedback for the seller once your transaction is complete; this helps the seller with future transactions as well as helps potential buyers who are shopping for christening clothes to make purchasing decisions.
Conclusion
There is nothing more significant and special than a child's christening. Make it an event to remember always with a beautiful christening outfit. Purchasing a christening outfit does not have to be a costly or frustrating experience when a buyer turns to eBay for an affordable and perfect christening outfit, as well as all of the additional accessories that the child can wear on his or her special day such as a hat, shoes, formal socks, a tie, or a hair accessory which is just for christening day. A christening day outfit often becomes a family heirloom that is stored and kept for a child to have when he or she is older, so selecting a christening outfit is not only important, but it can also be a lot of fun.
Whether it is a small, informal gathering or a large scale, grand event, there are christening clothes for every type of christening ranging from extremely simple and plain to very decorated and embellished and quite fancy. Find the perfect christening clothes for a child on eBay to help celebrate the momentous occasion.