29th November 2008 - It seems that I have been asleep and the fakes are gearing up for Christmas! We have some crackers here!

Here is one - it's a lovely eyeshadow palette! And it is FAKE!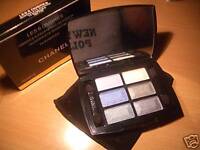 This one actually looks the business because Chanel do make little palettes of six products - but they don't make this one and then put it in a box that says quad or quadra - namely 4, sadly this is a known fake.
Authentic Chanel palettes generally will have a sticker on the underside with a graphic of the colours, on the top of the compact you will have the interlocking CC logo and never the word Chanel.
Although it may not be clear from the picture these eyeshadows look as if they have a bevelled edge - the ones in the authentic 6 product palettes are flat.

Authentic Chanel palettes will have had ingredients and anti-allergen testing - this one has probably been imported from the far East, was not made by Chanel and is possibly made with chemicals that are not tested in the context of cosmetics.

The next item is a real 6 product palette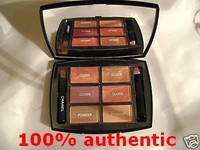 unfortunately the quality of the upload isn't that great - but this palette is nude lip colours mordore.
MORE EYESHADOWS!!!!
Here we have 2 horrendous fakes - these ones are particularly bad...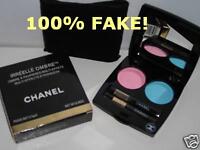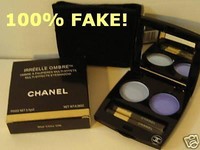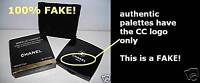 And last but not least - they get worse!
Chanel always use Black and White, they never have sales, they never change their packaging and it will never look as cheap or tacky as this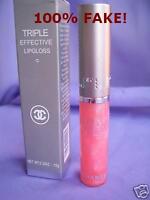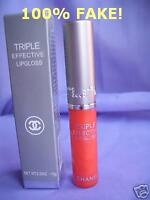 This is apparently TRIPLE EFFECTIVE LIPGLOSS - well the CC logo was lifted from last year's Christmas wrapping paper - the product packaging is definitely not CHANEL - it's completely wrong and you don't know what is in it!
It bad enough finding that you have to tighten your belt this Christmas without people putting an unsuspecting buyer's health at risk through the sale of counterfeit untested, unregulated cosmetics.