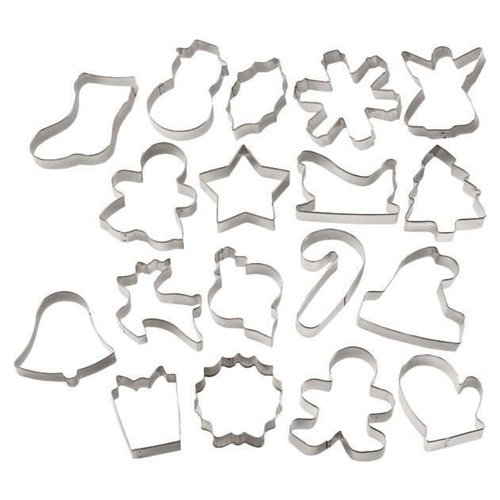 Christmas morning is about more than rushing down the stairs and opening presents. Many children associate Christmas time with decorating the tree, hanging up lights, and visiting their extended families. There are other memories too, such as the smell of fresh sugar cookies being pulled out of the oven and getting ready to be iced.
Whether the cookies are made for a holiday party, or just enjoyed with the family, making them is half the fun. Created using a Christmas cake cutter, baking Christmas cakes and cookies is a fantastic activity for parents and children to share over the holidays. Even small children can shape and ice the cakes under adult supervision. The first step to making Christmas cakes and cookies is to buy the cutters at a cooking store, craft store, or online website like eBay.. Choose cutters that are easy to use, have appealing shapes, and long-lasting quality that holds up over many Christmas seasons.
Using Christmas Cake Cutters
Customers need to know how cutters are used before they decide to purchase a set from the store. Bakers start by preparing and rolling out the dough until it is perfectly flat. The width of the dough depends on the recipe since some types rise more during baking than others. It is best to let an adult roll out the dough to get it perfectly flat.
Once the dough is ready, the cutters can be pressed into the dough to make shapes. Christmas cutters come in many different designs such as gingerbread men, Christmas trees, and even Santa Claus himself. Children often enjoy having a wide selection of different shapes to choose from, but it is possible to make a batch of cookies just using a single cutter.
Shaping the Cookie
Cutters are designed to shape the cookie by cutting the dough around the raised edges of the cutter. Some cutters have sharp sides, and those models need to be carefully handled under adult supervision to avoid any accidents. The cutter is pressed into the dough and then removed. The dough comes out in the shape of the cutter and is then placed upon a baking pan. When the cookie is placed in the oven it cooks into the exact shape of the cut design. Once the cookie is finished baking and allowed to cool, icing can be placed on top to make it truly special. Children love decorating their own Christmas cookies.
Christmas Cake Cutter Cuts or Moulds
There are two main kinds of cutters on the market today. Cutters are two dimensional, which means they create a cookie or cake in a flat pattern. The only thing a baker has to worry about with a cutter is to make sure the edges completely pierce all the way around the dough. They can easily transfer the cookie from the rolled dough onto the baking pan.
| Type | Handles | Other Uses | Price |
| --- | --- | --- | --- |
| | Sometimes | Modelling clay | Low |
| Mould | No | Sugar moulds | Medium |
Moulds create three dimensional shapes. For example, a cake cutter of Santa Claus may only have the outline of his face. A cake mould would include the features of his face, such as a raised portion for his eyes, nose, and beard. This type is easier for children to cover with icing since they can tell the different parts of the face.
Moulding Issues
One problem with moulds is that the dough sometimes get stuck inside the crevices of the device. This can get frustrating and ruin the overall shape of the cookie. There are several ways to avoid this problem. Bakers can use extremely dry dough that is covered with flour to help prevent it from sticking inside the mould. Another option is to line the bottom of the mould with cellophane paper. The dough ends up being pressed against the cellophane, not the mould itself, and this makes it easier to remove.
Christmas Cake Cutter Materials
Christmas cake cutters are usually either made from metal or plastic. This makes customers wonder if one material is better than the other. The truth is that they both have their uses, and while many bakers use both in their kitchen, some people prefer one type over the other.
Plastic
Plastic cutters are less expensive than metal cutters and moulds. This makes them a great purchase for beginners who are not sure if they genuinely want to invest in a large cake cutting set. Their raised edges are blunt, which makes them safe for children to use as well.
However, there are several issues with plastic. Because of their blunt edges, it takes a little more force to push them through the dough. Small children might get frustrated when they cannot get the right shapes from a plastic cutter. Another problem with plastic cutters is that they are not as durable as metal. Accidentally dropping the cutter or knocking it off the table can break it.
Metal
Metal cutters are made out of a material such as stainless steel. Buyers who know someone who loves to bake Christmas cookies may even want to consider giving a gift of copper cake cutters or moulds that are well made and durable. These cutters tend to last a long time and can even be passed down from mother to daughter.
Metal cutters usually have sharpened edges to help them slice easily through dough. Bakers appreciate this extra feature, but it can be dangerous in the hands of young children. Only use sharpened metal cutters under adult supervision and make sure children know how to press the cutter into the dough without their fingers getting in the way.
Christmas Cake Cutter Size
Cutters come in all different sizes. Buyers can find shapes large enough to create a cake that can feed an entire holiday party, or small enough to produce finger cookies. When cooking with children, it is best to have several different sizes on hand. Tiny cookie cutters can be difficult for small hands to operate while particularly large ones make it difficult to transfer the cake from the dough to the pan without breaking its shape.
Buyers need to also consider the shape when it comes to baking the cookies or cakes. Larger cookies need extra baking time to ensure they are completely done while smaller cookies use less time. It is best to bake cookies of a similar size together in the oven. This way all the cookies should be done around the same time.
Extra Features
There are several things buyers who are in the market for cookie cutters should watch out for when picking out a brand. Buying a cutter that comes with a non-stick coat, for example, makes it easier to cut patterns out of the dough. Some moulds even claim to use non-stick coats, and this does somewhat help prevent the dough from getting jammed inside crevices.
It is also important to find out how easy it is to clean the cutter. As mentioned above, cutters and moulds with nooks and crannies often get dough stuck inside and it can be very difficult to remove. Buying a dishwasher-safe cutter is the best option since even the dirtiest equipment can be spotlessly cleaned inside the dishwasher.
How to Buy Christmas Cake Cutters on eBay
Bakers who shop on eBay can get all of their Christmas cooking supplies in one place. It is possible to find brand new cake cutters and moulds in the latest designs for sale alongside vintage models from bygone eras. The wide selection of styles allows bakers to create fanciful decorated goodies that everyone can enjoy year after year.
You can start shopping for all kinds of cutters by typing 'cake and cookie cutters' into eBay's search engine. This pulls up the entire list of results for cake and cookie cutters, including those for different holidays. If you are not interested in seeing cutters for Valentine's Day cookies or Halloween cakes, type in 'Christmas cake cutters' to limit the results to Christmas. You can even search by material such as 'metal Christmas cake cutters'.
If you want three dimensional cakes and cookies, then do a search for 'Christmas cake moulds'. This returns a wide selection of results, so you likely need to narrow down your search by focusing on the Christmas holiday. Another option when it comes to searching on eBay is to type in 'used cake cutters'. This returns some truly spectacular vintage pieces.
Conclusion
Christmas cake cutters add a touch of magic to an already special holiday by celebrating the season with delightful shapes and designs. Bakers can create anything from miniature Christmas trees decorated with green icing and candy lights to reindeer cookies and a small army of gingerbread men. The first step to making Christmas cookies and cakes requires purchasing the cutters. These items come in different shapes, styles and sizes. A cutter creates a two dimensional cookie while a mould creates a three dimensional one.
Plastic types are safer for small children to use, but nothing can beat the long-lasting durability of metal cutters. Try to bake cookies and cakes that are approximately the same size at the same time to prevent burned or undercooked food. Extra features such as a non-stick coating and dishwasher safe materials can be a factor in the purchase as well. Customers can find everything they need for Christmas baking through eBay's enormous selection.