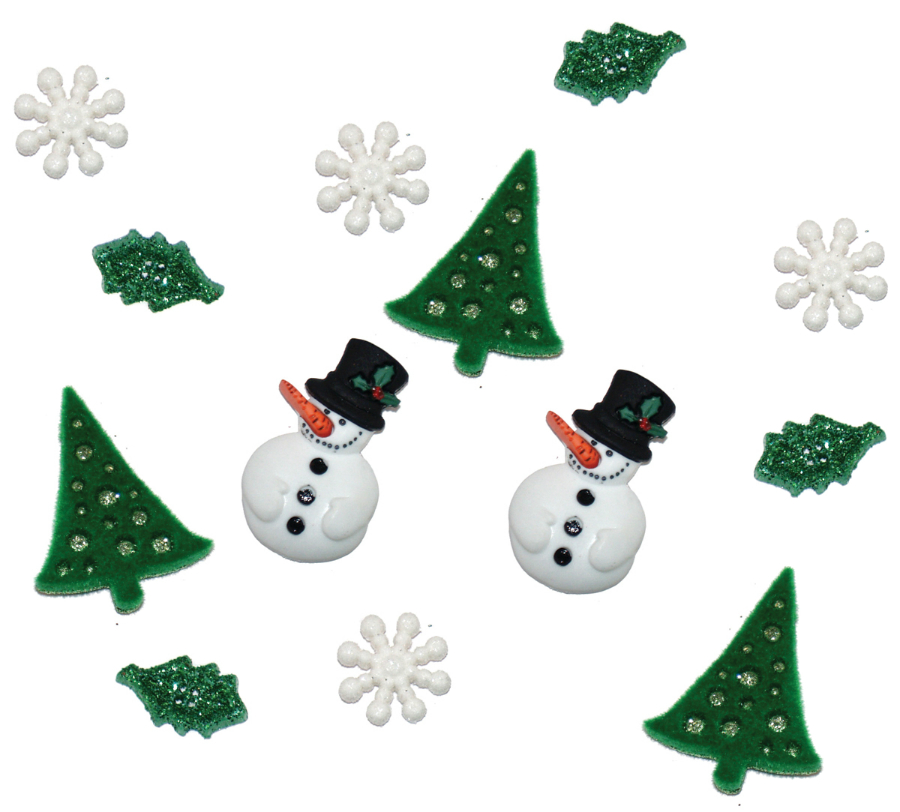 Christmas is a special time of the year and many people enjoy celebrating it in a festive way. Besides getting together with the family and cooking traditional food, there are plenty of other things to do in order to make Christmas enjoyable. Creating a Christmas scrapbook for example is a good idea for a family activity. Parents and children can get together with a bunch of Christmas embellishments and create something that can preserve their memories in a unique and creative way.
Christmas embellishments are essential for creating a family scrapbook, but they can also be used for other types of seasonal crafts, such as personalised party invitations. Buyers can choose from a wide variety of Christmas embellishment types and they can also opt for different motifs, according to their preferences. From decoration pieces to gift tags, there are numerous things that can be used for a Christmas scrapbook. By learning more about the different types of embellishments and their uses, buyers can make sure their craft project is truly unique.
Types of Christmas Embellishments
Christmas embellishments come in a wide variety of shapes and sizes and it is up to the user to make sure the embellishments they purchase are suitable for a particular project. There is a lot of flexibility associated with Christmas scrapbook embellishments, as almost anything can be used provided it can be adhered to a page and its size is adequate. Some of the most common types of Christmas embellishments include stickers, self-adhesive rhinestone gems, gold and silver jingle bells, and ribbons .
Christmas Stickers and Ribbons
Stickers are some of the most popular forms of Christmas embellishments, and they are available in a wide variety of designs and colours. They are easy to apply on paper and other materials and buyers can obtain a nice effect by coordinating their colour with the theme of a party invitation or scrapbook. Another popular form of Christmas embellishment is ribbon, which comes in a multitude of sizes, colours, fabrics, and styles. Ribbons can be used by themselves, in the form of knots or bows, or they can be strung through buttons, eyelets, and beads. Popular colours for ribbons as Christmas embellishments are red, green, gold, and silver.
Buttons, Eyelets, and Beads
Buttons, eyelets, and beads can be glued onto the pages of a scrapbook or on the front of invitations. Another idea is to stick them on the envelope of invitations for some additional texture and colour. Some of these embellishments can be applied very easily on many types of materials, but users may need special tools for others. For example, a special eyelet tool may be necessary for eyelets, whereas for beads one may need a bead reamer.
Templates and Stencils
Those who are not very confident in their drawing abilities may use special templates and stencils with Christmas motifs for their projects. These provide users with precise dimensions and full instructions on how to get the desired results. Templates may not sound too creative to some, but they are a good idea for those who do not want their craft project too look amateurish. Moreover, templates and stencils can be combined in order to obtain original patterns.
Gold and Silver Embellishments
Gold and silver jingle bells can add a festive effect to any Christmas related craft project. They can be bought in sets and they come in a variety of sizes. Most of them are small enough to be glued on the pages of a scrapbook or on party invitations. Similar types of embellishments include gold or silver stars and decorative tassels.
Common Motifs for Christmas Embellishments
Many types of embellishments come in a wide variety of styles and colours, but not all of them are characteristic for Christmas time. The colours that make anyone think of Christmas are mainly green, red, and gold. Many of the seasonal embellishments feature patterns with traditional motifs. The chart below illustrates the most common Christmas motifs that one can choose when shopping for seasonal embellishments.
Motif

Significance

Characteristics

traditional symbol for Christmas and a children's favourite

omnipresent on embellishments made from felt, metal, plastic, and more

comes in different sizes

can be decorated with beads, buttons, sequins, or glitter glue

Snowman

winter and holiday season

often made from gold or silver metal

can be decorated with buttons, velvet, or shiny embellishments

can be made from scratch using felt circles and decorations

Stars

represent the Star of Bethlehem from the Nativity

often available in gold and silver metal; come in various sizes, can be used on their own or as decorations for a Christmas tree

Velvet Bows

symbol for gifts

can be bought ready-made or can be made from velvet ribbon

ideal for scrapbooks

red, green, and gold are suitable colours for Christmas

Gifts

ideal as embellishments that hang on the Christmas tree

available in a wide variety of sizes, colours, and patterns

most popular shape is that of a box with a ribbon

Santa

ideal for children's projects; a symbol of giving

can be bought as an embellishment in itself; often used as a motif on ribbons, gift boxes, and more
There are numerous other Christmas embellishments available in specialised stores, local or online. These include holly and ivy, snow flakes, angels, and reindeers. The possibilities for combinations are truly endless and buyers should use their creativity in order to obtained the desired results.
Glues and Adhesives for Christmas Embellishments
When working with Christmas embellishments, one needs to use glue in order to fix them on paper or fabric. There are different types of glues available for crafting, but not all of them are ideal for all kinds of materials. Clear drying glues are one of the most popular choices, especially when it comes to adhering embellishments on paper. Those who are looking for a more sturdy adhesive may opt for a hot glue gun that can be used with glue sticks. The golden rule of applying Christmas embellishments successfully on paper or fabric is to allow the glue to dry completely before handling the item.
Spray-on adhesive is another option and it suitable especially for adhering fabric embellishments to paper. This type of glue allows the user to adhere the embellishments without any lumps. Glue should be avoided, however, in the case of heavier fabrics, for which sewing would be more appropriate. Fabric glues are a good option for those who want to make sure their embellishments are well fixed.
How to Find Christmas Embellishments on eBay
Christmas embellishments come in so many different types, sizes, and colours that it may be rather difficult to make a choice. Whether you are a professional or are simply looking for Christmas embellishments for a family project, the secret to finding the right products is to browse through as many styles as possible prior to making a purchase. eBay is an excellent place to shop for Christmas embellishments, as you can find virtually all the materials and tools for cardmaking and scrapbooking in one place.
eBay provides buyers with hundreds of types of Christmas embellishments as well as other items that may be needed for a craft project, including paper, fabric, and glues. The user-friendly system of the website allows buyers to browse through the multitude of items with ease. In order to start searching for Christmas embellishments on eBay, all you need to do is type the name of the item you need into the search bar of the website. This is a quick way to locate exactly what you need on the website. For example, if you are interested in a new set of gold jingle bells, you can type the words 'gold jingle bells' into eBay's search bar. You can narrow the results you get according to your preferences and your budget. Make sure you read the product description carefully before making a purchase in order to avoid having to send the item back.
Conclusion
Those who love crafts and wish to impress their friends and family with their skills at Christmas may need a supply of Christmas embellishments in order to make their projects remarkable. Even though nowadays one can easily buy ready-made invitations and cards from specialised shops and stationery websites, nothing compares to the thrill of receiving a personalised item at Christmas time.
Whether buyers are looking to create a scrapbook, wish to create some personalised invitations for their Christmas party, or send personalised Christmas cards to their loved ones, they can find the embellishments they need on eBay. Users can browse through the large selection of craft supplies available on eBay and find Christmas embellishments for cards and scrapbooks. The website offers Christmas embellishments for all needs and budgets and the items are available from sellers from all around the world. Buyers can choose to purchase items separately or as part of a kit or bundle. Regardless of buyers' preferences for Christmas embellishments and the type of project they intend to complete, shopping on eBay allows them to find what they need quickly and easily.