Christmas Gifts Ideas for 2011 - Perfumes, Fragrances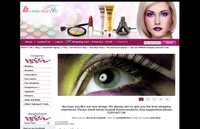 Choosing the right gift for your beloved ones could be a nightmare.
Buying Christmas presents is a real challenge for all. Fortunately it's not as bad as it was years ago. Having access to Internet everyone can search and compare different ideas.
Even if you do not know too much about it, you can visit ebay shop
BeautyStore4u
, that has all kind of great gifts like
eyeshadow palettes
,
brushes
,
fragrances
.
It's a great idea as it can save you a lot of time and hassle. All the items will be delivered in secure packaging adnd in timely manner. No matter how many gifts you order delivery is always FREE.
And there is no doubt that the satisfaction of our loved ones should be our priority.