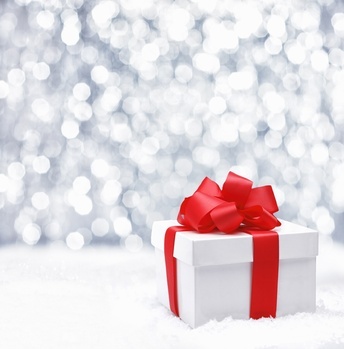 For many who craft Christmas gifts and other items, preparation for the Christmas season happens all year. Whether sewing, knitting, or otherwise creating gifts, crafters need ribbon to add to Christmas gifts and items used during the Christmas season. Christmas ribbon comes in many different colours, materials, styles, and patterns. It may have snowflakes printed on it or bunting embroidered on it in different colours. It may be made out of silk, polyester, cotton, wired, or one of a multitude of other choices.
When looking for Christmas ribbon for different projects, crafters need to consider many different factors. The first, and easy to decide, is the ultimate purpose of the ribbon. Another factor is the amount of ribbon required to complete the project. Some crafters may wish to purchase a whole spool of ribbon while others may only want one or two metres. Once buyers have determined the ultimate purpose and the length needed, the material and colour of the ribbon is the final decision to make. No matter what type of Christmas ribbon is needed, buyers can find a wide range in local craft supplies stores and online.
Uses for Christmas Ribbon
Christmas ribbon can be used in many different ways. Sewing, knitting, decorating craft projects, decorating the Christmas tree, and even gift wrapping can all use Christmas ribbon. When looking to purchase Christmas ribbon, buyers should consider its intended use. Christmas ribbon intended for a sewing project such as a quilt, hat, or other clothing must be washable. Washable ribbon is colourfast, ensuring no bleeding of colour onto other fabrics. Wired ribbon is not suitable for projects that must be washed as exposure to water may cause the wire to rust.
On the other hand, Christmas ribbon that is intended to wrap gifts does not need to be colourfast or even washable. Since it is used primarily as decoration, Christmas ribbon for gift wrap tends to be in bold colours. It can have glitter or be wired. Most people who use Christmas ribbon for gift wrap look for inexpensive options since it may be used only once. Other types of craft projects might use any sort of ribbon that suits the tastes of the crafter, the purpose of the project, and the budget.
Amount of Christmas Ribbon
When buying Christmas ribbon, buyers may notice that there is a range of lengths available. Ribbon may be sold as cut by the metre or it may be sold by the spool. Even sold on a spool, Christmas ribbon can come in different lengths. Ribbon on a spool can be just one or two metres long, or much, much longer. At the same time, Christmas ribbon may be sold by the metre. One of the biggest concerns when attempting to purchase ribbon by the metre is the cost. Ribbon by the metre can be fairly expensive. In this vein, buyers looking for Christmas ribbon to wrap gifts may find that the more inexpensive polyester ribbon sold by the spool may make a better purchase than expensive cotton ribbon. Buyers should pay close attention to this aspect if budget is a factor in the decision making process.
Types of Christmas Ribbon
Christmas ribbon comes in many different types and styles. It can be thin or wide, made of silk or polyester. When purchasing ribbon online, buyers need to rely on pictures as well as descriptions. The table below outlines many of the different types of Christmas ribbon that can be found on the market and their popular uses.
| Ribbon Type | Description | Used For |
| --- | --- | --- |
| Grosgrain | Very strong, characterized by ribs across the ribbon; name describes look; can be any material | Often used for waistbands, bookbinding, and even gift wrapping |
| | Can be made of synthetic or natural fibres; comes plain or patterned | Decorations, clothing, and gift wrapping |
| | Can be natural or synthetic fibres | Hair bows, gift wrap, other items that require structure but do not need to be washed often |
| | Dyeable, can be printed | Sewing, bookbinding, gift wrapping, and more |
| Silk | A natural fibre that comes in different grades of quality; cost can range from inexpensive to very expensive; can be wired or fabric only | Hair bows |
| | Glossy, on one side, dull on the other; can be washable | Primarily used on sewing projects to mimic silk and keep costs low |
There is a wide variety of Christmas ribbons that are available for sewing and crafting. The ones listed in the table are some of the main varieties; however, there are many more. For example, some of the varieties of cotton ribbon include twill, taffeta, and wired or unwired ribbon. When looking for Christmas ribbon, buyers should consider if the fabric and type of ribbon are suited for the project. That is, ribbon that is meant for a sewing project needs to be colourfast in the wash, not wired, and preferably match the fabric in some way.
Washable Christmas Ribbon
Washable ribbon is important for sewing projects as well as any project that requires the ribbon get wet. Washable ribbon may be cotton, silk, or even polyester. Buyers should keep in mind that washable ribbon may still not be colourfast and treat their projects accordingly. People interested in finding out about washable ribbon should verify whether or not a product is colourfast or needs to be washed before making a purchase decision.
Dyeing Christmas Ribbon
Although there is a wide range of Christmas ribbon colours, styles, and fibres available, crafters may occasionally have trouble finding the right match for a project. People who are interested in a very specific colour or ribbon material might consider dyeing a plain coloured ribbon to achieve a unique colour or pattern. For example, a tie-dye effect or a shadow effect can be achieved when dyeing ribbon. In order to dye ribbon, buyers need to be sure to purchase a light coloured ribbon made from a natural fibre such as cotton or silk. White gives a clean colour; however, other light colours can be used. Wired ribbon may rust when exposed to the dye liquid and should be avoided. In addition to dyeing ribbon, it may also be stamped with a rubber stamp. Buyers only need purchase of a pigment based dye. Instructions for dyeing fabric and ribbon can be found on the Internet or provided by the seller.
Buying Christmas Ribbon on eBay
You can find much variety in both colours and types of Christmas ribbon on eBay. In order to start your search, type 'Christmas ribbon' into the search box on any page. This yields all of the listings available at the moment. You can then narrow down your search by filtering for type, brand, colour, or a number of other options. If you know the colour or fabric type you are searching for, you can always narrow down your search by typing 'organza Christmas ribbon' or 'cotton twill Christmas ribbon' in the search box.
Once you have a list of Christmas ribbons to look through, be sure to pay attention to the item description. The width, type, colour, and fabric of the ribbon should be given. Since many sewing and other craft projects rely on ribbon of a certain width, you should verify that the width of the ribbon is the size you need. In addition to the width, the length of the ribbon is important. Some Christmas ribbon may be difficult to find a second time, so be sure to purchase the amount you need in one lot. Finally, know that you can always ask the seller for more information if something is missing from the item listing. Just click on the 'Ask the Seller' link within the listing.
Conclusion
Christmas ribbon can be used for a number of purposes, from sewing to general crafts, scrapbooking to bookbinding, and even gift wrapping. Christmas ribbon can act to brighten a project or simply add the finishing touch. It comes in a multitude of colours other than red and green, and may have a pattern or glitter added to it. Some crafters who are searching for the right ribbon for their project may even purchase plain or light coloured ribbon to dye or stamp patterns.
When looking for the ideal Christmas ribbon, buyers should keep in mind the specific projects for which they want to use the ribbon. A sewing project, such as a blanket for a small child, needs washable, colourfast ribbon. On the other hand, wired ribbon may be more appropriate for gift wrapping or a craft project that requires the ribbon keep some shape but will not need to be washed. In addition, buyers need to know the length of ribbon they need for their projects. Some ribbon can be quite expensive, and buying a whole spool may be out of the budget. However, many sellers of specialty Christmas ribbon sell it by the metre, so knowing the length required is necessary. Deciding on the colour, pattern, and fabric the ribbon is made from is the final step to finding the right Christmas ribbon.