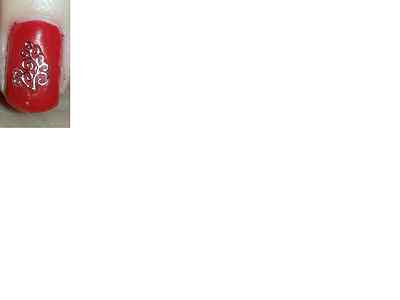 How to achieve.....
To achieve this I used the Red Carpet gel manicure set and nail stickers. I love the overall look, and is great for the festive season.
File and shape your nails to the right shape and length you desire (I like mine quite short and square, although this would look great oval and long too!). Apply the base coat, cure, then apply the colour ( I used Reddy Teddy by Red Carpet Manicure) and cure as normal.
Apply a Christmas sticker (I used Baubles Stars sticker sheet by jackandpanky) as shown on the instruction sheet. The rest of the manicure was performed as normal.
I love the result, and how they have turned out!! Give it a try. This is the easiest Christmas style manicure that I have ever, ever performed. I am not a trained nail technician, but found this really simple and easy to perform. There are a few imperfections in my painting technique as I was using my bad hand.
Other great ideas could be blue nails with stars or snowflakes, red nails with white tips, snow scenes.

Good luck x

How to buy the equipment
eBay hosts sellers who offer a wide variety of LED manicure lamp. By typing specific keywords into the search bar, you reduce the number of seller prospects and reduce the amount of time you spend on a search. Type "LED manicure lamp" into the search engine, and then narrow your search further by specifying buying criteria. For example, you can specify by typing your preferred feature, such as "manicure and pedicure " or " nail dryers and UV lamps". Then, visit each seller's product page to review accepted payment methods and delivery times. To ensure prompt delivery, only consider sellers who live in the United Kingdom .