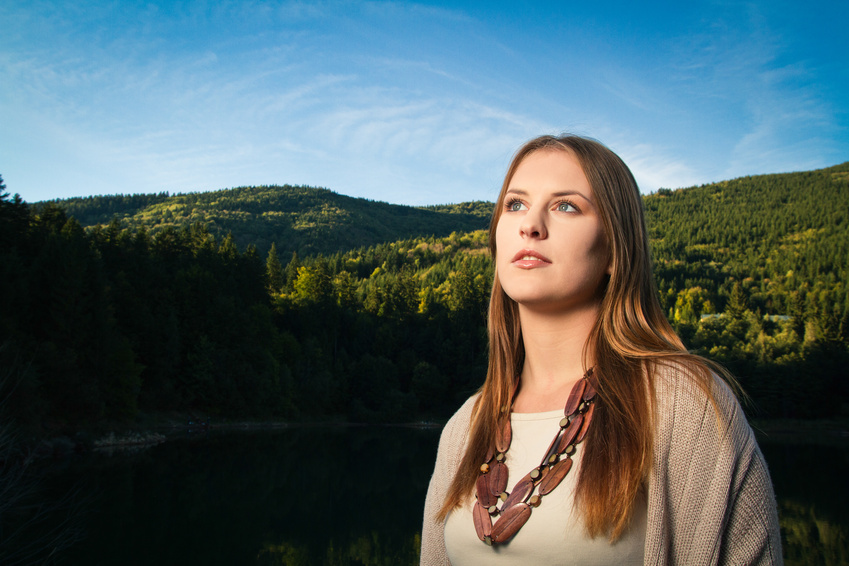 Chunky necklaces feature big beads, pendants, or medallions, often woven together in intricate patterns. They are fun and unusual looking, and the style lends itself well to wood. Buyers should be aware that wooden jewellery needs somewhat different care than metal necklaces do. Otherwise, buying wooden necklaces is simply about finding a style that compliments the wearer.
Chunky Wooden Necklace Designs

Chunky necklaces are always big and bold, but some are simple strings of large beads, with or without pendants, while others are complicated networks several beads across. Some are symmetrical, while others are not. Generally, asymmetrical chunky necklaces have a more bohemian look and are great for gallery openings, literary events, or anything else with an artsy or creative theme. Symmetrical necklaces look more formal and classy and so are better choices for professional settings.
Chunky Wooden Necklace Lengths
Chunky necklaces can sit close around the neck, on the collarbones, or hang down across the chest. Choosing a length is all about contrast. A sundress looks great with a choker because these simple dresses leave the neck area looking a little bare otherwise. For the same reason, a simple turtleneck top works very well with a short, collarbone length necklace. Very long necklaces look playful and funky and contrast nicely with otherwise conservative clothing, such as a V-neck blouse and a pencil skirt. Very wide chunky wooden necklaces with many layers that hang down across the chest count as long, even if the layers are on a choker base.
Chunky Wooden Necklace Wood Colour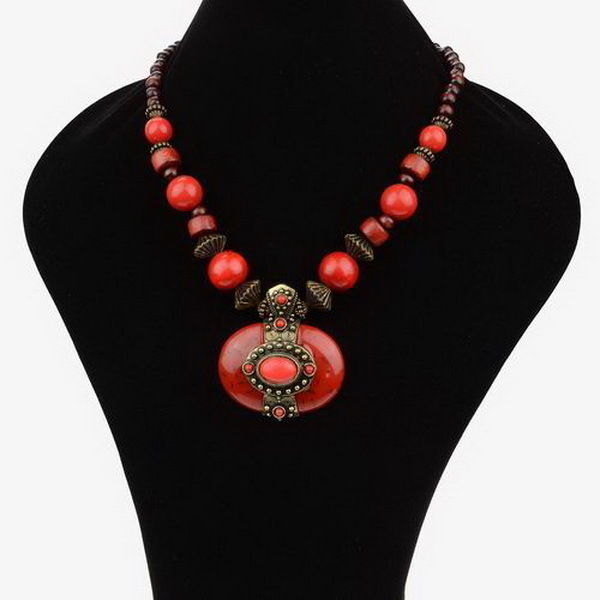 Wood naturally comes in many different colours, and stains and dyes further expand the range of options without covering up the wood's natural character. As a general rule, pale woods look good against dark backgrounds, while dark woods look good with pale backgrounds. People with light complexions should pair pale wooden chunky necklaces with dark, high-collared dresses and tops so the wood sits next to the fabric, not the skin. For a low-cut top, paler people should choose dark wood. People with dark complexions can often pull off both light and dark woods next to their skin. For high-collared tops, the rule about contrast between clothing and jewellery colour still holds, however, regardless of the wearer's complexion.
Chunky Wooden Necklace String Type
Chunky necklaces are, as the name implies, heavy. That means they are more likely to break than other necklaces, especially if strung on a very fine thread or wire. Very tightly strung necklaces, with no movement to the beads are also at risk because anything that twists or pulls at the beads also stresses the string. This is more of a concern with necklaces made by beginners, but even professionally made necklaces can break. The best option is to make sure the string is strong and has some give to it before committing to the purchase.