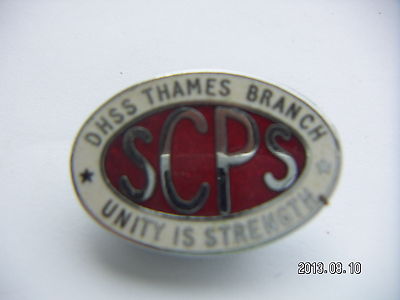 CIVIL SERVICE TRADE UNION BADGES AND MERGERS
Set out below is a chronology of the main unions that have merged over the years to form PCS. There is also some detail on the badges that these unions have produced. I hope you find this short guide helpful in spotting civil service trade union badges
PCS the Public and Commercial Services Union was formed from a merger of the Public Tax and Commerce union (PTC) and the Civil and Public Services Association (CPSA) in 1998. PCS has produced numerous badges from Group Conference badges to Distinguished Life membership badges. I estimate that from 1998 to the present PCS has produced between 40 and 50 different badges.
PTC was formed by a merger of the Inland Revenue Staff Federation (IRSF) and the National Union of Civil and Public Servants (NUCPS) in 1996. PTC only lasted for two years yet produced 20 plus badges. The small square membership badge was designed to look like a smilley face. PTC produced to Annual Conference badges for 1996 (Bournemouth) and 1997 (Blackpool) They also produced two Support grade Conference badges for these years and badges for a Black members Conference in 1996 (Cardiff) and a Traffic Wardens Conference in 1997. (Bournemouth) Distinguished Life membership badges were produced by the Education Employment & Training Group. the Civil Service General Group. the Arts and Heritage Group and the Support and Related Grades Section. National Honourary and Distinguished Life Membership badges were also produced and the National Black Members Committee produced a badge as an award for anti racism. The INland Revenue Group also produced a 21 year membership badge. The picture below is of a twinning badge produced jointly with Unison to support the south African union NEHAWU.
IRSF produced few badges about 10 in number. Two basic membership badges one blue the other orange. The blue one was also produced on hall marked silver and hall marked gold.. They also produced two 21 year membership badges, one orange one blue. A fifty year badge carrying the dates 1938 to 1988 and an IRSF Centenary badge were also produced. They issued at least three button/tin badges, I' am for the Fund, I am opting in and I am backing the IRSF.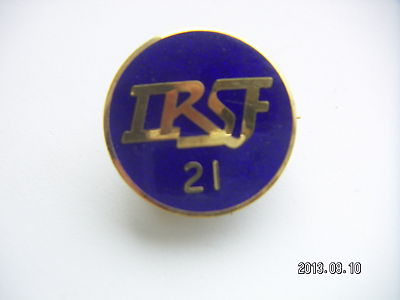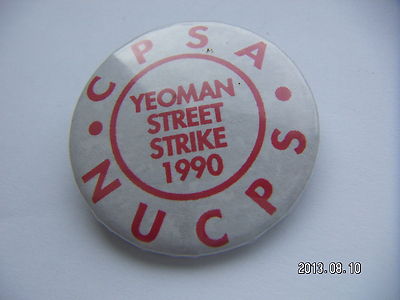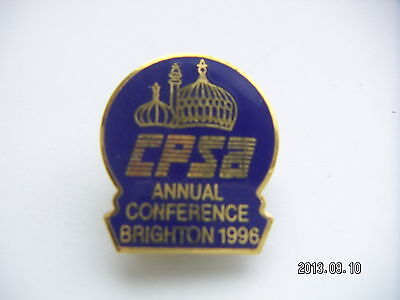 CPSA produced many badges at least 50. Conference badges for the years 1983 to 1997 were produced for 1983 84 86 and 87 two different coloured versions of the Conference badges were produced for all other years only one version. Many of the factions in CPSA produced their own button/tin badges. BL 84, Left Unity etc. CPSA was formed in 1969
NUCPS. The National Union of Civil and Public Servants was formed in 1988 by a merger of the Society of Civil and Public Servants (SCPS) and the Civil Service Union (CSU) CSU is only known to have produced nine badges Two membership badges one a blue diamond shaped badge the othe red and gilt with a wreath around the outer. three differnt merit badges in gold silver and bronze and a lilac badge for CSU activists on the merger with SCPS. A badge with the dates of CSUs existance was produced 1945 to 1985 two different sized "Organise Your Future" badges and a CSU Your Union Your Voice badge
SCPS the Society of Civil and Public Servants produced around 10 different badges two membership ones, one oval one round a National Distinguished Life Membership and an Honourary Life Membership were also produced. Four Groups also produced badges DHSS, Inland Revenue, Ministry of Defence, and The Scotish Office Group all of these are Distinguished Life Membership badges
CSCA The Civil Service Clerical Association (CSCA) became CPSA in 1969 this union produced Annual Conference badges from 1948 to 1963 and produced a Gold Membership Long Service badge. Two membership badges are known both inverted triangles of different sizes