kathy2477 has written a very honest & informative guide here and I would like to add a few words of advice of my own. For clarinettists this advice will go without saying but for parents buying instruments for their children etc... I hope this will help you avoid some pitfalls!
Her advice about avoiding certain models is SOUND. Bargains that look to good to be true are usually just that. Inexperienced UK eBayers BEWARE of goods located outside of the UK. Even when you limit your search to "Items located in the UK" there are often STILL items shown that are located in the far east. One other "dodge" used is that an eBayer will appear to be a UK member but the item being sold will be in a different country. Check not only the POSTAGE cost but also the (compulsory) INSURANCE cost carefully. If in doubt, ask the seller where the item is being shipped from. If you get a vague response (such as "our centralised warehouse") or a reply in very poor english then BEWARE!
If you DO buy an item that needs importing you run the risk of it being stopped by Customs. They can charge import duty not on what you paid, but on what they asess it's UK market value to be. They will also charge you for their re-packaging costs, and will then charge VAT on top of all that, including VAT on the postage & insurance too. If you're unlucky this could more than DOUBLE the cost of your "bargain."
Also, a word of caution about KEY SYSTEMS. Every so often Clarinets crop up that are the "Albert" key system.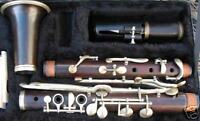 If you are buying the instrument for someone to learn these are to be AVOIDED. If in doubt ask the seller if the Clarinet is the "Boehm" system. The clarinet you need to buy will have keys that look like this: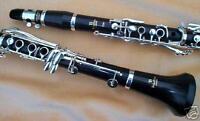 For beginners who may or may not continue playing I strongly recommend the Buffet "B" series of clarinets. For beginners who are definitely going to continue playing in the long term, and intermediate players Buffet "E" series instruments are an excellent purchase & well worth the money. I've been playing my Buffet E11 for 20 years. It's taken me to Grade 8 & beyond and I love it to bits. As such, if you're serious about taking the instument up, the E11 is my recommendation. The E13 is a better model that's sort of half way between intermediate & pro standard. For professional use, Buffet have an "R" range but experienced players will know about those already!
Finally, a word about mouthpieces. Cheap (and often expensive) Clarinets will be supplied with mouthieces that render the instrument all but unplayable. You should allow extra cash in your budget for a replacement. The Vandoren B45 with a Rovner ligature is a good starting point that will see a student OK for many years, but there are so many out there that it's impossible to give definitive advice, other than I would recommend VISITING an instrument retailer who will usually be more than happy to let you try out different ones & be able to offer detailed advice on what is suitable for you.