Like many people, I still use a film SLR camera for photography alongside digital cameras and mobile phones.
I started taking photos with an SLR in the mid-80's when I was under the age of 10, using a Canon FX which belonged to my father and I've since had a soft spot for the Canon range. Except for the mighty F-1, they are not professional cameras, but are well built SLR's for competent amateur and hobby photographers. Two of the cameras here you could consider semi-pro, or "prosumer". I've tried other makes of SLR but still get drawn back to Canon and now have half a dozen or so cameras and are a good way for someone used to digital getting to grips with film. F-series cameras are all-mechanical and only require batteries for metering (where built-in). The A-series are pure 1970's electronic wizardry, and will not work without a battery installed.
A good usable Canon F or A series camera can be picked up for under £100, with lenses and other accessories ranging from 99p to several hundred pounds.
As my collection has expanded since I wrote this guide, it covers all the models I own (with one exception). The lenses and accessories have now been moved to a separate guide.
The earlier Canonflex range and later T-series are not covered by this guide.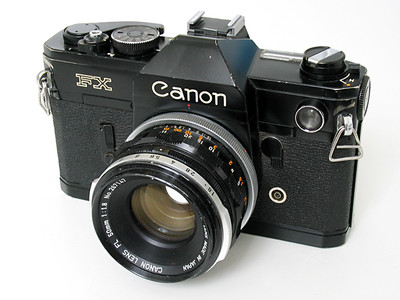 Add a caption
Canon FX. Meter's magic eye is below the film rewind..
Canon FP & FX (1964)
The FP & FX Canon's first amateur cameras, the earlier Canonflex range being aimed at more toward the professional market, but couldn't compete with the Nikon F for various reasons.
Both are in essence the same camera - the controls are near enough identical, the chassis are the same, the lens mount is the same, both had a self timer and mirror lock up, though the FP didn't have a shutter button lock. The big difference is the metering.
The FP has no metering at all and requires the user to take an external reading.
The FX has a built in light meter using a "magic eye" on the front left of the camera, and a display by the film rewind crank, which is reasonably accurate but requires an obsolete mercury battery or expensive zinc-air equivalent.
Both cameras have a Xenon Flash (X-sync) of 1/55th of a second with a dedicated position of the shutter speed dial for this. From 1/30th of a second and below, you can use FP-type bulb flash guns. Whichever flash you use, connection is by PC socket only, so most modern flashguns will not work - these cameras do not have hot shoes.
Using these cameras is extremely simple - focus, adjust the aperture or shutter speed for metering and click. Another downside is the battery for the meter requires an obsolete mercury button cell, though a hearing-aid battery or expensive WeinCell replacement will do the job.
The FX and FP were supplemented in 1966 by the FT, before going out of production around 1970.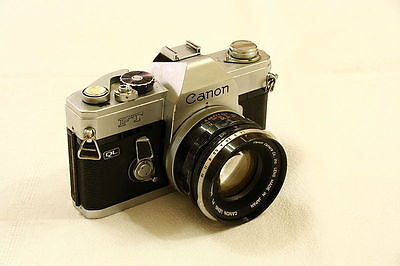 Canon FT (1966) & TL (1968)
The FX & FP were a good start in Canon's amateur SLR line, and in line with competing manufacturers, Canon released is TTL (Through-the-lens) metered FT model in 1966. At a quick glance, it looks no different from the FP or FX, indeed the chassis is near enough identical. The controls are similar as well, but it's through the eyepiece that the biggest difference is shown. This camera has through-the-lens (TTL) metering, using the centre 12% of the focusing screen. Focus, push the stop down and adjust your aperture and/or shutter speed so the needle hits the mark. Easy! The stop down lever could also be used activating the self timer. After a few months of production, a QuickLoad film take up was added, which made loading with film simpler. Pop in the canister, pull the leader to the orange mark, close and wind to first frame. With the end of the F-series in the mid 1970's, this feature wasn't used again by Canon until the launch of the T50 in 1983.
1968 saw the launch of a stripped-down FT, the TL. This lacked the self timer, and had fewer shutter speeds. Most were sold without the QL film take-up, though some did have this feature. Once again flash connection is by PC-socket only, X-sync now being 1/60 of a second, and the meter still used the obsolete mercury battery, commonplace in the 1960's. These are also FL-mount cameras.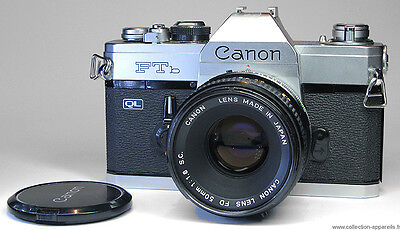 Canon FTb (1971) & FTbn (1973)
In late 1970, Canon launched the new FD-lens mount for its flagship camera, the F-1. It also had a pretty decent consumer level camera, the FT, so instead of designing a whole new camera for this mount, they updated the FT, using the existing chassis with a few bits and pieces used in the F-1. A hot shoe was now added, along with the more common "stick & hoop" type match needle meter, again metered through the lens with no more stopping down - just pick an aperture & adjust the shutter speed (or vice versa). Like the F-1, the timer & stop-down multi-function lever also locked the mirror up. Also, you could use an older FL or R-mount lens (with a few exceptions) on this camera if you took a stopped down reading. It was a great camera, very sturdy and reliable, often used as a back-up by a pro if their F-1 went wrong or was being serviced. In 1973 it was given a mild facelift, unofficially called the FTbn - the stop-down lever was now the same as the F-1 & EF's, a plastic tip was put on the film wind lever, the PC flash socket had a cover and a small window in the viewfinder showing the shutter speed. This was now the main camera for the competent amateur in Canon's SLR range through the early part of the 1970's, and is still a great camera to use today, being all mechanical and only needing the battery for the meter.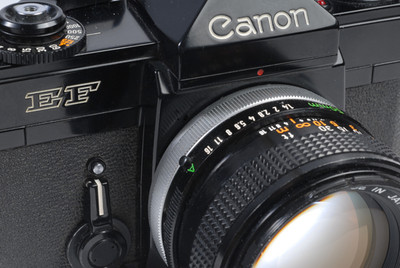 Canon EF (1973)
This camera is often called the Black Beauty, because it is regarded by many as Canon's best semi-pro SLR for many years. Once again a solidly made piece of equipment, built as an electronic, more amateur friendly version of the famous Canon F-1, with built in shutter priority automatic exposure. The shutter is controlled mechanically from 1/1000th second to 1/2 sec., and electronically from 1-30 seconds, useful for preserving battery life. This camera uses the FD lens mount for shutter priority AE and manual control, and earlier FL and R-mount lenses can be used by taking a stopped-down reading. Being shutter priority, it is particularly suited to action shots or a moving subject.
This camera has a very bright viewfinder, and TTL metering for Shutter priority AE. The shutter speed and camera's selected aperture can be seen in the viewfinder when in AE mode, with under- and over-expose zones on the exposure meter. Early models had a microprism focusing circle, though from 1976 on, a split rangefinder prism was added.
Another unusual feature for a Canon camera of this age is the shutter mechanism. Instead of horizontally travelling cloth curtains, this machine has a vertically travelling metal leaf shutter, which allows a fast (for the time) flash x-sync speed of 1/125th second. Flashguns can be connected by either hot shoe or PC socket.
The camera originally took 2 of the same 1.35v mercury button cells that the FX uses, thankfully there is a built in voltage regulator so Alkaline or Silver button batteries can be used with no problems.
Now over 40 years old, this really is a great film camera to use, albeit quite heavy. Everything falls to hand when you shoot it, the winder is the smoothest I have ever used on a Canon. Effectively replaced by the all-electronic AE-1 in 1976, it soldiered on until 1978.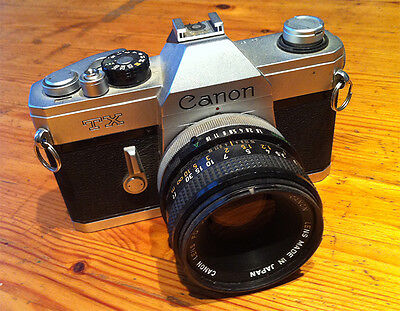 Canon TLb & TX (1975)
The TLb and TX are a bit forgotten in the classic SLR scene. Both were launched in 1975, and are identical with one difference - the TX has a hot shoe for a flash unit (both have a PC-sync terminal) These are real no-frills cameras, intended as stripped down versions of the FTb for European and US markets, for buyers who wanted a cheap but reliable SLR. 1sec to 1/500th second shutter speeds, and good reliable match needle metering (suprisingly accurate!) using a spot-metering TTL meter. There is no self-timer, no shutter lock and no mirror lock-up - just focus, meter and click there is a depth of field preview lever if you want to meter using the stop-down method. Downsides to this camera are that it uses the old mercury battery, you can't lock the shutter or turn off the meter. A downside particular to the TLb is the lack of hot shoe.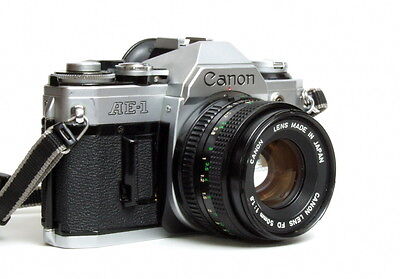 Canon AE-1 (1976)
The AE-1 was Canon's first A-series camera, and its first microprocessor controlled SLR. Everything in the camera is powered by a single 4LR44 battery. It was also a big seller for Canon - over 1 million units - and was backed by a substantial marketing campaign worldwide. It is a shutter-priority AE SLR made mainly of sturdy plastic, despite which, it still feels solid. It was a replacement for the EF, but in many ways is inferior to its predecessor. While it's much lighter than the all-metal EF, and has a more sensitive TTL and just as easy to use once set up for the film inside, there are a couple of things Canon could altered to make it a better machine. Firstly, I find some of the camera controls and settings are awkward to use (setting the film speed is a prime example), made worse with my fat fingers. Second there is very little information in the bright viewfinder, aside from the selected (AE) /recommended (Manual mode) aperture, and 2 LED's - one for under exposure, and another for manual exposure control - An indication of shutter speed through the lens would be useful. Thirdly, as it is totally electronically controlled, you cannot use the camera without a battery.
Like most other FD mount Canons, earlier FL and R-mount lenses can be used when you stop the lens down manually using a dedicated mark on the meter. Canon stuck with horizontal cloth shutters for the A-series, which means a slow (even at the time) 1/60th second flash X-sync. Flash is connected by hot shoe or PC socket. Canon's "speedlite" flash units will automatically control the camera on a hot-shoe connection, setting the shutter to 1/60th second and an appropriate aperture.
One thing to look out for on this camera, and all other Canon A-series models, is mirror squeal, also known as "Canon Cough". This indicates that the mirror link mechanism will need lubricating (or worse still, replacing), and is a good bargaining tool. Another downside is the plastic components inside are now getting fragile, and the electronics will have lost some accuracy.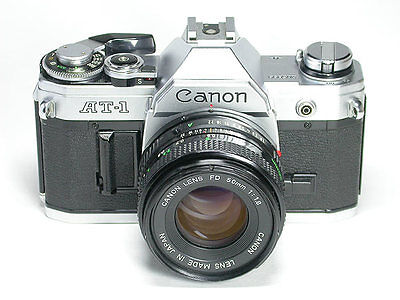 Canon AT-1 (1976)
This was Canon's all-manual A-series camera. Think of it as an FTb in an A-series body. You have the smaller form factor and lightness of the AE-1, with the easy to use match needle metering of the FTb. It wasn't such a big seller, as the affordable AE-1 was a real hit with amateurs and first-time SLR buyers who wanted more of a point-and-shoot style photography, thus the AT-1 was probably seen as a little bit old-hat compared to its sibling, not helped by residual stock of the simpler and operationally similar F-series cameras still being sold at a discounted price. Using a Canon A-series speedlite flash did automatically set the camera to the correct sync speed, the user had to set the exposure control up the old way by reading distances and setting an aperture. No photos without a battery on this camera, as like all A-series cameras, the shutter is electromagnetically controlled, and listen again for the squealing mirror.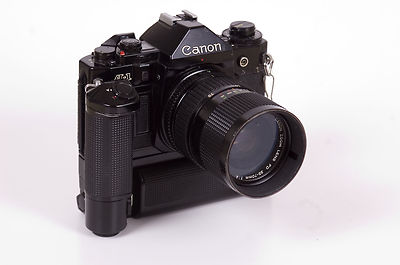 Canon A-1 - 1978
This was Canon's flagship of the A-series, and is a historically significant machine. It was the first SLR by any manufacturer to have totally programmed automatic exposure control - all the user had to do was focus the picture and click. The processor inside automatically selected the shutter speed and aperture based on TTL metering when in "Program" mode. Available only in all black, this camera deserves better recognition than the AE-1.
Apart from the automatic "Program" mode, the user can also opt for shutter priority AE, aperture priority AE, manual exposure control, or stopped-down mode when using a lens that isn't Canon FD.
The bottom of the bright viewfinder has an electronic display made from 7-segment LED figures showing shutter speed, aperture, flash, bulb and manual mode, and is a basic version of how many DSLR viewfinders look today. The focusing screen can be changed for one of around half a dozen different types, but this cannot be done at home unless you are competent in taking one of these cameras to pieces!
The internal components of this camera are also better made than those of other A-series, being metal as opposed to plastic. Like the EF this was a high end pro-amateur camera. The biggest let down for this camera is the cloth curtain shutter, limiting X-sync to no faster than 1/60th second, slow compared to other semi-pro SLR's of the late 70's (contemporary Nikons and Olympus cameras synced at 1/125 or 1/250 sec). Canon could easily have used a vertical plane shutter, like the EF, or the F-1's titanium horizontal shutter for a faster flash sync. Also setting the film speed on this camera is a real pain.
Flashes can be connected by hot shoe or PC socket, again Canon's Speedlite 'A' range of flashguns will automatically control the camera from the hot shoe, the 199A being a dedicated flash unit for this camera. Listen out for the squealing mirror on these cameras, and again it cannot be used without a battery. The biggest let down for these cameras today is the fragility of the electronics. Microswitches, fragile circuit components and lack of care by some users can make the camera play up, repair currently not being cost effective.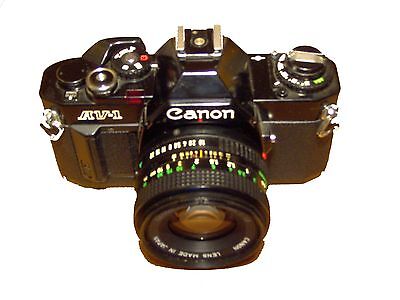 Add a caption
Rare black finished AV-1 showing top of camera controls
Canon AV-1 - 1979
This was Canon's answer to a question that had been asked by many potential buyers when the AE-1 was launched - what about aperture priority AE? The AV-1 answered this question.
This is a very simple camera to use, being aperture priority the user selects an aperture and the camera picks the right shutter speed, however there is no manual mode at all. The viewfinder, like the AE-1, could do with a display showing more, only the automatically selected shutter speed being shown in the viewfinder (up to 2 seconds). Modes available to the user are "A" (aperture priority), Flash sync, self timer with or without flash sync and Bulb. Flash connection is hot-shoe only, and there is a setting on the control dial for non-Canon flash units. Canon's Speedlite units will automatically set the camera to 1/60th second on "A", but the user still needs to choose the correct aperture.
Being aperture priority only, action shots can be difficult to master without over or under-exposing the picture, however it is a very good camera for portraits, landscapes, scenery, and still life. This, and the AL-1, are the only 2 cameras where using a non-FD lens is a pain, as you need to keep the lens stopped down, which can affect the viewfinder making composition hard.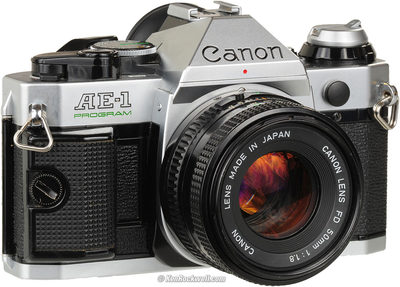 Canon AE-1 Program (1981)
Following on with the success of both the AE-1, this new model made some improvements over the older model by incorporating the A-1's Program AE mode into the older body. This was a response by to the consumer wanting this new technology in an affordable camera. The AE-1 was starting to get a little outdated, and was brought back to the current day with its relaunch as the AE-1 Program. Personally I find this camera ergonomically better the original. It has the nice chunky "Action grip" from the A-1, a well placed shutter button, control dial and much easier way to set the film speed than both the AE-1 and A-1. I don't particularly like the A-1 style shutter lock switch though - it feels fragile.
Not only can you shoot this camera in Program mode, but the AE-1's shutter priority and manual modes are also available. Looking through the viewfinder is great. It's so bright, and the LED's down the side easy to read, particularly in low light. You can also change the focusing screen on this camera, this time it's a DIY job with the correct tools.
This is a better camera than the one it replaced, it's just as commonplace, is simpler to use, better ergonomics and the viewfinder is much brighter to look through and its displayed info easier to understand.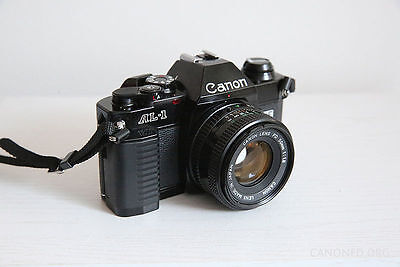 Canon AL-1QF (1982)
When I first wrote this review, I'd only borrowed and AL-1; I now have one and I got it for under £10 as it needs a little work to make it perfect. It's like an improved AV-1, shutter priority in "A" mode, but had a manual mode override with a small range (1/15-1/1000 plus bulb) of manually selected shutter speeds, which is what the AV-1 needed at launch. It also has a very very bright fixed viewfinder, and QF technology - Quick Focus, Canon's answer to the first auto-focus SLRs that had started to appear on the market from its rivals. The bottom of the viewfinder had a green dot when subject in the viewfinder's focus frame was sharp, with left and right pointing red triangles either side telling you which way to turn the focus barrel. Among this electronic goodness in the eyefinder is an old fashioned meter needle telling you the selected (AE) or recommended (manual) shutter speed for the aperture you've.
It's QF system, the bright viewfinder, simple use and the fact it takes ordinary household batteries means it should have been a big seller, alas it wasn't. It was too basic for most keen photographers, who, for a few pounds more, could have had the AE-1 Program with its point, focus & shoot fully programmed mode. If you want one of these in your collection, or to go out and use, the battery door lock tab is the biggest downfall for these machines.
What would I pick as my first film SLR when I'm used to digital?
It's quite easy really, I would choose the A-1, followed by the AE-1 Program.
The A-1 has all the basic modes of any let alone a Canon DSLR - Program, Shutter priority, aperture priority, manual control, plus a stop-down mode for non-FD lenses, along with (almost) automatic flash control and self timer modes. It's also a nice looking camera, and apart from 1 or 2 fiddly things on the top, is easy to set up when you have loaded your film. The viewfinder is bright and easy to focus, and the display at the bottom is easy to understand and you can get a lot of accessories.
The AE-1 Program lacks the aperture priority mode but strangely costs around the same, particularly if you want an all-black model.

Keep it regularly serviced and the light seals replaced every few years either of these will last a long time and be a faithful friend.