Canon produced a wide array of good quality lenses for its manual focus SLR's, which are still in demand today
When Canon introduced its Canonflex SLR range in 1959, it started a 28 year journey into producing affordable, good quality lenses to go with their single lens reflex cameras. Before this, Canon's main photography products were nicely made and pretty good rangefinder cameras, which, by the mid 1970's couldn't compete with affordable and easy to use SLR's.
The classic Canon lens system falls into 5 main series.
Series "R"
Series "Super Canomatic R"
Series "FL"
Series "FD" (breechlock)
Series "New FD" (bayonet-style)
Each was a logical progression of the former, incorporating new technologies as the camera bodies got more sophisticated, while a newer lens could be used on an older body within functional limits, and vice-versa. The only body that cannot use R & FL lenses is the T50.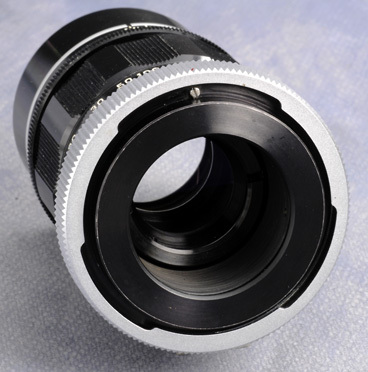 Canon Lens R
These were Canon's first SLR lenses, and are very very simple. They are fitted with a locking ring to secure them to the camera body, no signalling or actuating pins and have a focus ring and diaphragm control ring. It can be fitted and used on any R, F or A-series camera body. Lenses are good performers for their era, giving a nice sharpness when stopped down a little. A variant of the R-series was the Canon Lens TV series, a range of fixed aperture mirror telephoto lenses. These are extremely rare and command high prices.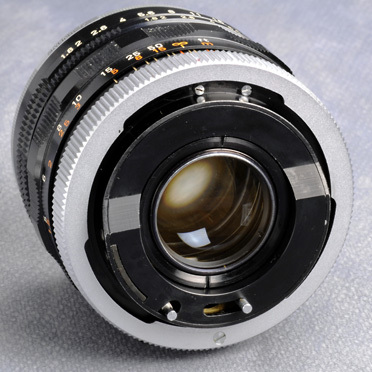 Add a caption
Canomatic Lens mount R - one in-out and one sliding pin
Super Canomatic Lens R
The second R-mount lens added some automation to diaphragm operation, and allowed an unobstructed viewfinder view while composing. These lenses have two aperture rings - one operates the diaphragm manually as per any manual lens, the second is a pre-set which automatically stops down when the shutter is released, activated by a pair of pins on the mounting face.
These can be used on later most FL and FD mount cameras, but the best use of one of these lenses is on a Canonflex SLR as intended.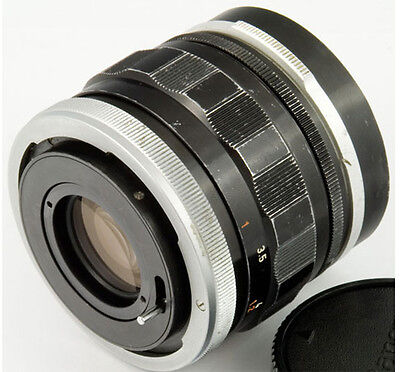 FL-Mount (1964)
When the Canon FX and FP were launched, Canon again refined their breechlock lens mount. The confusing 2-aperture ring set up was abandoned, in favour of a single aperture ring with an automatic diaphragm mechanism with a manual override ring, or depth of field preview button. This allowed the camera user to compose a shot with an unobstructed view through the lens, only stopping down for a depth of field preview or for metering where needed. The FL-mount also saw the introduction of superb optics (aspherical elements, super coatings and artificial fluorite elements) and very fast apertures for the focal length (f1.2 on a 58mm lens was something quite special back then!). Most lenses had an A-M ring - switching to M would stop the lens down when the aperture ring was operated, others had a stop-down button fitted to the lens barrel. Focal lengths range from the ultra-wide 19mm at f3.5 to a whopping 1000mm f8 mega-telephoto.

FL lenses (with the exception of two) can be used as a totally manual lens on a Canonflex once the shot is composed. They can also be used on most FD bodies if the meter allows a stop down reading to be taken, or manually on the AV-1 and AL-1.
The two exceptions are the FL-P 38mm f2.5, which is a lens designed specifically for the Pellix's fixed mirror, and the FL 19mm f3.5, which protrudes into the camera body right up to the shutter curtain and requires a mirror lock and separate viewfinder (not to be confused with the FL 19mm R f3.5). Be aware that some lenses have unusual filter ring sizes.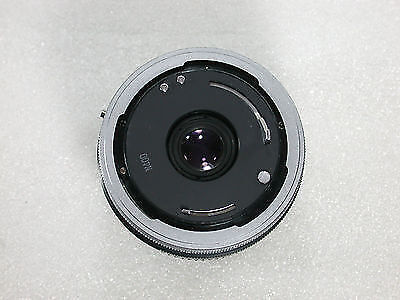 Add a caption
Canon FD-mount (original). Number of push in-out pins varies but always 2 sliding levers.
FD-Mount (Breechlock)
In 1971, the FL mount was improved upon, giving the long-lived FD mount, giving fully automated open-aperture metering. The aperture operating lever was given a flat blade, a pin was used by the lens to signal to the camera when maximum aperture was selected, and the second lever communicated the selected aperture metering . The aperture ring was given an Automatic setting, for shutter priority auto-exposure, initially denoted by a green O, later an 'A' with locking pin.
The first release of FD-mount lenses had a silver filter mount at the front and are nicknamed chrome-nose lenses. These essentially are re-engineered FL lenses for the FD mount. Most of the higher end lenses had Canon's Spectra and Super-Spectra coatings for addressing lens flare, colour balance etc. and in the right hands are very sharp lenses.

Around 1973-74, the FD lens range was given a mild facelift. The silver filter ring was given a more conventional black finish, and the entire range was given the Spectra Coating as standard, premium lenses receiving the Super Spectra coating. The automatic aperture control was also given a safety lock to prevent being knocked off or activated accidentally.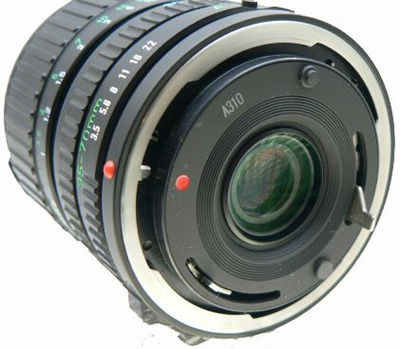 New-FD mount (1979)
by the late 1970's manufacturing processes and materials technology had improved substantially, thus allowing Canon to radically update its lens range. The New FD mount (FDn) got rid of the locking ring, in favour of a twist-lock mechanism, while retaining back-compatibility with the current and past camera range. Lenses were made less bulky for their focal length, and the plastics used for aperture control rings (and lens bodies of the cheapest lenses) were of a higher quality, much less fragile feeling. All lenses also had the Super Spectra Coating (a handful of the cheaper lenses got the regular Spectra Coating). Better still, this range seems to be less prone to fungus invasion in my experience.
There are one or two downfalls to this revision. Some F-series cameras don't like this newer mount - I struggle getting my 50mm f1.4, 135mm f2.8 and 28mm f2.8 to return to open aperture properly on my EF, FTb and TX bodies if I take a depth of field preview - and super close up photomacrography requires a series of special adapters to mount the lens and operate the diaphragm. But for everyday photography, the FDn are about the best of Canon's manual focus lenses in terms of sharpness, colour balance etc, even at the cheaper end of the range.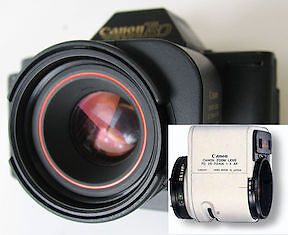 Canon FD-mount Autofocus lenses
Canon produced 4 autofocus FD mount lenses. These are now very rare and collectable (if they are working), the focusing system based upon the AL-1's QF focusing assistance computer.

The first autofocus FD lens was launched in 1981 and was the white coloured Canon FD 35-70 mm f/4 AF. It was a 35-70mm zoom with a focus button mounted to the side. The traditional Canon FD aperture control ring was included so the AV-1 and A-1 could still work in aperture priority mode. Zooming in and out was performed with a lever, and the autofocus was sensed by 2 'eyes' to the side of the lens. It could be mounted to any FD mount camera, and used on FL mount cameras with a few limitations.

The other 3 autofocus lenses were the AC series produced specifically for the T80 in mid 1985, though discontinued in early 1986. They consist of a 35-70mm f3.5-4.5 short zoom, 50mm f1.8 prime, and a 70-210mm f4.5 zoom. They are quite distinguishable as they are a pear shape as viewed from the front and lack an aperture ring. They work fully automatically on the T-80 and as manual focus lenses on other bodies, though with a lack of manual aperture control.

FD autofocus lenses are now quite rare, fully working and clean examples command a high premium.
What to pay for an old Canon lens?
A big issue with buying an old Canon lens is the price, well for us Brits it is at least. Five years ago old camera gear was virtually worthless. Most classic lenses were dirt cheap, most fast 50mm lenses from the big camera companies rarely exceeded £30. Now 50mm f1.4 lenses from most manufacturers with good optics will cost £70* or more here in the UK, and faster than f1.4 you are getting into some serious money. There are 2 main reasons for this. Adapting classic lenses to modern cameras is now easy because of cheap(ish) high quality adapters for modern bodies, and the optical qualities of old glass is currently popular. Secondly Lomography and Hipsters have put a bit of a revival into film photography as a hobby. Both of these have increased the prices of good quality classic photography gear in general over the last few years.

* based on a search of 100 completed and sold listings for Canon FD 50mm f1.4, UK only, average price rounded to nearest pound excluding shipping. Prices for USA are normally at least 1/3 cheaper than UK. 20th November 2016

If buying on eBay, best thing to do is look up completed sold listings for the lens you want, it'll give you an idea of the average price. Auction prices often exceed buy it now, so set a limit and don't get carried away as there are plenty out there.
Charity shops and thrift stores can be another source of second hand camera gear, but your will have to search hard and they go quickly.

Third party lenses will be cheaper, but you need to check it fits your camera and that it probably won't have the same superb optics of original glass.