Take some time to track down the perfect pair of Levi Strauss jeans to match your body type and personal style, and you'll never settle for second-best denims again. This essential guide covers the most popular cuts, rises and looks, from the classic 501s to the latest 511 Skinny Fit.

Levi's – still got it!
What to consider before you buy
501s – cut from a classic cloth
Cool, calm and boot-cut
Simple straight fit
Skinny or not?
Curve or high-waisted?
Street style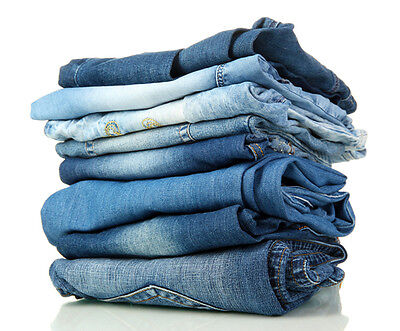 What to consider before you buy
Skinny, straight, tapered, baggy, jeans by Levi Strauss come in every style imaginable, from the classic cut of the original 501s to Levi's most recent introduction, the 511 Skinny Fit. Check the style and cut of jean you prefer also comes with your preferred fly closure. Some styles, such as Levi's everyman 505s, offer both zip and button fly closures. If you're never out of your cowboy boots, many jean styles, including Levi's 527s, come in a boot-cut, perfect for slipping over chunky leather boots. If urban-style, with all its loose-fitting, skateboarder/snowboarder connotations is more your thing, Levi's 502 or 562s may be more up your street.
501s – cut from a classic cloth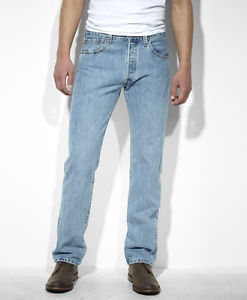 Think blue jeans and 501s by Levi Strauss inevitably spring to mind. Levi Strauss has been tailoring this iconic cut since the 1800s and
Vintage 501s
are always in demand. Levi 501 Original Fit jeans are unmistakable and timeless, with a no-nonsense straight leg cut and button-fly. There is nothing fancy about the 501, so if you like detailing on your denim it might be best to look elsewhere.
The 501 suits guys who want a quality cut of jean but nothing too trendy. Should ladies lasso themselves some Levis too? Certainly. 501 jeans for women sit firmly in the boyfriend stable of denims and their waist sits below the natural midline for comfort. Cut straight at the hip and ever so tapered at the ankle, the 501 gives a streamlined silhouette, rather than clinging to your curves. Blue jeans, black, fades and ivy green shades, all are available in this all-time classic of American casual wear. Remember that 501 shrink-to-fit jeans are best suited to lean body types without lumps and bumps.
Cool, calm and boot-cut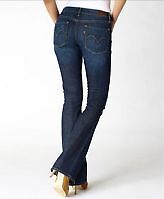 Cut wider at the calf to make room for cowboy boots. That's how the Levi
527
came into being and, regardless of trends for tucked in skinny jeans,
this boot-cut jean for men has real staying power. The 527 has a slimmer
cut than the vintage Levi boot-cut jeans sported on the ranch or Texan
rodeo, and has a more modern lower-rise waist band. A dark pair of 527s
with a crisp white shirt will fit the bill for today's professionals looking to
earn respect in smart-casual workplaces.
Levi's boot-cut jeans for ladies can be ultra flattering, especially worn over heels for super slim and long looking legs. If this appeals, make a beeline for the 512 Perfectly Slimming Boot Cut Levi jeans, which have a slimming effect on hips and thighs. If you like your jeans to 'give' all day long, then the 512 cut, with stretch denim fabric and a tummy panel, could be for you.
Simple straight fit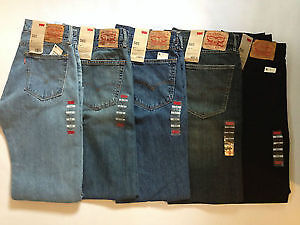 Before buying any jeans you should pay attention to practicalities, such as the freedom of movement you have in them and their versatility rating. It's tempting to fall for an ultra-fashionable pair, but will high-end designer jeans really gel with the lifestyle you lead and give you good value for money? Levi's 513 Slim and
505
Straight Fit jeans are a classic examples of form meeting function. Relaxed but not slouchy, they are ideal for busy people who want to look on the money. Less snug than 501s, the 505 is straight-shooting cut for down to earth everyday wear, for everyone regardless of body type.
Do you prefer a zip to a button-fly? If so, the 505 ticks this box too. Possibly Levis most versatile jeans for men and women, with 505s you can get your money's worth around the home and out and about. Ladies' 505s sit just at the natural waist, so there's no need to worry about your middle section spilling over. Colours range from black and smart midnight oil to more casual medium stonewash. All things considered, you can't go far wrong with 505s – the everyman of the jeans department.
Skinny or not?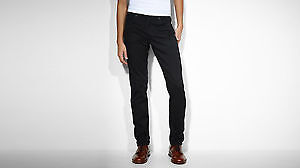 If you have a slim body shape and the confidence to rock form-fitting denim, you'd do well to focus on
Levi's skinny jeans
. Levi Strauss may have been cutting 501s since back in the day, but its designers have moved with the times and created the 511 Skinny Fit and 510 Super Skinny Fit Jeans for
men, and Curve ID jeans for women.
Levi 511s are perfect for
fashion
-conscious men who like to look well turned out and groomed. They are cut with a low-rise waist in a stretch denim fabric. Or, you could turn up the straight and tight look with Levi's 510 Super Skinny Jeans, the narrowest cut in the range. Bang on if you have a hipster/rockstar mentality.
Skinny jeans can update your look fast and make women look less mumsy in an instant. Take an honest look at yourself in the mirror before committing yourself to this style of Levis. Slim and athletic bodies can carry off the skinny look perfectly, so don't hide behind slouchy jeans if you have great legs and a curvy behind to show off.
Curve or high-waisted?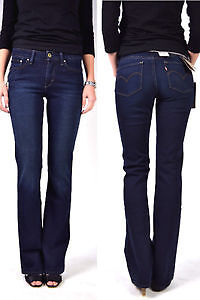 Shopping for ladies' jeans became a lot less frustrating when Levi's introduced its Curve ID range, which is cut to fit the proportions of 21st century female bodies. Curve ID is the Levi's jean with a curved waistband from waist to hip. There are skinny, straight and boot-cut leg shapes to choose from, depending on your preference. In terms of 'rise', these jeans come in Classic rise (on the waist) or Modern rise (sits just below the waist).
Focus your attention on this range if your style is effortless and well put together. Think about footwear when buying these cuts. Skinny works best tucked into your tall winter boots, with ballet flats, summer sandals or heels. Chunky shoes aren't so flattering with these narrow legs. If you're young and hip enough to carry the
high-waisted jeans
or denim shorts' look, why not shop around for vintage Levis online. Take a pair of scissors to your bargain Levis and make cropped shorts for the summer or to wear over tights.
Street style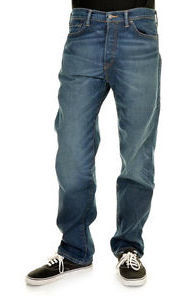 Levi jeans suit any style of
Men's Fashion
, even those who walk to a different beat have options. If you would never be seen in skinny jeans Levi's Taper cuts are for you. A casual slouchy seat and tapered-in legs signify the popular and on-trend 502 cut.
Then there are Levi's 562s. These sit on the hips and loosely taper for a fit at the ankle, leaving space on the legs for a relaxed urban look. Levi's tapered jeans are cut to pair with T-shirts and beefy skate shoes.
Check out Levi's Shuttle Tapers or their Tack Slim jeans, which are a reinvention of the iconic 501. These offer a slim tapered leg and square fly for some added interest.