Allis-Chalmers D-270
This is one of many illustrated classic tractor guides I've created for the community. I hope you enjoy it and if you would like to find out more about the classic Tractor art featured in this guide please click here.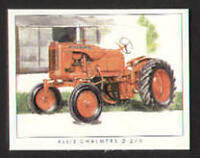 Like International, Allis-Chalmers began to assemble tractors in Britain after WW2. Initially they produced their well known B model (announced in the USA in 1938) and then in 1956 introduced the D-270 from their Essendine Works near Stamford. Like the Model B, it could have four-cylinder 2053cc petrol or vapourising oil engines, or the Perkins P3 2359cc diesel engine. Four forward and one reverse gear were available. The D-270 evolved into the D272 in 1957 but Allis-Chalmers soon discontinued tractor manufacture in Britain, concentrating on larger horsepower tractors and earth-moving machinery in the USA.
If you would like to see more guides on classic tractors please click!
Thank you for reading my guide and I hope you found it interesting!