David Brown - VAK I
This is one of many illustrated classic tractor guides I've created for the community. I hope you enjoy it and if you would like to find out more about the classic Tractor art featured in this guide please click here.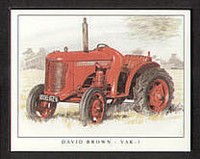 The David Brown company of Huddersfield, Yorkshire, became the first company to build tractors incorporating the Ferguson system, launching in 1936 the Ferguson Model A, or Ferguson-Brown. The first version of this tractor was powered by a British Coventry Climax engine rated at 18-20bhp. It had three forward gears with one reverse and independent wheel brakes. Sales were uninspiring and the Ferguson/Brown partnership broke up in 1939, after Ferguson took one of their tractors to America to gain the interest of Henry Ford, and David Brown decided to manufacture a new tractor with the extra power which farmers appeared to demand. This model became the VAK I and was the first in a series of tractors that achieved outstanding commercial success. The tractor interests of the David Brown Corporation were taken over in 1972 to join Case as part of the Tenneco organisation.
If you would like to see more guides on classic Tractors please click!
Thank you for reading my guide and I hope you found it interesting!