John Deere - Model A
This is one of many illustrated classic tractor guides I've created for the community. I hope you enjoy it and if you would like to find out more about the classic Tractor art featured in this guide please click here.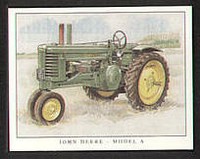 An early tractor of some note was the Waterloo Boy, which first appeared in 1912 as the progeny of the Waterloo Gasoline Engine Company of Iowa. It was known in Britain as the Overtime and offered 12-25hp with two forward gears plus one reverse. Following a take-over in 1918, the company adopted the name John Deere. The first "real" John Deere tractor was the Model D, which was produced between 1923 and 1952. The longest running of any tractor model it used the familiar John Deere two-cylinder horizontal engine, a feature of all the company's products right up until 1962. Lend Lease schemes during WWII led to the arrival in Britain of many John Deere tractors, they soon gained a reputation for robustness and reliability.
If you would like to see more guides on classic Tractors please click!
Thank you for reading my guide and I hope you found it interesting!