Cortina Mk5 1960 - 1982
This is one of many mini illustrated classic car guides I've uploaded for the community. I hope you enjoy it and if you would like to find out more about the classic Ford Cortina car art featured in this guide please click here.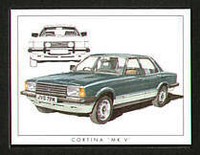 Although not officially a Ford marque, the 1980 revisions to the Cortina changed the appearance sufficiently for the trade and public to dub the new car the 'Mk 5'. Providing Ford with a 'family design image', the new Cortina range now closely resembled that of the larger Granada. Glass area was again increased, larger wrap-around bumpers gave more protection to the bodyshell and a new aerofoil grille further improved both appearance and the delivery of cooling air to the engine bay.
If you would like to see more guides on classic Ford Cortina cars please click!