Escort Mexico
This is one of many mini illustrated classic transport guides I've created for the community. I hope you enjoy it. If you wish to find out more about the classic Ford Escort art featured in this guide please click here.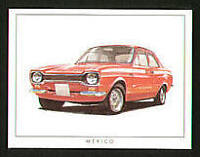 The Mexico was announced in November 1970 and took its name from Ford's success in 1970 London-Mexico World Cup Rally. Basically a re-engined Twin-Cam/RS 1600, the new Mexico used the mass produced 1,599cc Kent engine instead of the limited production 16-valve BDA unit, although in most other respects it was the same car. Maximum speed was just over 100mph compared to 113mph for the RS1600.
If you would like to see more guides on classic Ford Escorts please click!
Thank you for reading my guide and I hope you found it interesting!