Escort Harrier 1979-1980
This is one of many illustrated classic car guides I've created for the community. I hope you enjoy it and if you would like to find out more about the classic Ford Escort Mk2 car art featured in this guide please click here.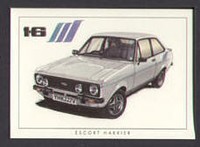 Designed to celebrate Ford's 1979 World Rally Championship title, the Escort Harrier was a special edition based upon the 1600 Sport. Available in Diamond White, or Strato Silver, both with blue body stripes, it's comprehensive specification included: Recaros, tinted glass, a push button radio, boot spoiler and 6-inch AVO alloys. The white and blue model cost £4,330, with the silver finish an extra £35.83. Only 1,500 were produced during 1979-1980.
If you would like to see more guides on classic Escort Mk2 cars please click!
Thank you for reading my guide and I hope you found it interesting!