Escort RS1600
This is one of many illustrated classic transport guides I've created for the community. I hope you enjoy it. If you wish to find out more about the classic Ford Escort art featured in this guide please click here.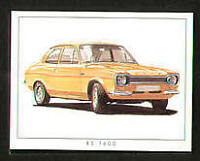 For April 1971 the Twin-Cam was joined by the RS 1600, replacing the Twin-Cam as Ford's most exciting sports saloon and enabling the Escort to remain a front running competition car. The RS1600 featured the Cosworth BDA engine but in almost all other respects was the same as the Twin-Cam.
If you would like to see more guides on classic Ford Escorts please click!
Thank you for reading my guide and I hope you found it interesting!