Fuldamobil
This is one of many illustrated classic car guides I've created for the community. I hope you enjoy it. If you wish to find out more about the classic bubble and micro car art featured in this guide please click here.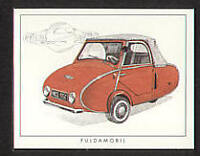 In 1950 Karl Schmitt of Electro-maschinenbay in Fuldz produced his unique Fuldamobil. Built under licence in many countries, this wooden-framed, alloy-panelled bodied micro-car was powered by a variety of engines, from 200cc ILO to 360cc Sachs all with four-speed box and electrical reverse. The two-seater coupe was built along car lines, but with the engine mounted alongside and driving the rear wheel.
If you would like to see more guides on bubble and micro cars please click!
Thank you for reading my guide and I hope you found it interesting!