Hillman Imp Californian (1967-1970)
This is one of many illustrated classic car guides I've created for the community. I hope you enjoy it. If you wish to find out more about the classic Rootes car art featured in this guide please click here.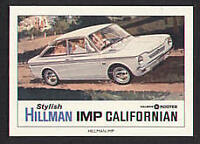 The Imp Californian was a smart, lowered-roof, fastback coupe version of the Hillman Imp, still with two doors and the same single-carburettor engine. For the Californian, the rear window was fixed, not hinged, and there was less head-room in the rear seats. This was an interesting little niche model, which sold well. A much more powerful version of it, the Sunbeam Stiletto, would be announced later in the year.
If you would like to see more guides on classic Rootes cars please click!
Thank you for reading my guide and I hope you found it interesting!