Hillman Super Minx (1961-1967)
This is one of many illustrated classic car guides I've created for the community. I hope you enjoy it. If you wish to find out more about the classic Rootes car art featured in this guide please click here.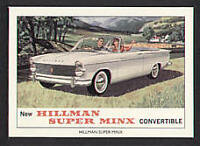 The Singer Vogue came first, in July, but the Hillman Super Minx, announced in October, was the lower-priced basic version of the design from which that car was developed. Compared with the Vogue, which looked similar except for its nose and the interior trim, the Super Minx was less well equipped, though it shared the same 62bhp/1.6-litre engine and choice of manual or Easidrive transmissions. Drum rather than disc front brakes were standard.
If you would like to see more guides on classic Rootes cars please click!
Thank you for reading my guide and I hope you found it interesting!