Humber Hawk 1, 2, 3, 4 (1957-1967)
This is one of many illustrated classic car guides I've created for the community. I hope you enjoy it. If you wish to find out more about the classic Rootes car art featured in this guide please click here.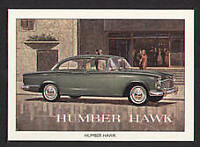 For the first time since 1948, Rootes introduced an all-new Humber, this being the unit-construction Hawk saloon. Although it retained the existing Hawk's 2.3-litre four-cylinder engine and related transmissions, the structure and suspensions were new. Body-shells were pressed and assembled at the BLSP works in Acton, West London. An estate car derivative of the new Hawk followed in the autumn.
If you would like to see more guides on classic Rootes cars please click!
Thank you for reading my guide and I hope you found it interesting!