Land Rover Discovery 5-Door 1991
This is one of many illustrated classic car guides I've created for the community. I hope you enjoy it and if you would like to find out more about the classic Land Rover Discovery art featured in this guide please click here.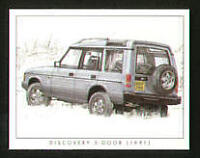 The much-awaited five-door Discovery arrived in 1991. Side graphics were more restrained than on the original three-door, with just a small Discovery logo on each front wing. The V8i version featured an injected engine and chunky looking five-spoke wheels, which were unique to the five-door model in most markets. The roof-rails were optional on three-doors, but standard on five-door models. The five-door offered the buying public a real alternative to a mundane family saloon and was an instant hit.
If you would like to see more guides on Land Rover Discovery please click!
Thank you for reading my guide and I hope you found it interesting!