Mini Cooper Mk3 1275S
This is one of many illustrated classic car guides I've created for the community. I hope you enjoy it. If you wish to find out more about the classic Mini Cooper art featured in this guide please click here.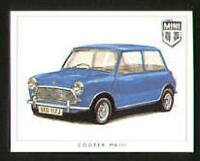 In line with the ordinary Mini Saloons, the Cooper S received the MkIII bodyshell (with concealed door hinges originally introduced in November 1969) in March 1970. The performance and road-holding were still there and it retained hydrolastic suspension, but in terms of appearance the Mini Cooper S was watered down to such an extent that it now looked little different from any other Mini. The two-tone paintwork, a hallmark of the Cooper and Cooper S, had gone and only the obligatory right-hand petrol tank, ventilated wheels and Cooper S badge on the boot lid gave the game away. When the last Mk3 Cooper S rolled off the Longbridge production line in June 1971 it seemed that the Cooper legend was to retire into the history books but dramatically the Cooper was to be re-launched nearly twenty years later by Rover.
If you would like to see more guides on classic Mini Cooper cars please click!
Thank you for reading my guide and I hope you found it interesting!