Mini Cooper S Mk2 998cc
This is one of many illustrated classic car guides I've created for the community. I hope you enjoy it. If you wish to find out more about the classic Mini Cooper art featured in this guide please click here.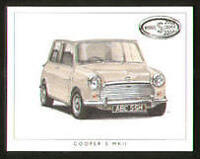 In 1967 the Cooper and Cooper S along with all other cars in the range received the heavier Mk II bodyshell. Changes were light, at the front the grille was redesigned with the top chrome strip being attached to the bonnet and the sides reshaped to give the car a more pleasing look. At the rear the bodyshell incorporated a larger light cluster and a two inch wider rear window. In addition, the Mk2 solved some of the niggly problems associated with earlier models. The use of seat belts had been growing since legislation made their fitment compulsory, but once strapped in to a static belt it was difficult to reach the switches on the centre facia. Mk 2 modifications brought the switches three-inches nearer to the driver. Other definite improvements at the time were a smaller turning circle and twin leading shoe front brakes.
If you would like to see more guides on classic Mini Cooper cars please click!
Thank you for reading my guide and I hope you found it interesting!